---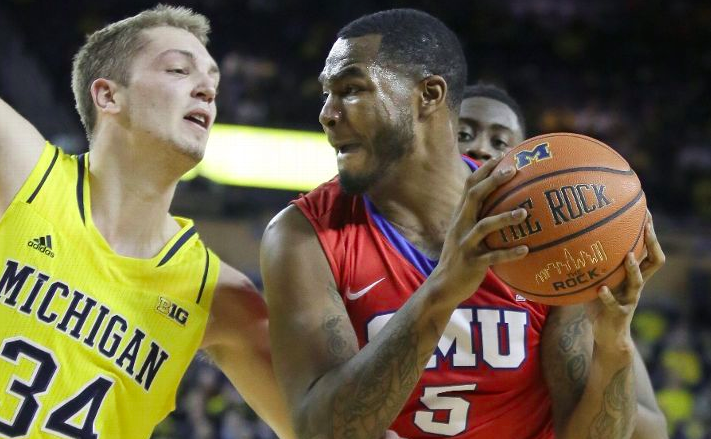 (Duane Burleson, Getty Images)
Coming off three straight losses, two of which were shocking home losses, Michigan had a week to prepare for an increasingly important non-conference matchup with Southern Methodist this afternoon. The week would surely provide rest, rehabilitation, and some renewed confidence after a tough skid that saw poor defense, putrid offense, and all around bad play.
One week wasn't enough.
The Wolverines struggled right out of the gates, getting outscored 11-10 in the first six minutes of the game by star Mustang point guard Nic Moore alone, then continued to lag closely behind throughout the rest of the first half.
Much like in their losses against Arizona and Eastern Michigan, Michigan simply could not buy buckets, finishing the first half at a lowly 34.6 percent mark from the field and just 25 percent from deep, yet still only trailed by three.
The beginning of the second half continued the inept offensive display, as missed buckets and box outs led to a quick 7-0 spurt and a double-digit lead for SMU.
Then, out of nowhere, Michigan finally started to pick it up on offense after falling behind. Mark Donnal, after coming off the bench for the first time all season, scored five straight points during a 15-3 Michigan run that saw the Wolverines take a 44-42 lead with 9:30 left.
But as quickly as the run came, a heavy drought arrived in Ann Arbor, a far too common occurrence so far this year. One minute Michigan looked ready to take control and grab a much-needed home win just prior to the start of conference play. The next minute, Michigan found itself down nine with 2:31 left.
Any confidence the young team had mustered up was drained in an instant, and SMU used an extended 20-7 run over the final nine-and-a-half minutes to come away with a 62-51 win.
Michigan seemed to find some answers today, but even more questions were raised. The Wolverines found plenty of open looks throughout the game, but knocked down a measly 31.5 percent of their shots, with a whopping two-thirds of them coming from downtown (which they hit at an even-uglier 22.2 percent clip). Too often, players are settling for threes and long jumpers without so much as trying to traverse the lane and draw contact, or at least collapse the defense.
Ricky Doyle earned his first start of the season over Mark Donnal after looking like the superior option throughout the non-conference season only to raise further question marks while being severely out-played by the redshirt freshman. Doyle finished with just three points on 1-of-3 shooting and four rebounds while mishandling a number of passes and getting burned multiple times defensively. Donnal, on the other hand, poured in a career-high 13 points on 4-of-6 shooting and 2-of-3 from downtown while collecting four rebounds in five fewer minutes than Doyle. Beilein mentioned after the game that he thinks bringing Donnal off the bench made him play more relaxed, and he is seeing him as more and more of an outside shooter who can spread the defense. Donnal also said that his first bucket off the bench – an open triple from the wing just seconds after he walked onto the floor – came on a drawn-up play.
Lastly, Irvin seemed to start emerging from a slump while Caris LeVert, who had been carrying the team throughout a difficult December, had his worst game of the year with four points (1-of-8 FG, 0-of-5 3pt, 2-of-2 FT), five rebounds, five assists, and five turnovers – a few of which were extremely costly and downright inexplicable. Irvin led the team with 17 points on 15 shots and made a few nice plays on the defensive end with three steals.
At some point, you have to assume that this dreadful shooting and these long periods of nothingness on offense will come to an end, but that day looks to be a far way down the dark tunnel at this point.
The Wolverines' season, of course, is not over, but the impending bump in the road just became a mountain.
Luckily, most mountains are scalable, and Michigan's next game against Coppin State should get them off the pavement before Big Ten season starts a week later.
John Beilein remained calm in the post-game press conference, and has always said that Big Ten teams are fortunate to have three chances to win a bid to the Big Dance – the non-conference season, the conference season, and the conference tournament.
Michigan has already blown their first chance. Can they learn from their mistakes and rebound?
• Perhaps the most entertaining part of today's game came while both Michigan and SMU were in their respective locker rooms at halftime. Back on the Crisler Center floor, one Michigan student was given a chance to win $10,000 after winning a mini free throw contest. In order to win, this student had to make a layup, a free throw, a three-pointer, and a half court shot all in 25 seconds. In what could go down as one of the more memorable fan contests of all time, the student made the layup with ease, hustled after a free throw miss to rattle home his free throw, drained a three, then swished a half court heave only to find out that he had released his half court shot a half-second after his time ran out and would not be taking home $10,000. During the second half, however, Michigan announced that they would give the student a consolation prize of $1,000 for his heroics.
• SMU's size and strength down low was too much for Michigan to handle throughout the game. Center Yanick Moreira was dominant with 19 points on 7-of-9 shooting and 5-of-9 free throws while grabbing five rebounds, leading the way for the Mustangs to destroy Michigan by a 17-to-25 mark in the paint and out-score the Wolverines 34-10 down low.
• Both of Michigan's point guards are clearly playing injured right now, and both Derrick Walton and Spike Albrecht had to receive medical attention at different times throughout the game. The sophomore-junior tandem combined for just 13 points on 17 shots while turning the ball over five times.
• Michigan's contingent of true freshmen had a very rough day in all. Kam Chatman continued to struggle shooting the ball while Doyle couldn't capitalize on his first career start, and Aubrey Dawkins and Muhammad-Ali Abdur-Rahkman only saw three minutes of garbage time apiece. The freshmen combined for three points on 1-of-7 shooting.
***Mark Donnal***
13 points (4-of-6 FG, 2-of-3 3pt, 3-of-4 FT), four rebounds (two offensive), one assist, one turnover in 14 minutes
**Zak Irvin**
17 points (6-of-15 FG, 3-of-11 3pt, 2-of-4 FT), five rebounds (two offensive), three steals, two turnovers in 38 minutes
*Derrick Walton, Jr.*
11 points (4-of-13 FG, 3-of-10 3pt), two rebounds, two assists, three steals, two turnovers in 38 minutes
Final Game Stats

#

Name

FG-FGA

3FG-3FGA

FT-FTA

OR

DR

TOT

PF

TP

A

TO

BLK

S

MIN

03
Kameron Chatman*
0-3
0-2
0-0
1
2
3
2
0
1
1
0
0
14
32
Ricky Doyle*
1-3
0-0
1-2
2
2
4
2
3
1
0
0
0
19
10
Derrick Walton Jr*
4-13
3-10
0-0
0
2
2
1
11
2
2
0
3
38
21
Zak Irvin*
6-15
3-11
2-4
2
3
5
2
17
0
2
0
3
38
23
Caris LeVert*
1-8
0-5
2-2
0
5
5
2
4
5
5
0
2
37
02
Spike Albrecht
1-4
0-3
0-0
0
1
1
1
2
1
3
0
2
27
12
M-A. Abdur-Rahkman
0-0
0-0
0-0
0
0
0
0
0
0
0
0
1
3
24
Aubrey Dawkins
0-1
0-1
0-0
0
0
0
0
0
1
0
0
0
3
34
Mark Donnal
4-6
2-3
3-4
2
2
4
4
13
1
1
0
0
14
44
Max Bielfeldt
0-1
0-1
1-2
1
1
2
1
1
0
0
0
0
7
Totals
17-54
8-36
9-14
8
19
27
15
51
12
14
0
11
200
SMU
23-50
4-14
12-19
11
33
44
16
62
9
20
0
4
200

Full Stats