---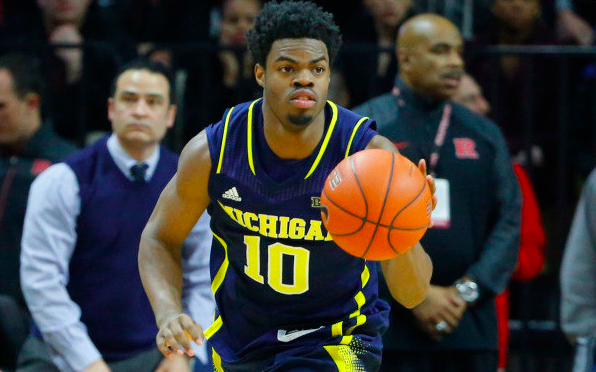 (Jim O'Connor, USA Today Sports)
It's no secret that Michigan's basketball team has struggled mightily this season after losing three players to the NBA and two big guys – one to graduation and a second to transfer – off a roster that made it to the Elite Eight last season. But it would have been hard for anyone to predict just how bad it would get.
After slogging through a non-conference schedule that saw home losses to the New Jersey Institute of Technology and Eastern Michigan, among a handful of other defeats, the Wolverines entered Big Ten season not looking to do much. Somehow, though, Michigan managed to stitch together a 3-2 record – albeit with two blowout road losses – heading into Saturday's home showdown with Northwestern. Again, the struggles continued, but the young Wolverines managed to pull out an ugly and unencouraging two-point victory.
But one day later, the season that seemed to have already hit rock bottom fell further into the ground with the announcement that star junior wing Caris LeVert, who led Michigan in points, rebounds, assists, steals, blocks, and minutes per game, would miss the remainder of the season with a broken foot suffered on the last play against Northwestern.
Fast-forward to tonight. Michigan would have to take to the road to face a team that defeated then-#4 Wisconsin two Saturdays ago and had given both Maryland and Minnesota good games on the road.
Michigan, clearly missing their star player, shoots 34.7 percent from the floor, 30.8 percent from downtown, and records 11 turnovers. Zak Irvin, Derrick Walton, and Spike Albrecht – what now must be considered the new "Big Three" – combined to make nine of 25 shots and just four of 15 triples while turning it over seven times. The Maize and Blue, as has become the norm this season, also suffered through nearly nine and a half minutes in the second half in which they could only manage one bucket, and five times went scoreless in three-minute periods.
And, oh yeah, at one point in the first half, Michigan's lineup consisted of a sophomore walk-on who had played zero meaningful minutes to-date, another sophomore walk-on who was planning to redshirt so that he could eventually transfer to a smaller school for a fifth year and had not played a minute all season, a sparsely used freshman guard, another freshman who had lost his spot in the starting lineup due to increasingly poor play, and a third freshman who had fallen from first-game starter to third-string big man. Having trouble coming up with the names? That would be Sean Lonergan, Andrew Dakich, Muhammad-Ali Abdur-Rahkman, Kameron Chatman, and Mark Donnal, respectively.
As expected, Michigan got blown out by 30…won? Don't ask me, I'm just as confused as anyone else.
But yes, you read that correctly – the Wolverines inexplicably pulled off a 54-50 road win at Rutgers despite a bevy of injuries, illnesses, and ineptitude to move to 5-2 in Big Ten play.
No Michigan player scored more than 12 points, but nine different Wolverines scored for just the sixth time all year and just the second time in conference play.
Michigan also managed to hold Rutgers to a putrid 35.8 percent mark from the floor and 29.4 percent from three.
The difference, however, might have been at the free throw line, where the Wolverines knocked down five more free throws (12) than Rutgers despite both having 14 total attempts. Derrick Walton, Jr. led the way there with a perfect 6-of-6 mark to ice the game away while finishing with a team-high 12 points.
It's been a season of mostly downs for the Maize and Blue, and compounding the loss of the core of last year's impressive team has been a rash of injuries and ailments. Both Walton and Albrecht have been suffering through lower body injuries throughout the majority of the season, LeVert is now done for the year with a broken foot (the same foot he broke last summer), Zak Irvin has been beat up in a couple games and is apparently ill, Albrecht missed Saturday's game with an illness, and starting center Ricky Doyle once again could not go in the second half after looking completely worn out in just a couple minutes of play.
Rather than fold, though, Michigan has battled, and never more so than tonight. The Wolverines managed to hold onto a lead for the majority of the first half even with Zak Irvin glued to the bench with two fouls and a lineup that Tom Izzo would most certainly refer to as 'weird', and entered halftime up two behind five points and six rebounds from senior Max Bielfeldt and five points from freshman Aubrey Dawkins.
Irvin then came out of the break on a mission, netting five straight points in a minute and a half to put Michigan up four before Dawkins made a pretty driving layup and a free throw to give the Wolverines a seven-point lead – what would end up being the biggest of the evening.
Following the promising second half start came the all-too-familiar offensive drought for Michigan, however; after going up seven, the Wolverines scored exactly two points over the next 9:12 and suddenly found themselves down six to the equally listless Scarlet Knights.
I, though usually optimistic, simply could not envision a scenario in which Michigan could scrounge up enough offense to stage a comeback; in fact, I'll even admit to doubting whether or not the visitors would score six points the rest of the way.
Yet within those final eight minutes, a light came on. Dawkins drained a huge three from the left wing to cut Rutgers' lead in half before Derrick Walton and Spike Albrecht made back-to-back buckets – the first of the night for both – to tie it up at 42 with just under six minutes remaining.
After a couple more empty possessions on both ends, Walton knocked down his second triple in as many tries for Michigan and Bielfeldt unhesitatingly drained a trey of his own to mirror their earlier six-point deficit.
With three minutes left to make a final run, Rutgers had no chance of mustering up enough offense, and the Wolverines escaped.
Sure, the victory was far from pretty, and few problems appear to be truly solved, but John Beilein will certainly take a road win given the extreme circumstances. The win also marks the second time of Big Ten play in which Michigan has been able to take two of three games.
That's a ratio that Beilein and squad would lovingly live with the rest of the way, but unfortunately the schedule is about to get a lot tougher.
Coming up this Saturday is a home tussle with Big Ten beasts Wisconsin that will feature as ESPN's College GameDay contest. Another home game against lowly Nebraska closes out January before a brutal January consisting of at Michigan State, vs. Iowa, at Indiana, at Illinois, vs. Ohio State, vs. Michigan State, and at Maryland arrives.
For now, the Wolverines will enjoy the improbable victory, hope to heal up quickly, and focus on the Badgers. According to my friend and bracketologist Joe Cook, a win there would put Michigan near the bubble.
Perhaps it's not what Michigan had planned on going into this season. But it's certainly refreshing to see these Wolverines – no matter how young and battered they may be – continue to battle to stay alive.
• One game after freshman Muhammad-Ali Abdur-Rahkman earned his first start in place of the ill Spike Albrecht on Saturday, classmate Aubrey Dawkins started his first career game tonight and made it count with 11 points on eight shots, three rebounds, and one block. Dawkins's game continues to progress slowly after his coming out party against Illinois, and though he doesn't do any one thing spectacularly yet, he's shown enough to overtake the struggling Kam Chatman's spot in the rotation. Dawkins's shot looks good, his hops have propelled him to a couple nice rebounds, and his comfort level on both ends of the floor appears to be on the rise.
• Perhaps the best play of the evening came on a terrific drive from Abdur-Rahkman midway through the second half in the middle of Michigan's brutal scoring drought. The Philadelphia native was pressured all the way down the court and left to handle it on his own, nearly drew a 10-second violation, then blew by his defender without help and laid in a layup (something that hasn't come easily to many Wolverines this season). Rahk also continues to earn more minutes, tallying four points in 14 minutes tonight.
• Ricky Doyle was clearly winded early on in the first half again as he continues to deal with an infection of some sort, but still managed three blocks in just seven minutes.
***Derrick Walton Jr.***
12 points (2-of-8 FG, 2-of-7 3pt, 6-of-6 FT), seven rebounds, three assists, one steal, three turnovers in 30 minutes
**Aubrey Dawkins**
11 points (4-of-8 FG, 2-of-5 3pt, 1-of-2 FT), three rebounds (one offensive), one block in 31 minutes (career high)
*Max Bielfeldt*
8 points (2-of-7 FG, 1-of-3 3pt, 3-of-4 FT), eight rebounds (four offensive), one assist, one turnover in 22 minutes
Final Game Stats

#

Name

FG-FGA

3FG-3FGA

FT-FTA

OR

DR

TOT

PF

TP

A

TO

BLK

S

MIN

21
Zak Irvin*
3-9
2-5
2-2
0
2
2
2
10
0
2
0
0
24
24
Aubrey Dawkins*
4-8
2-5
1-2
1
2
3
2
11
0
0
1
0
31
32
Ricky Doyle*
0-1
0-0
0-0
0
0
0
2
0
1
0
3
0
7
02
Spike Albrecht*
1-4
0-3
0-0
0
2
2
0
2
3
2
0
2
32
10
Derrick Walton Jr*
2-8
2-7
6-6
0
7
7
0
12
3
3
0
1
30
03
Kameron Chatman
1-3
0-0
0-0
2
0
2
1
2
0
2
0
0
8
04
Andrew Dakich
0-0
0-0
0-0
0
0
0
0
0
0
0
0
0
4
12
M-A. Abdur-Rahkman
2-4
0-1
0-0
0
0
0
1
4
1
1
0
0
14
20
Sean Lonergan
1-1
0-0
0-0
0
1
1
1
2
0
0
0
0
13
34
Mark Donnal
1-4
1-2
0-0
2
5
7
1
3
0
0
1
0
15
44
Max Bielfeldt
2-7
1-3
3-4
4
4
8
2
8
1
1
0
0
22
Totals
17-49
8-26
12-14
10
24
34
12
54
9
11
5
3
200
Rutgers
19-53
5-17
7-14
13
22
35
17
50
8
11
3
4
200

Full Stats