---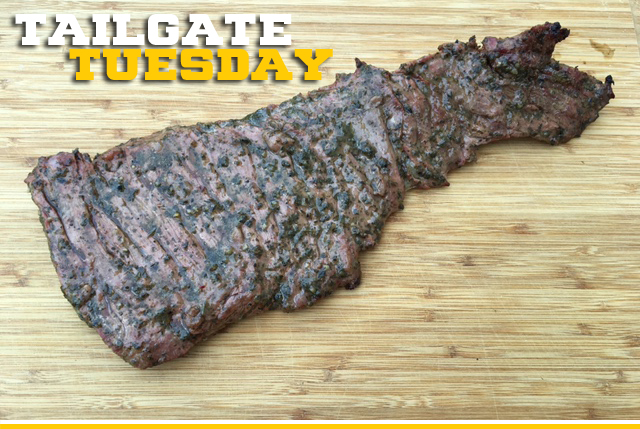 Tailgate Tuesday is our weekly contribution from our resident pitmaster, Joe Pichey from GoBlueBBQ. Joe has limited time this season, so we will be tag-teaming the weekly recipes. These tailgate recipes will be posted each Tuesday throughout the football season and will feature a variety of appetizers, main courses, and sides to help you be the king of your next tailgate. Gentry's BBQ, a Orlando, Fla. based BBQ and catering company, sponsors this season's feature by providing their killer rubs and sauces for use in the recipes. Buy them here. In addition, Fogo Charcoal provides charcoal to use in each recipe. Buy it here.
Previous: Gator kabobs
Recipe Archive
This week's recipe is one I found online this summer and had to try it, and it sure didn't disappoint. It's easy enough to make on a grill, so it's tailgate friendly, and it's a different and extremely tasty twist to the standard tailgate food. Give it a try and take your next tailgate to the next level.
Tortillas:
• 1 pack of bacon
• 2 TBSP + 1/2 tsp vegetable oil
• 1 1/4 cups whole milk, divided
• 2 tsp baking powder
• 1 1/2 tsp Kosher salt
• 3 cups all purpose flour
Filling:
• Hangar or skirt steak
• Gentry's Beef Brigade BBQ Rub
• 2 TBSP olive oil
• 2 large onions
• 10 garlic cloves
• 4 serranos or jalapenos
• 4 tomatoes
• 1/2 cup chopped cilantro
• Monterey jack cheese
• Limes
Start with the tortillas, which will need space on a prep table in order to roll out the dough. Start with cooking the bacon in a skillet, ideally cast iron, on your grill until brown and crisp. Remove the cooked bacon and save for later. Pour out 2 TBSP of bacon fat and set aside for the tortillas. Save the remaining bacon fat in your skillet.
In another pan, combine the vegetable oil, 3/4 cup whole milk, and the 2 TBSP of bacon fat and bring to a simmer (not boil) in the saucepan on your grill. Then immediately remove it from the grill. In a bowl, whisk in the baking powder, salt, and flour, then pour in the hot milk mixture and add the remaining 1/2 cup of cold whole milk. Mix with your hands until a shaggy dough forms. Turn the dough out onto a lightly floured surface and knead until smooth and elastic, about 4 minutes. Wrap in plastic, and let rest at room temperature.
Season your steak with Gentry's Beef Brigade BBQ Rub and a marinade if you wish. For this recipe I used a cilantro lime marinade because I had it in the cupboard, but with all the other flavors in this recipe you certainly don't need it. Grill your steak until nicely browned and medium rare, approximately 5 minutes per side. Transfer to a cutting board and let rest 10 minutes, then slice against the grain.

Add your skillet back to the grill and heat the reserved bacon fat, then add onions and garlic and season with salt and pepper. Cook, stirring often, until they begin to soften, about 5 minutes. Add the serranos or jalepenos and cook another 5 minutes until the chiles are softened and the onions are brown. Add the chopped tomatoes until they are soft and begin to make a sauce, about 10-15 minutes. Mix in the steak slices and juices, the sliced reserved bacon, and some chopped cilantro and cook until the meat is heated through. Top with monterey jack cheese until melted.
If you're doing this at a tailgate, transfer that whole filling mixture into a serving bowl and put your cast iron back onto the grill. Divide your rested dough into approximately 16 ping pong size balls. One at a time, roll out to approximately 6 inches each. Cook on the skillet until brown spots form on the bottom and air bubbles form on the surface, about 2 minutes. Poke large bubbles to release steam. Flip and cook another 1-2 minutes. Cook one or two at a time until done.

Fill tortillas with the steak filling, top with cilantro, and squeeze a little lime juice, and enjoy! These have a deep, rich flavor and the soft bacon fat flour tortillas will be an instant hit, full of flavor and thick enough to hold the heartiness and juiciness of the filling. You'll probably never go back to store bought tortillas again.

Sure, it's a little more work than grilling burgers and brats, but oh so worth it. Your tailgate guests will be asking for more.
Visit Gentry's to purchase their great rubs and sauces. You can follow them on Twitter at @gentrysbbq and you can also follow our resident pitmaster Joe at @mmmgoblubbq.