---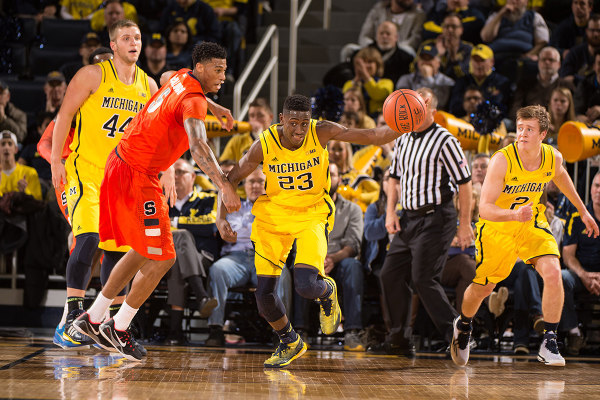 (MGoBlue.com)
Just last week in New York City, the Michigan basketball team clawed back from a second half double-digit deficit to take the lead, only to give it back and let Villanova escape with a win.
Tonight, the tables were nearly turned.
A ferociously long, but very young, Syracuse Orange squad made the trip to Ann Arbor for the annual Big Ten/ACC Challenge and proved to be up for the fight, causing the Wolverines all sorts of difficulty with coach Jim Boeheim's patented 2-3 zone defense and eventually taking a two-point halftime lead.
After a little halftime tinkering, however, Michigan got back on track and started to inch away from the ACC newbies after the break.
The Maize and Blue slowly built a lead, first by a single point on a ridiculous behind-the-back dish from Spike Albrecht to freshman Ricky Doyle, who authoritatively dunked it in Syracuse star Rakeem Christmas's face and completed the and-one, then on triples from Albrecht, Zak Irvin, and Caris LeVert to bump it to seven, and later on another deep Irvin three (assisted by Spike, of course) to bring it to double-digits.
Syracuse, not to be outdone, staged a run of its own, cutting into Michigan's lead on the back of a pair of Trevor Cooney threes and a handful of buckets from freshman Chris McCullough, who could do no wrong in the second half.
But just after tying things up at 63 with under a minute to play, Syracuse shot itself in the foot multiple times, saving the Wolverines from what would have been an equally embarrassing race to the finish.
Out of a late Michigan timeout, it was Spike Albrecht playing the role of hero once again, knocking down a trey from the top of the key to get the crowd, which was easily the loudest of the season, on its feet. Syracuse quickly answered with a wild drive and shot off the glass from junior Michael Gbinije to cut the Wolverine lead to the smallest of margins with 20 seconds to play.
In an obvious foul situation, the Orange sent sophomore point guard Derrick Walton, Jr. to the line for a one-and-one for the Maize and Blue. Walton missed short, with the carom going to McCullough. The freshman, looking to push things, hastily threw the ball directly to Michigan's bench, giving the home crowd a short sigh of relief.
With no choice but to foul again, Syracuse hacked Caris LeVert. LeVert then also proceeded to miss the front end, which McCullough rebounded again. This time, McCullough was able to get it to fellow freshman Kaleb Joseph…who promptly coughed it up on Michigan's baseline to give it back to the Wolverines with four seconds left. LeVert was fouled again and converted both for a 68-65 lead that would go final.
Following the nightmarish finish, legendary Syracuse coach Jim Boeheim showed frustration – "(It was) two freshmen, but whatever" – but understood that dumb errors come with the territory of playing such a young team.
For his part, Boeheim thought it was a "good effort overall" and "the best we've played all year", but credited a Michigan offense that's hard to stop.
John Beilein was perhaps more relieved than anything, but also surprisingly serene for such a heart-pounding finish. After an ugly first half in which Michigan made just three of their 17 three-point attempts and 36.1 percent of their shots overall, the coach simply entrusted his players to continue shooting with confidence – and they did just that, knocking down half of their 16 triples after the break. Beilein also encouraged his guards to "get two feet in the paint offensively", making it easier to dish down low to Doyle, who finished with another terrific and efficient performance of 12 points (4-of-6 FG, 4-of-5 FT) and six rebounds (five offensive) against Syracuse's rangy bigs. Spike was also a primary beneficiary of the halftime tweaks and a not-quite-100 percent Derrick Walton, as he finished with 11 points – seemingly all at crucial times – and a remarkable nine assists to zero turnovers.
The ball, and many calls, seemed to be going Syracuse's way most of the night, but the young Wolverines were able to prove their mettle against a team that will, much like Michigan, almost certainly continue to improve leading up to March.
You can say that Syracuse threw the game away by not getting a shot off on two critical late possessions, but Michigan got the win. Right now, that's all that counts.
• If there was any doubt who Michigan's go-to big man is, Ricky Doyle erased it tonight with his defining, crowd-pleasing performance. Just over a month ago, Doyle looked slow on defense and often out of position on offense, but he has made vast strides on both ends of the floor and continues to show more every game.
Tonight, Doyle impressed with his hands, his positioning on defensive rebounds against the lengthy zone (though he only grabbed one defensive board, his box outs cleared the way for Michigan's guards to clean up the glass), and his overall toughness down low. He was not afraid to call for the ball in the right spots and knew right where to go when catching it in the post. On one late attempt, he knew he missed and immediately jumped to lay it back in among two Syracuse defenders to put Michigan back up by four with 1:50 to play.
After the game, Beilein said that post minutes are far from settled, but it's clear that Mark Donnal is a starter in name only after logging just eight minutes tonight, and Max Bielfeldt's time continues to dwindle, with only six minutes – all in the first half – to 25 from Doyle. Beilein credited much of Doyle's improvement to his gym rat attitude, saying he'd be surprised if the freshman big man was not shooting free throws in the Player Development Center after the game, while Doyle pointed out his work with Jon Sanderson leading to a nearly 15 percent cut in body fat and huge gains in the weight room.
• Kameron Chatman had perhaps his best performance of the season to date, finishing with 10 points, including a momentous late corner three, and nine big rebounds in 28 minutes of play. Chatman was the only Wolverine to consistently find the vulnerable elbow spot against the 2-3 zone, and knocked down a couple smooth-looking mid-range jumpers to go along with a couple dimes.
• Caris LeVert had a pretty quiet night, going just 4-of-14 from the floor and 2-of-8 from distance for 12 points, but he did dish out six assists to just one turnover – helping Michigan to a terrific 19:7 assist-to-turnover margin – while grabbing a couple steals in 40 minutes of action. Sophomore Zak Irvin also went the distance and led all scorers with 18 points on 17 shots, including a 4-of-11 mark from three-point land. Irvin's strength is still in his outside shot, but he's taking positive steps on his dribble-drive game, finishing one very nice weave through a host of Orange defenders for a tougher-than-it-looked layup, while also throwing down a couple monster one-handed slams – one that even saw him land squarely on his behind after jumping out of the gym.
• Michigan recorded a stunning 17 offensive rebounds to Syracuse's 26 defensive boards (good for a 39.5 percent offensive rebounding rate) while grabbing just 14 defensive rebounds to Syracuse's 10 offensive (allowing the Orange to grab 41.7 percent of their misses).
• Freshman D.J. Wilson is out for a few weeks with a knee injury and may explore the redshirt route – which would make a lot of sense, given his relative lack of playing time and meshing within the offense so far, while fellow freshmen Muhammad-Ali Abdur-Rahkman and Aubrey Dawkins didn't see game action. I'm not sure if either will be considered potential redshirt candidates at this point, but it's certainly something to keep an eye on as the rotation continues to tighten against top-level competition.
***Spike Albrecht***
11 points (4-of-8 FG, 3-of-5 3pt), nine assists, three rebounds, two steals, zero turnovers in 27 minutes
**Zak Irvin**
18 points (7-of-17 FG, 4-of-11 3pt), two rebounds, one steal, one turnover in 40 minutes
*Ricky Doyle*
12 points (4-of-6 FG, 4-of-5 FT), six rebounds (five offensive), one block, zero turnovers in 25 minutes
Final Game Stats

#

Name

FG-FGA

3FG-3FGA

FT-FTA

OR

DR

TOT

PF

TP

A

TO

BLK

S

MIN

03
Kameron Chatman*
4-11
1-3
1-2
4
5
9
3
10
2
2
0
1
28
34
Mark Donnal*
1-2
0-0
0-0
0
0
0
2
2
0
1
0
0
8
10
Derrick Walton Jr*
1-7
1-6
0-1
1
2
3
1
3
2
0
0
1
26
21
Zak Irvin*
7-17
4-11
0-0
2
0
2
2
18
0
1
0
1
40
23
Caris LeVert*
4-14
2-8
2-4
0
2
2
1
12
6
1
0
2
40
02
Spike Albrecht
4-8
3-5
0-0
0
3
3
1
11
9
0
0
2
27
32
Ricky Doyle
4-6
0-0
4-5
5
1
6
3
12
0
0
1
0
24
44
Max Bielfeldt
0-0
0-0
0-0
1
0
1
1
0
0
2
0
0
7
Totals
25-65
11-33
7-12
17
14
31
14
68
19
7
1
7
200
Syracuse
24-48
6-17
11-14
10
26
36
15
65
13
19
5
5
200

Full Stats