---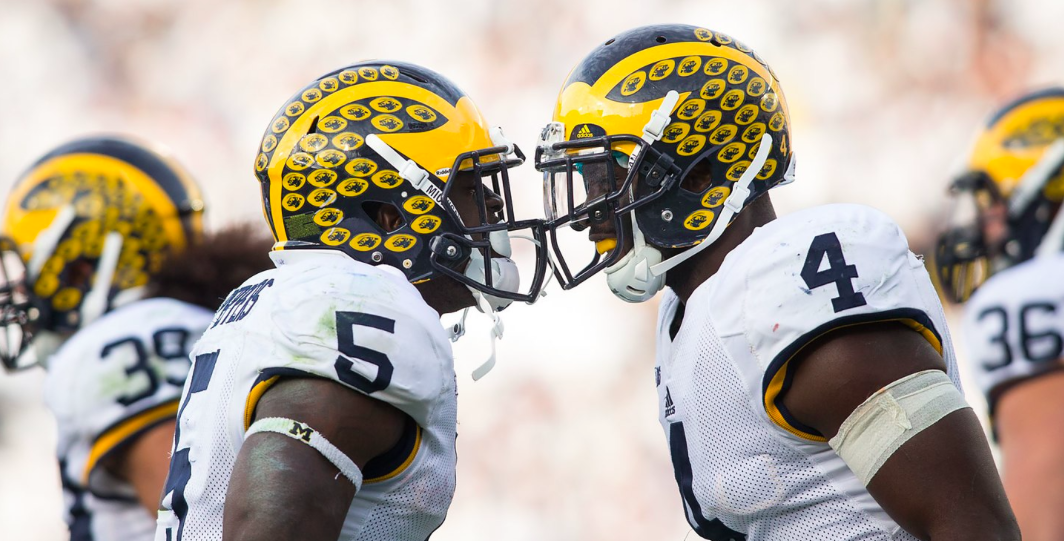 (MGoBlue.com)
With Ohio State looming next Saturday for a potential shot at the Big Ten East division title, Michigan took care of business in Happy Valley with a workman-like 28-16 victory over Penn State.
The defense held Penn State to 207 yards of total offense — most of which came on three big plays — and sacked Christian Hackenberg four times. Jake Rudock continued his ascension with a 25 of 38 for 256 yards and two touchdown performance to lead the Wolverines to victory.
Penn State struck first with a 23-yard Tyler Davis field goal on its first possession of the game, but Michigan answered with a 7-play, 89-yard drive that was capped by a 26-yard touchdown pass from Jake Rudock to Jake Butt. After a Penn State three and out, Michigan made the first mistake of the game when Rudock was intercepted by linebacker Brandon Bell. But Michigan's defense held strong and forced a punt.
Final Stats
Michigan
Penn State
Score
28
16
Record
9-2 (6-1)
7-4 (4-3)
Total Yards
343
207
Net Rushing Yards
87
70
Net Passing Yards
256
137
First Downs
19
14
Turnovers
2
1
Penalties-Yards
13-117
3-30
Punts-Yards
6-198
6-225
Time of Possession
33:22
26:38
Third Down Conversions
7-of-14
3-of-14
Fourth Down Conversions
0-of-0
1-of-2
Sacks By-Yards
4-26
2-10
Field Goals
0-for-0
3-for-3
PATs
4-for-4
1-for-1
Red Zone Scores-Chances
3-of-4
3-of-3
Red Zone Scores-TDs
3-of-4
0-of-3
Full Box Score
Defenses ruled much of the rest of the first half until Penn State found the end zone for the first time with 1:57 remaining in the half. On 3rd-and-6, Christian Hackenberg connected with freshman receiver Saeed Blacknall for a 25-yard touchdown to put the Nittany Lions ahead 10-7.
Michigan marched 70 yards in seven plays on the arm of Rudock, who completed passes of 26 yards to Amara Darboh, four and 11 to De'Veon Smith, 18 to Butt, and then a 11-yard wide receiver screen to Darboh who evaded Penn State defenders and found the end zone. Michigan took a 14-10 lead into the break.
Michigan took the opening possession of the second half across midfield, but stalled and punted it back to Penn State. After forcing a three and out, Michigan again had to punt, but this time return man DeAndre Thompkins muffed it and Jehu Chesson recovered at the PSU 9-yard line. Three plays later, Sione Houma scored from a yard out to put Michigan ahead 21-10.
Another defensive stand gave Michigan the ball back with a chance to put the game away, but Rudock had the ball knocked out of his hands by Bell and Penn State recovered at the Michigan 42. Four plays later, Hackenberg hit Chris Godwin for a 38-yard gain to the Michigan three. But the Michigan defense held strong and forced a 24-yard field goal.
Michigan's offense went three and out, giving Penn State a chance to tie the game with a touchdown and two-point conversion. The Nittany Lions mounted a 10-play, 62-yard drive, but couldn't get past the the goal line and had to settle for another field goal, this time from 18 yards out.
With the game slipping away, leading just 21-16 with 7:53 remaining, Michigan needed to get something going. Enter Jourdan Lewis. The program's single-season record holder for pass breakups took the ensuing kickoff and rumbled 55 yards to the Penn State 40-yard line, giving Michigan's offense a much-needed boost. On the first play, Chesson took an end around 20 yards, and on 3rd-and-6, Chesson was interfered in the end zone giving Michigan 1st-and-goal at the PSU six. Two plays later, Smith broke the plane to put Michigan ahead 28-16. The defense held Penn State off the scoreboard the rest of the way and Michigan completed its first unbeaten road conference slate since 1997.
Although Michigan's offense struggled to move the ball consistently against a very good Penn State defense, it still managed 343 total yards, and their 256 passing yards was the most Penn State's defense has allowed all season. Michigan's receiving trio was consistent as Darboh led the way with seven receptions for 68 yards and a score, Butt with five for 66 and a score, and Chesson with four for 69. Smith led Michigan on the ground with just 39 yards on 13 carries.
Michigan's defense held Hackenberg to just 13-of-31 for 137 yards and one touchdown, while sacking him four times. Freshman running back Saquon Barkley, who entered the game as the Big Ten's third-leading rusher, averaging over 100 yards per game, managed just 68 yards on 15 carries — 56 of which came on the first carry of the game.
Michigan, now 9-2 overall and 6-1 in the Big Ten, finishes the regular season next Saturday with rival Ohio State (10-1, 6-1). The Buckeyes suffered their first loss in 24 games on Saturday afternoon against Michigan State, taking some of the luster out of next Saturday's matchup. The winner of that one needs Penn State to knock off Michigan State in order to advance to the Big Ten Championship Game on Dec. 5.
Jake Rudock (25 of 38 for 256 yards, 2 TDs, 1 INT,)
It maybe boring to some to give Rudock the game ball for the third straight week, but since Michigan had no running game and he spread the wealth evenly between the big three receivers, it's really hard to justify anyone else. Rudock has quietly moved his way up the Big Ten quarterback charts the last three weeks. He has completed 69.7 percent of his passes (76 of 109) for 1,033 yards, 10 touchdowns and just two interceptions during that span. He's a major reason Michigan has won the past two weeks and if he performs the same way next Saturday Michigan could send the Buckeyes back to Columbus with a second straight loss.
Previous:
Week 1 – Jake Butt (8 rec for 93 yards and 1 TD)
Week 2 – De'Veon Smith (23 carries for 126 yards, 3 TDs)
Week 3 – Ty Isaac (8 carries for 114 yards, 1 TD)
Week 4 — De'Veon Smith (16 carries for 125 yards and 1 TD)
Week 5 — Drake Johnson (13 carries for 68 yards, 1 TD, 1 rec for 31 yards, 1 TD)
Week 6 — Mason Cole, Ben Braden, Graham Glasgow, Kyle Kalis, Erik Magnuson
Week 7 — Kenny Allen (3-for-3 field goals, 2-2 PATs)
Week 8 — Jabrill Peppers (4 carries for 16 yards, 1 TD, 1 punt return for 41 yards, 1 kick return for 43 yards)
Week 9 — Jake Rudock (18 of 25 for 337 yards, 2 TDs, 1 carry for 4 yards, 1 TD)
Week 10 — Jake Rudock (33 of 46 for 440 yards, 6 TDs, 1 INT, 7 carries for 64 yards)
Taco Charlton (4 tackles, 3 TFL, 2 sacks)
Everyone knew entering the game that Penn State's offensive line was a sieve, giving up the most sacks in the Big Ten by a wide margin. The question wasn't whether Michigan would be able to get pressure on Hackenberg; it was how many sacks would Michigan record? The answer was four and Charlton contributed half of those. In total, Michigan stopped Penn State behind the line of scrimmage 10 times and Charlton contributed three of those. While Penn State's leading tackler had 12, and five different defenders had at least six tackles, no individual Michigan defender recorded more than five. But it was the tackles for loss and sacks that made the most impact, forcing Penn State into passing situations where they didn't have much luck.
Previous:
Week 1 – Chris Wormley (5 tackles, 3 TFL)
Week 2 – Chris Wormley (6 tackles, 3 TFL, 1 sack)
Week 3 – Jourdan Lewis (3 tackles, 4 PBU)
Week 4 — Ryan Glasgow (3 tackles, 2 TFL)
Week 5 — Desmond Morgan (9 tackles, 1 INT, 2 PBU)
Week 6 — Jourdan Lewis (4 tackles, 1 TFL, 1 INT, 1 touchdown, 1 PBU)
Week 7 — Willie Henry (5 tackles, 3 TFL, 2 sacks, 1 PBU)
Week 8 — James Ross (9 tackles, 1 TFL, 1 sack)
Week 9 — Chris Wormley (4 tackles, 2 TFL, 2 sacks)
Week 10 — Delano Hill (10 tackles, 8 solo, 1 PBU)