---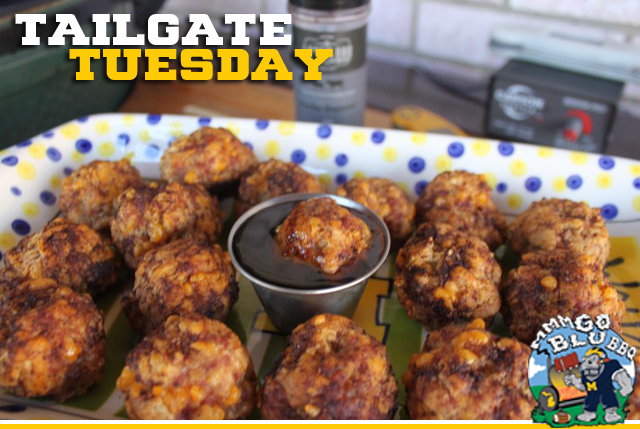 Tailgate Tuesday is our weekly contribution from our resident pitmaster, Joe Pichey from GoBlueBBQ. These tailgate recipes will be posted each Tuesday throughout the football season and will feature a variety of appetizers, main courses, and sides to help you be the king of your next tailgate. Lane's BBQ, a Bethlehem, Ga. based BBQ company, sponsors this season's feature by providing their killer rubs and sauces for use in the recipes. Buy them here. In addition, Fogo Charcoal provides charcoal to use in each recipe. Buy it here.
Previous: Cedar planked scotch eggs, Pork tenderloin sliders with grilled cheese, Chicken street tacos, Sausage and cheese poppers, Tomato pie, smoked corn pudding, Maple planked salmon, Sous vide steak and burgers, Bacon cream cheese, Brazilian style protein
Full Archive here.
This is my favorite morning tailgate item. It's super easy and can be done in the smoker or in your oven. Trust me on this one, your guests will love you for this. It's a old standby. The was originally done by Bisquick, but I had to put my own twist on it by tossing them into the trusty smoker on gameday. If you don't have access to a smoker, just cook them in your oven and they will be almost as good.
• 1-lb breakfast sausage (I like the HOT)
• 2 Cups cheddar cheese
• 3 Cups Bisquick
• 2 TBSP Lane's BBQ Ancho Espresso Rub
• 1/4 Milk (optional)
• Maple syrup for dippin'
• Fogo lump charcoal
Combine all ingredients (except for maple syrup). If the mix is too dry, add your milk. If you do not have any milk, it's still ok. The milk doesn't make a huge difference, but it does make the balls puff a little more. Start forming your sausage balls using a melon baller or a large spoon. I make mine about the same size as your standard golf ball.

Set your smoker up for indirect heat and shoot for a temperature of 325 degrees, using your Fogo Premium Lump Charcoal. It really is the best on the market they and are Michigan guys. Let's help support 'em. If you are cooking these in the oven, set for 325-350 degrees. Add a chunk of pecan wood to your hot coals and get the smoke rolling. Just before you toss them on the heat, sprinkle with a little more Lane's BBQ Ancho Espresso Rub.
Once on the heat, these will cook quickly. These went for about 30 minutes. If you want to check them with an instant read thermometer, look for 165 degrees.

After about 25 minutes, they will start to turn a dark shade of brown and swell just a little. This is from the Bisquick puffing up a little.
If you want to, give them a little brush with the maple syrup. If not, you can just use it as a great dip for these hot sausage balls. They are really addicting. Try and eat just a dozen!

This Lane's Espresso Rub is a perfect compliment for the spicy breakfast sausage. The flavors pair perfectly.
Enjoy these before the big game this Saturday as we beat the Bucks. GO BLUE!!!!
Visit Lane's BBQ to purchase their fantastic line of rubs and sauces. You can follow them on Facebook and Instagram.
Visit Fogo to purchase their premium lump charcoal. You can follow them on Twitter, Facebook, andInstagram.
After growing up in Michigan, Joe now lives in North Texas where he can barbecue year 'round. He cooks mostly on Big Green Eggs and some Webers and has competed in BGE competitions. When he's not watching Michigan football, he also teaches BBQ classes at a local grilling store and does some catering. You can follow Joe on Twitter at @mmmgoblubbq and Instagram at @gobluebbq.