---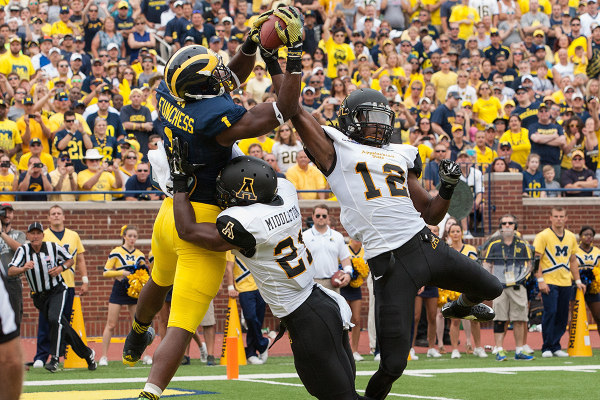 (MGoBlue.com)
Seven years ago one of the best collections of senior talent in recent Michigan history suffered the most embarrassing loss in program history. This time around, a Michigan squad entering the season with plenty of questions made sure it didn't suffer the same fate. Football was back in the Big House and Michigan left no doubt, sending Appalachian State back to Boone, N.C. in a much different fashion than it did in 2007 with a 52-14 loss.
After forcing a three-and-out on App State's first possession, Michigan didn't take long to find the end zone. Devin Gardner pitched the ball out to Devin Funchess for 11 yards on the first play, and nine plays later, found Funchess in the end zone for a nine-yard touchdown. On the opening drive, Dennis Norfleet caught a 10-yard pass and Jehu Chesson caught a 19-yard pass.
Michigan's defense forced another App State punt and the second drive began and ended just like the first. Gardner connected with Funchess for 18 yards, and after four De'Veon Smith runs, Gardner hit Funchess for a 34-yard catch and run touchdown to put Michigan ahead 14-0.
Michigan's offense stalled a bit at the beginning of the second quarter. The Wolverines forced another punt, but couldn't do much on their third possession of the game. Derrick Green busted a 19-yard run on the possession's second play, but Gardner was sacked two plays later and Michigan punted. After another App State punt, Gardner hooked up with Amara Darboh for 26 yards to the App State 30. The drive stalled and Matt Wile missed a 48-yard field goal.
Final Stats
Michigan
App State
Score
52
14
Record
1-0
0-1
Total Yards
560
280
Net Rushing Yards
350
153
Net Passing Yards
210
127
First Downs
24
17
Turnovers
1
0
Penalties-Yards
4-44
8-69
Punts-Yards
1-46
8-287
Time of Possession
30:08
29:52
Third Down Conversions
5-of-8
5-of-17
Fourth Down Conversions
0-of-0
2-of-3
Sacks By-Yards
2-9
1-8
Field Goals
1-for-2
0-for-0
PATs
7-for-7
2-for-2
Red Zone Scores-Chances
6-of-6
2-of-2

Full Box Score
App State still couldn't muster any offense, punting it right back to Michigan and the Wolverines' offense finally clicked once again. Green ripped off a 59-yard run on the first play and Gardner found Funchess for nine yards on the second. A facemask penalty moved the ball to the ASU 8-yard line and Gardner lobbed up a jump ball for Funchess in the back of the end zone on the next play. Funchess leaped over two defenders, caught the ball, and got a foot down to give Michigan a 21-0 lead.
Michigan's next possession was all on the ground as Smith rambled for 61 yards on the first play and a 12-yard touchdown on the next and it appeared that Michigan would take a 28-0 lead into the half. But the special teams had different plans. After forcing App State to punt once again, Mike McCray blocked the punt and Ben Gedeon picked it up and raced 32 yards for the score. Through one half of play, Michigan had out gained Appalachian State 334-74.
In the second half, Michigan picked up right where it left off, this time letting Green do the work. Green carried the ball on all six plays, yet again breaking a big one, this time for 62 yards, and finishing it off with a one-yard touchdown run.
Appalachian State finally got in on the action, putting together its first extended drive of the day. The Mountaineers went 75 yards in 11 plays, capped off by an eight-yard touchdown pass from Kameron Bryant to Simms McElfresh. The scoring drive was aided by a 34-yard pass from Bryant to Jaylan Barbour.
App State fooled Michigan with an onside kick recovery, but the kicker inadvertently touched the ball before it went 10 yards and Michigan took over at the ASU 44-yard line. Gardner led off the drive with a 17-yard pass to Norfleet, then rushed twice for three and eight yards. After a three-yard pass to Chesson, Smith punctuated the drive with a 13-yard touchdown run to put Michigan ahead 49-7.
Michigan forced another App State punt and Shane Morris came in to relieve Gardner. On the drive's third play, Morris connected with Keith Heitzman for 26 yards, but on the following play, Morris was intercepted at the App State 4-yard line.
The Mountaineers took advantage, marching 96 yards in 19 plays. Marcus Cox carried it in from a yard out for App State's second touchdown of the game. Matt Wile kicked an 18-yard field goal on Michigan's next possession and the Wolverines won 52-14.
Gardner passed Tom Brady for seventh on Michigan's career touchdown list, going 13-of-14 for 173 yards and three touchdowns. Funchess caught seven passes for 95 yards and three scores, becoming the first player in Michigan history to score three touchdowns in the season opener. Green led Michigan with with 170 yards and a touchdown on 15 carries (11.3 yards per carry), while Smith rushed for 115 yards and two touchdowns on just eight carries (14.4 yards per carry).
As a team, Michigan amassed 560 total yards and averaged 10.2 yards per play, while holding Appalachian State to just 280 total yards — mostly with the second-team defense in. Michigan converted 5-of-8 third downs and held App State to just 5-of-17. Taco Charlton and Chris Wormley each recorded a sack, while Desmond Morgan and James Ross led the team with six tackles apiece.
Michigan travels to South Bend next Saturday for the final meeting with Notre Dame. The Irish beat Rice 48-17 in Week 1.
• Devin Funchess switched from No. 87 to No. 1 prior to the game, marking the first time the number has been worn since Braylon Edwards in 2004.
• The Michigan Stadium attendance of 106,811 was the 252nd consecutive game with more than 100,000 fans.
• Michigan is now 111-21-3 all-time in season openers and Brady Hoke is now 9-3 (4-0 at Michigan).
• The game captains for Michigan were Brennen Beyer, Frank Clark, Devin Gardner, Desmond Morgan, and Jake Ryan.
• Jabrill Peppers was injured in the first quarter, but played the rest of the half. He did not play the second half. Hoke said afterward that he could have gone if needed, but they wanted to keep him healthy for next week.
• Gardner's 92.8 completion percentage was second in program history with a minimum of 10 completions, behind only Tate Forcier's 100 percent (12-of-12) versus Bowling Green on Sept. 25, 2010.
• Gardner also passed Tom Brady for ninth in career passing yards (5,280).
• Derrick Green and De'Veon Smith both eclipsed 100 yards, the 38th time two backs have done so in the same game in program history. It was the first time since Carlos Brown and Brandon Minor did so against Minnesota on Oct. 27, 2007.
• Michigan's streak of 15 consecutive games with a forced turnover ended.