---
The following story was written for our annual Michigan football season preview magazine, In the Huddle: Michigan by Lindy's Sports. However, due to the abrupt closing of their primary Midwest distributor in June, they were unable to publish the Michigan, Ohio State, or Notre Dame magazines this year. 
One hundred and thirty-five years ago, Michigan football was born. On May 30, 1879, the first official University of Michigan football team participated in its first game against Racine College. The game was played in Chicago, Illinois, and was attended by 500 spectators. Michigan's Irving Kane Pond scored the contest's only touchdown, leading Michigan to a 1-0 victory. Yes, touchdowns were worth just a single point in 1879.
Things have changed a bit for Michigan football since that historic day in May 1879. On August 30, 2014, the Wolverines will kick off their 135th season against Appalachian State. The game will be played in Ann Arbor, Michigan, and attended by more than 110,000 spectators. It is highly probable more than one touchdown will be scored, and, when they are, they will be worth six points, not a measly one.
Despite these variations, there has been one relative constant the past 135 years: Michigan's stature in college football. Since competing against Racine College in 1879, Michigan has established itself as one of the most storied college football programs. No school has more all-time wins than Michigan. Only one school has a higher all-time winning percentage than Michigan, and it is only by six one-hundredths of a percentage point, too. The Wolverines also have 11 national championships, 23 undefeated seasons, 42 conference titles, 43 bowl appearances, three Heisman Trophy winners, and 129 first-team All-Americans. These are the numbers of a program that has been the cream of the crop for multiple stretches of time. Therefore, let's reflect on the five eras of Michigan football that made it one of the most prestigious programs in the nation.
1901-05: The "Point-a-Minute" Era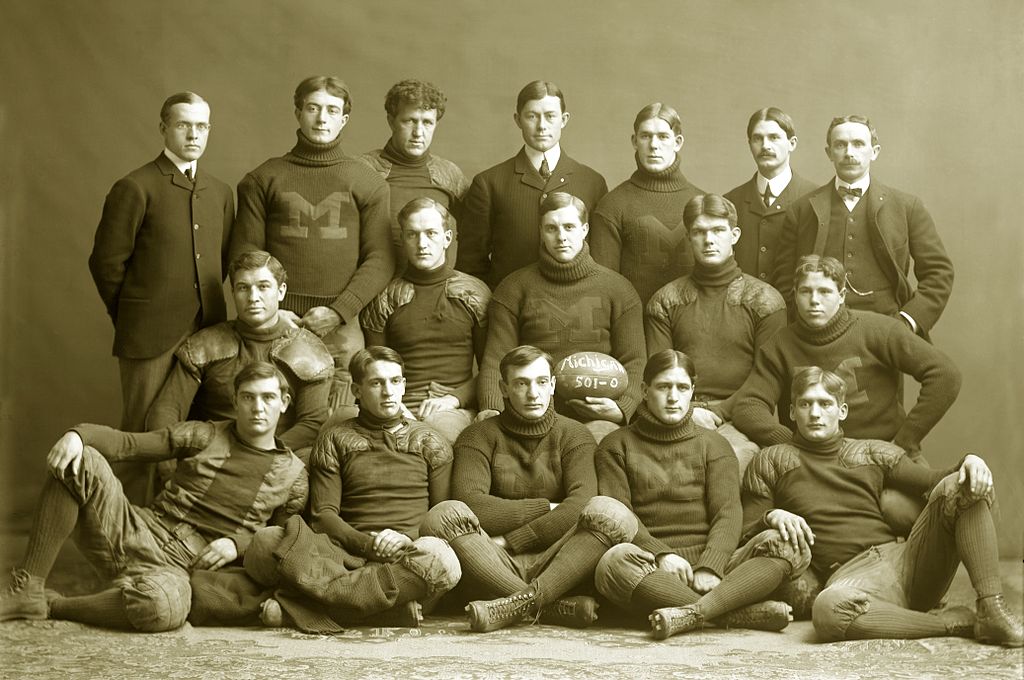 After the 1900 season, Michigan head coach Langdon Lea resigned. Needing a new coach for the following season, Michigan's athletic director, Charles A. Baird, extended an offer to Fielding H. Yost, which Yost accepted. When Yost first arrived in Ann Arbor, he famously ran up State Street and proclaimed to a reporter, "Michigan isn't going to lose a game." Yost delivered on his guarantee.
In Yost's first season, Michigan achieved a perfect 11-0 record, won the inaugural Rose Bowl, and claimed the program's first national championship. Yet this is not even Michigan's most impressive feat. En route to a perfect record, Michigan outscored all of its opponents by a 550-to-0 margin. In fact, one week, the Wolverines scored 22 touchdowns in 38 minutes of play against Buffalo. The game was so out of hand that Buffalo quit with 15 minutes still left to play. And Buffalo was not the only Michigan opponent to surrender early. Michigan's 1901 campaign remains of the most dominant seasons, if not the most, in college football history. It also ushered in the "Point-a-Minute" era.
From 1901 to 1905, Yost's squads were known as the "Point-a-Minute" teams. Why? Michigan's offense was so proficient that it scored 2,821 points those five seasons, averaging nearly one point scored for every minute of play. Accordingly, the Wolverines did not suffer a single loss in their first 56 games under Yost, compiling a 55-0-1 record. They won national championships in 1901, 1902, 1903, and 1904. They also were in line to capture their fifth consecutive national title in 1905, defeating their first 12 opponents by a 495-to-0 margin. But the University of Chicago upset Michigan, 2-0, in the season finale and handed Yost his first loss at Michigan. The loss marked the end of Yost's "Point-a-Minute" teams and arguably the most dominant dynasty in college football.
1922-26: The End of Yost's Reign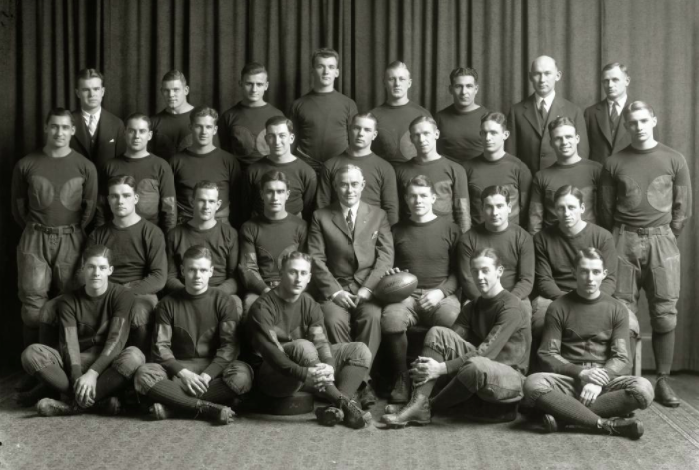 Two decades later, Yost still was the coach at Michigan. After the "Point-a-Minute" era, Michigan continued to be successful under Yost, but conference championships were few and far between. However, the Wolverines returned to their championship-winning ways as the sun began to set on Yost's tenure as Michigan's coach.
In 1922 and 1923, Michigan did not lose a single game. In 1922, Michigan went 6-0-1, winning a share of its second Big Ten championship since 1906. The following season, the Wolverines were a perfect 8-0-0 and locked up their sixth national championship under Yost. Yost then retired as coach to focus on his duties as Michigan's athletic director. However, his replacement, George Little, left Michigan after one season. Yost decided to return to his old post on the sideline for one last stint. Why? He saw an opportunity to revolutionize the game.
In 1925 and 1926, Michigan had quarterback Benny Friedman and receiver Bennie Oosterbaan. During those times, teams did not throw the football unless they were desperate for a big play. Instead, teams committed their entire offense to running the football. But this changed with Friedman and Oosterbaan. Friedman displayed passing skills that no previous quarterback ever had, while Oosterbaan became the prototype for an athletic, finesse receiver who could be a downfield threat. Together, they excited audiences weekly as Friedman connected with Oosterbaan for passing touchdown after passing touchdown. Accordingly, the duo became known as "The Benny-to-Bennie Show."
Not only was their "show" exciting, it was quite productive, too. Friedman and Oosterbaan led Michigan to back-to-back conference championships in 1925 and 1926. In fact, Yost called his 1925 squad "the greatest football team I ever coached" and "the greatest football team I ever saw in action." He even thought that the 1925 team was better than his "Point-a-Minute" teams. However, the 1925 squad failed to win a national title because it lost to Northwestern, 3-2, in the middle of a heavy rainstorm. They were the only three points Michigan allowed all year. After the 1926 season, Yost retired as Michigan's coach for the second time. This time, it would stick. Yost's reign over college football ended.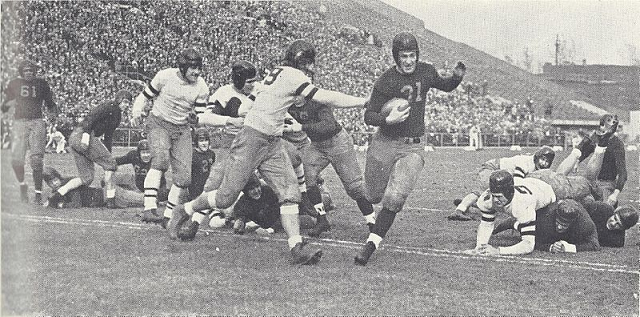 But Michigan's reign over college football did not end with Yost's second retirement. In 1929, acting as Michigan's athletic director, Yost hired Harry Kipke as Michigan's new coach. Kipke used his first season to mold Michigan into the program he wanted to take into battle. By his second season in 1930, Michigan once again was ready to fight as a college football powerhouse.
In 1930 and 1931, Michigan was a serious championship contender, but a few slipups here and there cost Kipke and the Wolverines their chances. In 1930, the Wolverines posted an 8-0-1 record and their first undefeated season since 1923. Michigan shared a piece of the Big Ten championship with Northwestern, but a scoreless draw against Michigan State prevented Michigan from earning the national crown. Next season, Michigan's defense was a force with which to be reckoned. The Wolverines shut out eight of their 10 foes and allowed only 27 points all year. But 20 of those points were allowed in one game. The result was a 20-7 loss to Ohio State. Although Michigan's 8-1-1 record was sufficient to capture its second straight Big Ten title, the Wolverines were one mistake away from a national championship yet again.
But Michigan rectified its errors in 1932 and 1933. In 1932, there were no losses or ties to foil Michigan's national championship dreams. The Wolverines finished with a perfect 8-0-0 record. Michigan rode its defense to the program's seventh national title and Kipke's first. The Wolverines shut out six of their eight opponents and allowed only 13 points all year. In 1933, Michigan went 7-0-1. The Wolverines' only blemish was a scoreless stalemate against Minnesota. Nonetheless, unlike the 1930 campaign, Michigan had done enough to be crowned the national champion for the second straight season. Overall, from 1930 to 1933, Kipke was king, leading Michigan to a 31-1-3 record, four straight Big Ten championships and back-to-back national titles.
1947-50: The Mad Magicians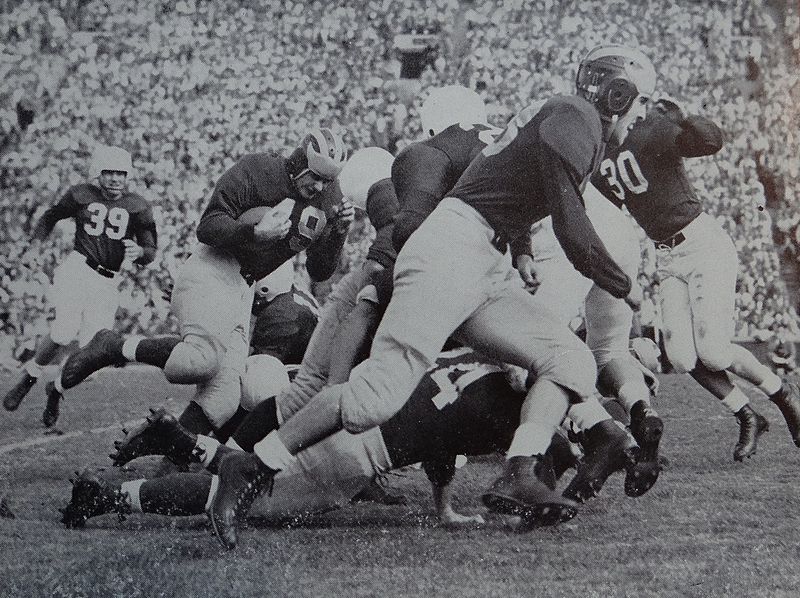 Fritz Crisler became Kipke's successor in 1938. Crisler made his mark on the Michigan program early in his tenure. When he first arrived in Ann Arbor, Crisler presented Michigan with the famous winged football helmet. Supposedly, he wanted his players to wear the winged helmet, so his quarterback could locate his receivers downfield. Nonetheless, the winged helmet has become one of the iconic symbols of Michigan football. But it was not until the end of his tenure when Crisler made his biggest contribution not only to Michigan, but to all of college football.
Prior to 1947, teams played their best players on both offense and defense. However, in 1941, the NCAA implemented a new rule that allowed players to enter or leave at any point during the game. Crisler took advantage of this rule in 1947 when he divided his team into "offensive" and "defensive" specialists. This became known as "two-platoon football" and would forever change how the game of football would be played.
With specialized units on both offense and defense, Michigan mastered both sides of the line of scrimmage. This was especially the case on offense. Michigan deployed seven different formations and an array of trick plays. There were double reverses, buck-reverse laterals, crisscrosses, quick-hits, and spins. These plays, along with the Wolverines' endless substitutions, created a level of deception and chaos that no one had ever seen on the gridiron. Accordingly, the media nicknamed the 1947 team the "Mad Magicians."  The Mad Magicians won both the Big Ten and national championship. Crisler retired after the season, but two-platoon football propelled the Wolverines to three more Big Ten titles and another national title the following three years.
1969-78: The Ten-Year War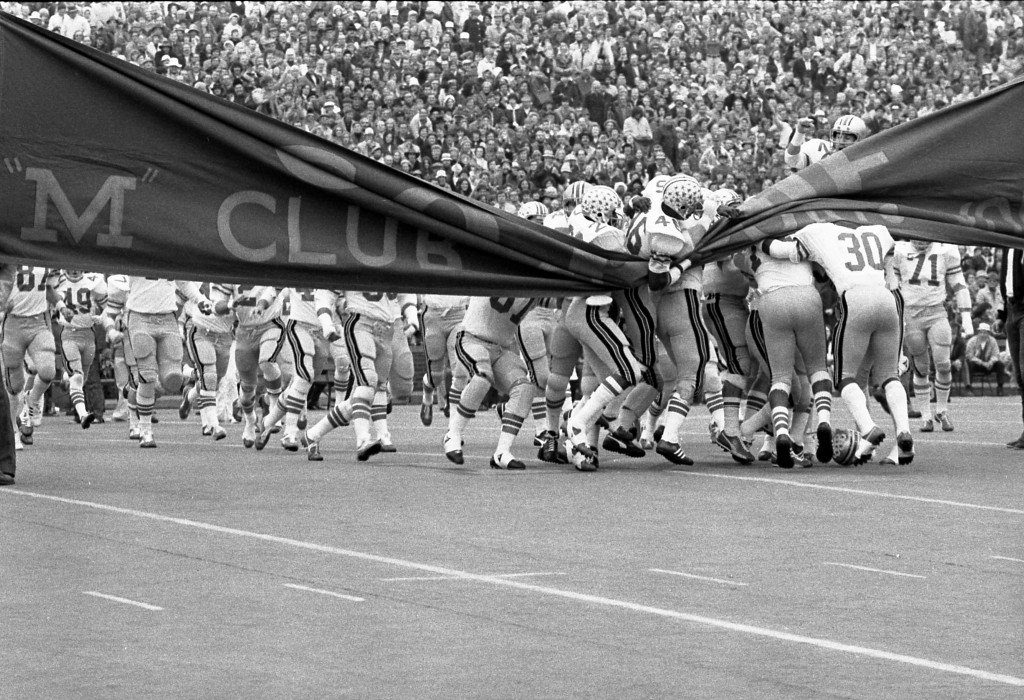 Michigan versus Ohio State. Maize and Blue versus Scarlet and Gray. It is arguably the greatest rivalry in all of sports. And this was never more the case than when it was Bo Schembechler versus Woody Hayes. When Michigan hired Schembechler prior to the 1969 season, the Wolverines were a shell of their former selves. They had endured multiple losing seasons the previous two decades and had wandered into mediocrity. On the other hand, Hayes had transformed the Buckeyes into a juggernaut and one of the best college football programs in the nation.
In Schembechler's first meeting against Hayes in 1969, no one outside the Michigan locker room expected the Wolverines to win. Ohio State rode a 22-game winning streak into the matchup, which included a 50-14 rout over Michigan the previous season. Some even considered the Buckeyes to be the best team of all-time. The Wolverines did not care. Michigan jumped out to a 24-12 halftime lead and held on to upset Ohio State by the same score with the help of seven OSU turnovers. Not only was Michigan's victory considered one of the most historic upsets in college football, it ignited the heated "Ten-Year War."
Under Schembechler and Hayes, respectively, Michigan and Ohio State were by far the two best Big Ten teams from 1969 to 1978. Michigan's record against non-Ohio State teams those seasons was 91-11-2. Ohio State's record against non-Michigan teams those seasons was 84-15-2. Consequently, both schools always were looking ahead to their rivalry showdown in the regular-season finale because they knew that outcome would determine the Big Ten champion, the Big Ten's representative in the Rose Bowl, and, in some cases, the national champion. Despite winning only two of the first seven matchups, Michigan beat Ohio State three straight times from 1976 to 1978 to win the Ten-Year War with a 5-4-1 record. During this run, the Wolverines clinched at least a share of eight Big Ten championships and appeared in five Rose Bowls. The Ten-Year War brought Michigan football back from the dead and raised its rivalry with Ohio State to an unprecedented level.
Since the Ten-Year War, Michigan has had some very successful stretches of success. From 1988 to 1992, the Wolverines won five straight Big Ten titles. Then, from 1997 to 2000, Michigan claimed its 11th national championship in 1997, three Big Ten titles, and four straight bowl victories. But those teams did not exude the superiority and dominance that Michigan did in those earlier eras. Those earlier eras made Michigan football what it is today. And, on August 30, 2014, Michigan hopes to begin a new one that tops all of them.