---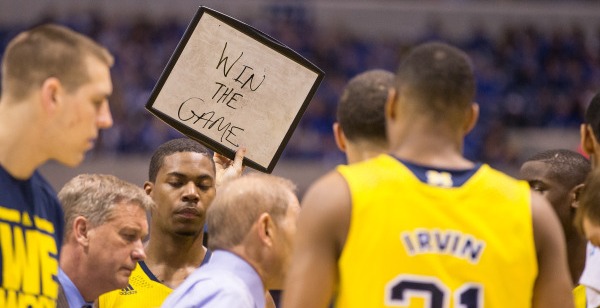 (MGoBlue.com)
The pregame build up for Michigan's Sweet Sixteen matchup with 11th-seeded Tennessee centered around the Volunteers' physical advantage with bruising big men Jarnell Stokes and Jaronne Maymon. Michigan's overlooked center, senior Jordan Morgan, took notice and outplayed both of them, leading the Wolverines to a 73-71 victory.
"We heard all week about they had mismatches and how we couldn't guard them inside," Morgan said. "I guess people forgot we play in the Big Ten and we won the Big Ten outright."
Morgan's defense held Stokes to just 11 points and six rebounds — well below both his season and NCAA Tournament averages — while piling up 15 points and seven boards of his own. But his biggest play was also the most controversial. With nine seconds remaining and Michigan clinging to a one point lead, Tennessee inbounded the ball to Stokes along the baseline. As Stokes made his move to the basket, Morgan stood strong, drawing the contact and falling backward. Charge was called and Michigan survived.
"They set a screen for him to come open, so I knew that the play was going to be for him," Morgan said of the play. "I just know he likes to play bully ball and was just in a stance ready. I don't know, I just was there. That's just something I do. I take charges. That's just what I do."
Despite Morgan's strong play, the game didn't have to come down to the wire had Michigan not blown a sizable lead. The Wolverines led 60-45 with 10:56 to play and seemed to be cruising into the Elite Eight. But Tennessee started chipping away at the lead. An 8-0 run cut the lead to seven before a Morgan jumper ended a scoring drought of 3:30.
Tennessee cut the lead to six, but Derrick Walton Jr. answered with his second three of the game. Layups by Josh Richardson and Jordan McRae sandwiched a Stauskas layup and then Stauskas nailed a three to bring Michigan's lead back to double digits at ten. But Tennessee wasn't done.
Back-to-back Tennessee baskets brought it within six, and after a Morgan dunk, the Volunteers got a three-point play by McRae. After a Michigan turnover Richardson got a layup to pull the Vols within three with just 24 seconds left. Spike Albrecht inbounded the ball to Glenn Robinson III along the sideline, but he had nowhere to go with it and threw it away. Tennessee once again capitalized with a layup by McRae. Suddenly, Michigan's lead was down to one with 10 seconds left.
Albrecht threw the inbounds pass to Caris LeVert, who stepped on the end line as he tried to turn and run. Now, not only was Michigan up just one, but Tennessee had possession and a chance to win. But that's when Morgan stepped in to draw the charge. Michigan got the ball to Stauskas, who was sent to the free throw line and made the front end of the one-and-one. Tennessee's last-ditch heave didn't fall and Michigan survived.
Michigan shot 55.1 percent for the game, but 61.5 percent in the first half, which helped the Wolverines open up the big lead. Michigan led by 11 at the half. They cooled off in the second, shooting "just" 47.8 percent. After a 7-of-9 three-point performance in the first half, Michigan made 4-of-11 in the second half.
As expected, Michigan lost the rebounding battle, but the 28-26 difference was much closer than the pregame talk predicted. The main area of concern is an uncharacteristic 13 turnovers for a Michigan squad that committed just four against Texas in the Round of 32.
Morgan led Michigan with 15 points and seven rebounds. Stauskas added 14 on 5-of-12 shooting and 3-of-8 three-point shooting. Robinson III continued his solid play in the tournament with 13 points on 5-of-8 shooting to go along with five rebounds. LeVert was the fourth Michigan player in double figures with 10 points, while Walton Jr. was one shy with nine. Zak Irvin went 3-of-3 off the bench from downtown to also contribute nine.
Michigan remains in Indianapolis through the weekend and will face the winner of the Kentucky-Louisville match for a trip to the Final Four. The game will take place at 5:05 p.m. ET and be televised by CBS.
***Jordan Morgan***
15 points (7-of-9 FG, 1-of-1 FT), 7 rebounds (pne offensive), one block, one steal, one turnover in 32 minutes
**Jordan McRae (UT)**
24 points (9-of-18 FG, 0-of-5 3PT, 6-of-11 FT), six rebounds (two offensive), four block, one steal, two assists in 38 minutes
*Glenn Robinson III*
13 points (5-of-8FG, 1-of-1 3PT, 1-of-2 FT), five rebounds (two offensive), two assists, one steal, two turnovers in 39 minutes
• Michigan broke the program record for made three-pointers in a season, surpassing the previous mark of 305, which was set in 2008-09. The Wolverines currently have 312 on the season.
• This Michigan team currently ranks eighth in program history for points scored in a season. The Wolverines moved up from 11th, surpassing the 1996-97, 1997-98, and 1991-92 teams.
• Michigan is now 8-0 this season when Jordan Morgan scores in double figures and 13-2 when Nik Stasukas, Caris LeVert, and Glenn Robinson III all score in double figures.
• Jordan Morgan currently ranks first all-time in single season (68.80 percent) and career (62.71 percent) field goal percentage. He leads Maceo Baston by 0.64 and 0.04 percent, respectively.
• Nik Stauskas surpassed the 600-point mark on the season, the 21st time a Michigan player has accomplished the feat. Stauskas is also now just one three-pointer away from tying Louis Bullock (1995-97) for the most made threes in the first two seasons.
Final Game Stats

#

Name

FG-FGA

3FG-3FGA

FT-FTA

OR

DR

TOT

PF

TP

A

TO

BLK

S

MIN

01
Glenn Robinson III*
5-8
1-1
2-2
2
3
5
0
13
2
2
0
1
39
10
Derrick Walton Jr.*
2-2
2-2
3-3
0
6
6
3
9
4
3
0
0
30
11
Nik Stauskas*
5-12
3-8
1-2
0
0
0
1
14
2
1
0
0
37
52
Jordan Morgan*
7-9
0-0
1-1
1
6
7
3
15
0
1
1
1
32
23
Caris LeVert*
4-10
2-5
0-0
0
1
1
1
10
5
5
0
3
33
02
Spike Albrecht
1-2
0-1
0-0
0
0
0
2
2
1
0
0
0
10
15
Jon Horford
0-1
0-0
1-2
1
3
4
2
1
0
0
0
0
8
21
Zak Irvin
3-5
3-3
0-0
0
0
0
1
9
0
0
0
0
11
Totals
27-49
11-20
8-10
6
20
26
13
73
14
13
1
5
200
Tennessee
30-57
3-11
8-14
11
17
28
13
71
11
7
8
7
200

Full Stats