---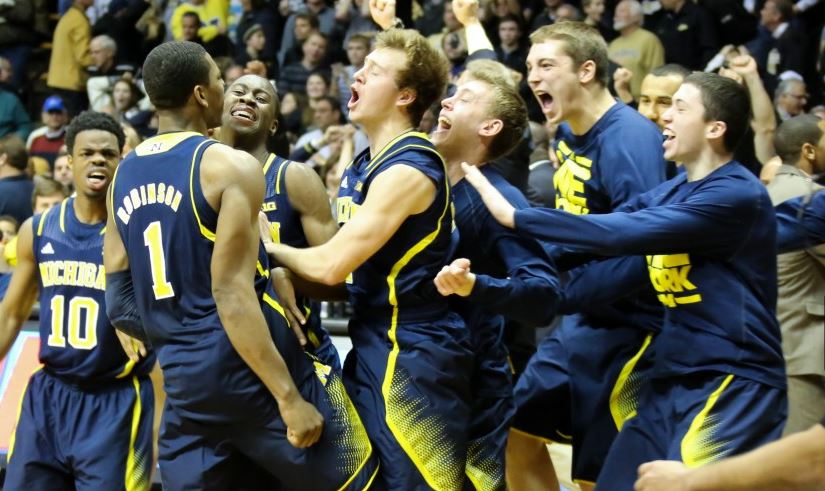 (Dustin Johnson, UMHoops)
Basketball, like most sports, is a game that can have wild outcomes from time-to-time. When trying to throw a nine-inch ball into an 18-inch rim from 20-some feet away, that is to be expected. Still, some guys are better at shooting that ball, and teams with those players generally prevail – but not always.
Michigan is a team this season that is incredibly skilled on offense, capable of dominating any team in the nation when the shots are falling. But when shots aren't falling, weird things happen.
On Wednesday night, the Wolverines simply couldn't throw that orange ball into the orange rim no matter how open their looks were. Purdue, their opponent, on the other hand, seemingly couldn't miss – despite being a poor shooting team on average.
Coming into last evening's clash at Mackey Arena in West Lafayette, Michigan led the Big Ten with a 47.9 percent shooting mark from the floor, while Purdue lagged a ways behind at 42.7 percent. The teams' three-point shooting numbers – 39.4 percent for Michigan and 33.9 percent for Purdue – also heavily favored the visitors.
For the first half, however, things couldn't have been more different. The Boilermakers, playing for pride and a potential NIT bid in a lost season, connected on their first three shots and ran out to a 19-point lead over Michigan just over 12 minutes into the first half on their way to making 52 percent of their field goals (13-of-25) and 45.5 percent of their threes (5-of-11). At the 7:43 mark of that first half, Purdue was more than tripling – TRIPLING – Michigan's score.
The Wolverines, on the other hand, touting a roster with five regulars shooting better than 39 percent from deep, made just eight of their 27 shot attempts in the first half (29.6 percent) and a meager 2-of-10 threes (20 percent).
This wasn't supposed to happen. After ousting Michigan State in a thrilling come-from-behind victory three days ago in Ann Arbor, Michigan was all but crowned conference champion with four games remaining over bottom-half Big Ten teams and a one-game lead over those Spartans. At some point, perhaps the Maize and Blue bought into the hype, or maybe Purdue was fed up with being walked all over.
Whatever it was, Purdue was cruising to victory. Near the end of a dominant first half, the Boilermakers took a brief stumble and allowed Michigan to cut the lead to single digits, but a couple of Wolverine mistakes and Boiler buckets later and the halftime lead was a still very large 13 points.
Then, inevitably, Michigan started clawing back into the game as we've seen so many times this year. Sure, the Wolverines' poor opening play in some games has left all of us fans frustrated, but there is no denying the fight in this team.
As has been the case all season, Michigan's deficit started shrinking – 11, nine, seven, then just four points with a whopping 12:44 left to play. Certainly, Purdue's nominal lead would continue disappearing, all the way to zero, before the boys in Blue ran away with it.
But that didn't happen either. In fact, Purdue never trailed Michigan for 40 minutes. Despite a continuous battle and even a couple of ties, Michigan never got over the hump and looked like they would fall victim to the trap game, giving Michigan State a glimmer of hope in the Big Ten title race.
Again, Michigan fought, earning a chance to win it with the final shot at the end of regulation. And despite Nik Stauskas's clanger off the rim to end the second half, the Wolverines had to feel good about sending this game to overtime.
With A.J. Hammons out of the game on fouls and five more minutes of game time, Michigan had a golden opportunity to steal yet another road victory, and it looked like they would after grabbing their first lead of the night just 30 seconds into the extra period.
But Purdue wouldn't go down easily either. Fueled by Ronnie and Terone Johnson and near-perfect free throw shooting, the Boilermakers proved resilient enough to grab the lead back with 31 seconds remaining, and seemed primed to close the game out when Kendall Stephens was sent to the line for a one-and-one opportunity with 13 seconds left. After 17 straight made free throws for Purdue, two more didn't seem like a big deal, but Stephens missed, giving Michigan one last chance.
Caris LeVert, who struggled shooting the ball (4-of-12 FG), raced up the court, danced around for a second, and then huddled up with the rest of his team when John Beilein called a timeout with 2.9 seconds on the clock.
This was it. Michigan faced a one-point deficit with less than three seconds to go. Make a basket, and the game is won. Miss, and well, maybe missing was never an option.
Out of the timeout, LeVert inbounded on the side out-of-bounds line and threw a high rainbow to the far corner to a leaping Glenn Robinson III, whose 12 second half points had kept Michigan alive. Robinson, one of the best athletes in the country, leapt up high over Raphael Davis, came down with the ball, gave a quick head fake, took one dribble toward the basket, and threw up a shot off glass – all with his dad, former Purdue All-Everything forward and first overall NBA selection Glenn Robinson, watching. The ball, seemingly moving in slow motion, hit off the backboard, bounced a couple times off the side and front of the rim, then gently trickled through that 18-inch rim. The buzzer sounded, and the game was over.
On a night when Michigan's two leading scorers combined for 29 points on a miserable 9-of-30 mark from the field, the Wolverines somehow got it done.
There's a certain resilience about this team that is both refreshing and encouraging, but there's also a certain tendency of falling behind that seems concerning.
But a win is still a win, and now only three games separate these Wolverines from an outright Big Ten championship and an almost certain top-three seed in the NCAA Tournament.
Glenn Robinson III said it best after the game: "It's a great win for us. We competed hard and came out with the victory."
At this point in the season, every win is great.
***Terone Johnson***
22 points (7-of-14 FG, 4-of-8 3PT, 4-of-4 FT), four rebounds (one offensive), three assists, three turnovers in 41 minutes
**Glenn Robinson III**
17 points (7-of-11 FG, 0-of-1 3PT, 3-of-4 FT), eight rebounds (two offensive), three assists, one turnover in 39 minutes
*Ronnie Johnson*
21 points (9-of-15 FG, 1-of-3 3PT, 2-of-2 FT), seven assists, four rebounds, two steals, four turnovers in 41 minutes
Michigan's eFG% was 46.2% tonight. That is lowest U-M has recorded in a win since posting 42.5% vs. UMass-Lowell in the opener.

— Drew Hallett (@DrewCHallett) February 27, 2014
Michigan now has its fourth-straight 20-win season for the first time since 1990.

— Drew Hallett (@DrewCHallett) February 27, 2014
Michigan has 12 conference wins in three straight seasons for the first time since 1990.

— Drew Hallett (@DrewCHallett) February 27, 2014

• Senior Terone Johnson continued to be a big pain for Michigan, going for his third career 20-point game against the Wolverines — something he has only accomplished seven other times in his career. But this time it was done through some terrific outside shooting while brother Ronnie did major damage in the paint. The guard duo combined to make an excellent 5-of-11 threes and all six of their free throws while leading five Boilermakers in double digits.
• Michigan's ball movement was mostly effective tonight, and it shows with their outstanding 19 assists on 27 made buckets to just seven turnovers. Five Wolverines – LeVert, Stauskas, Spike Albrecht, Jordan Morgan, and Robinson III – recorded at least three assists a piece and only Stauskas and Derrick Walton, Jr. turned it over more than once. Still, Purdue managed to win the points off turnover battles, getting 13 to Michigan's 11 points on 11 Purdue cough-ups.
Final Game Stats

#

Name

FG-FGA

3FG-3FGA

FT-FTA

OR

DR

TOT

PF

TP

A

TO

BLK

S

MIN

01
Glenn Robinson III*
7-11
0-1
3-4
2
6
8
2
17
3
1
0
0
39
10
Derrick Walton Jr.*
2-6
2-6
2-4
2
2
4
0
8
1
2
0
1
24
11
Nik Stauskas*
5-18
0-4
5-7
1
1
2
2
15
3
2
0
0
41
52
Jordan Morgan*
6-8
0-0
1-3
3
6
9
3
13
3
0
1
2
33
23
Caris LeVert*
4-12
2-5
4-4
3
4
7
1
14
4
1
0
1
41
02
Spike Albrecht
1-5
0-3
0-0
0
0
0
2
2
4
1
0
2
21
15
Jon Horford
0-1
0-0
0-0
1
1
2
3
0
0
0
1
0
11
21
Zak Irvin
2-4
2-4
2-3
0
1
1
1
8
1
0
0
0
15
Totals
27-65
6-23
17-25
14
23
37
14
77
19
7
2
6
205
Purdue
26-63
7-24
17-18
14
25
39
17
76
15
11
4
3
205

Full Stats