---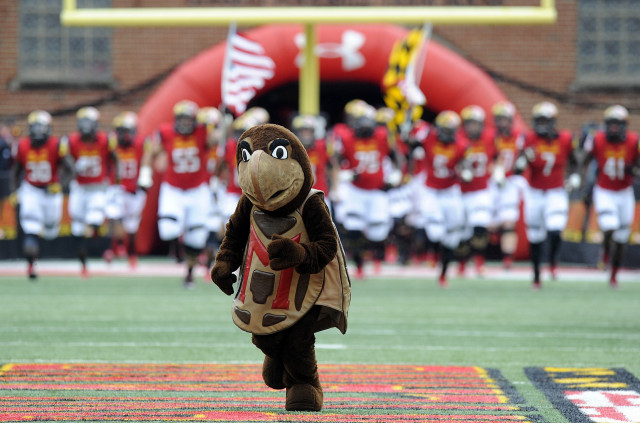 (Greg Flume, UMTerps.com)
Michigan and Maryland had very different outcomes last weekend. Michigan simply dominated a BYU squad that had already taken out Nebraska and Boise State and nearly knocked off UCLA. Maryland got blown out by a West Virginia squad that had only played Georgia Southern and Liberty prior to the meeting. Tomorrow, the two meet in College Park before the weather turns nasty and Jim Harbaugh will try for his first road win since taking over as head coach of his alma mater. Here are our predictions.
Justin: The noon kickoff will allow Michigan and Maryland to avoid the bad weather that Hurricane Joaquin will bring, but the forecast still calls for rain and around 20 mile per hour wind. One conventional mode of thinking would say that should even up the matchup, making up for Michigan's superiority. However, Michigan's offense is predicated on the run game and Maryland's defense has allowed all three FBS teams it has played to top 200 yards rushing. Bowling Green rushed for 201, USF for 240, and West Virginia 304.
Staff Predictions
Michigan
Maryland
Justin
30
10
Derick
35
14
Sam
24
10
Josh
31
3
Joe
27
9
M&GB Average
29
9
Even if De'Veon Smith isn't fully recovered from the ankle injury he suffered in the second half of last week's game, expect Ty Isaac and Drake Johnson to carry the load and Michigan to still have success against an overmatched front seven. Maryland will, of course, stack the box and try to force Jake Rudock to make plays with his arm, but he has been slowly improving and as long as he avoids turnovers, will be able to do just enough to manage the game and let the running game do the work.
Maryland's offense hasn't seen anything close to Michigan's yet. West Virginia ranks 26th in total defense, South Florida 45th, and Bowling Green 111th. Michigan's defense is allowing just two-thirds of the total yards West Virginia has allowed per game and the Mountaineers have played just Georgia Southern, Liberty, and Maryland. In addition, Maryland currently leads the nation with 14 turnovers and the wet and windy conditions won't help in that regard.
Michigan wins a soggy, boring game and racks up 250 rushing yards in the process. The offensive line will wear down Maryland's defensive front, allowing for one back — Smith or Isaac depending on the former's health — to top 100 yards. Michigan's defense shuts down Maryland's offense, takes advantage of some turnovers, and Jabrill Peppers gets his first career interception as Jim Harbaugh picks up his first road win.
Michigan 30 – Maryland 10
Derick: There's a hurricane brewing on the Atlantic coast as Michigan makes its first trip to Maryland since the Big Ten's expansion to 14 teams. But even Hurricane Joaquin can't save the Terps from the beat down that's coming.
Michigan is coming off the program's biggest win in over three years behind a defense that expects to pitch shutouts every Saturday. In fact, the Wolverines have won their last three games by a total score of 94-14. It's not the wind and rain Maryland should be worrying about.
Maryland's home field advantage was just enough to keep the Terrapins within 21 points of Bowling Green in Week 2. Michigan has yet to win a road game under Jim Harbaugh, but if the defense continues to dominate against a team with quarterback and turnover problems, Saturday could get ugly.
I don't expect Michigan to be as perfect as it was in the first half against BYU, but if Rudock takes care of the ball and Michigan's defense (along with some near-hurricane strength winds) stifles Maryland, the Wolverines should coast to their fourth straight win.
Michigan 35 – Maryland 14
Sam: Michigan's defense has been performing at an elite level, while Maryland's offense is struggling mightily. As long as Michigan's run game continues to truck forward behind an ever-improving line, I'm not sure Rudock will have to throw one pass to secure a win. Give me the Wolverines with their fourth straight win,
Michigan 24 – Maryland 10
Josh: Well, after last week's game and my prediction of a Michigan loss I ate a large plate full of crow, and boy was it delicious! I love being wrong when it means Michigan wins. Clearly I underestimated the #HarbaughEffect.
It occurred to me that perhaps Michigan's lackluster offense against Oregon State and UNLV in the second halves was not because it sputtered and died, but rather because Harbaugh is the ultimate tactician and did not want to give any future opponents any additional scouting material once the game was in hand.
It's been so long since we've had that kind of coaching. Honestly, I'm not sure I've ever seen that in my lifetime. Carr and Moeller weren't exactly master manipulators and I didn't really get into football until after Bo retired. But I digress.
Maryland is a bad team, a very bad team with ZERO passing offense and a run game that isn't anything to write home about. They've lost to a MAC team and got obliterated by West Virginia, their only wins came against an FCS school (is that still a term now since both divisions technically have playoffs?) and a very bad USF team. Let's just say Hurricane Joaquin isn't the only storm rolling into Maryland this weekend (sorry, I had to).
I fully expect this to be a blowout, maybe not another shut out but it won't be close. Caleb Rowe is a turnover machine. Thank God he's on the other team, and I think this Michigan defense is due to force a couple more turnovers. It's what good teams do to bad teams, and we're a good team. Wormley and Co. have a field day and force Rowe into some very bad decisions that are ultimately capitalized upon by the secondary and make for a very long night for the turtles. Dare I say we should be on pick-six watch? Yes, I do.
On offense we're gonna see more of the same: pound the rock and then pound it some more. Mix in a few wrinkles, like the sweet double fake pass to Khalid Hill last week, and Michigan should easily top 30 points again. Maybe we'll even see Rudock hit on a deep ball, but I'm not gonna hold my breath.
The one bright spot for Maryland is their return game and Will Likely. However, Harbaugh is well aware (FULLY aware) of this aspect and like the past few weeks Michigan will be prepared for it. Michigan teams are well prepared and well coached, it feels so good to say that.
I'm not ready to anoint this defense as elite but they've far exceeded my expectations thus far and Maryland shouldn't be any different.
Michigan wins going away and prep begins for what should be a very good game against Northwestern.
Michigan 31 – Maryland 3
Joe: I did not see that last game coming. While I saw some big improvements during the first three games, the fourth sent me into a whole new stratosphere of GO BLUE excitement. This defense is for real and will keep us in games all year. I don't care who we are playing, this group is big time. Ryan Glasgow is a beast on the line and Jabrill Peppers is…well, he's Jabrill Peppers. I expect these guys to get better each week. It will be fun to watch.
If this game gets the weather expected, the defense will take control and never let go. I expect a game where the opposition has trouble reaching double digits.
The offense was a pleasant surprise last week and mainly because of Rudock. If we get this Rudock every week, look out. A healthy dose of Butt (giggle), Darboh and Smith/Isaac/Green/Johnson combo should help control the clock. Add a few short fullback carries for first downs (love those) along the way just to keep us old-schoolers happy. I'm hoping we are able to build on the last three weeks and keep this train rolling along. The good guys win it convincingly.
Michigan 27 – Maryland 9