---
When Jim Tressel announced his resignation yesterday, it seemed fitting that the man who constantly spoke out in support of American's troops chose Memorial Day of all days to resign, thus ending his 10-year reign as one of the best coaches in the nation.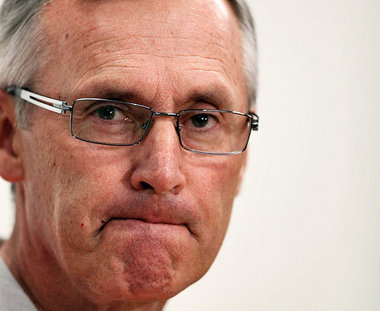 For the past two-plus months since the original Yahoo story was released detailing the cover-up, it seemed as if Tressel was going to fight this thing to the end, refusing to admit wrongdoing or take responsibility. And as such, Buckeye fans have taken to denying his transgressions, defending his standing as a legend, and personifying the "win-at-all-costs" mentality.
Some of the statements I have seen from my Ohio State acquaintances include: "Tressel is a legend & he will be missed at OSU" and "Regardless of what happens with Coach Tressel, and I certainly hope he gets through all of the crap they're piling on top of him, Ohio State will still beat Michigan."
That Buckeye Nation is in denial only stands to show just how sad this situation is. As long as you outwardly portray your good deeds, tout your religion, say all the same tired "senatorial" lines, and beat Michigan, you can do whatever you want, flaunt the rules, and claim ignorance, and you'll go down as a martyr in Columbus.
While George Dohrmann's Sports Illustrated article that was release last night didn't drop any further bombshells, it added further substance to the previously known allegations, which will likely make it impossible for the NCAA not to find Ohio State guilty of "failing to monitor."
It described in more detail Tressel's turning a blind eye to rules violations while at Youngstown State and even the way he cheated high school kids out of camp raffles as an OSU assistant in the 80s. It also brought to light a dozen more football players on the take over the past eight years.
If Tressel has been cheating his entire coaching career, not just an isolated incident involving a few bad apples as Ohio State spun it back in December, it begs the question of how good a coach he actually is.
Former Buckeye Brian Rolle posted to his Twitter account today, "Since when did 'receiving extra benefits' have anything to do with a 106-22 record,what 6 straight against them whores up north #DontFlagOut."
True, Tressel was 9-1 against Michigan during his career, and the results on the field speak for themselves. But what kind of advantage did Tressel gain from his transgressions? To impressionable 17-and-18-year old high school kids, many of whom come from rough neighborhoods and broken families, one school offering car deals, free tattoos, money handshakes, drugs, and help with getting out of traffic tickets, sounds a lot more appealing than another school offering just an education and a chance to play football.
If those extra benefits of playing for Ohio State are used as a recruiting tactic, either by the coaches or by the players during official visits, and it can sway just a couple of top recruits per class, that's a decided advantage over schools that play by the rules.
Tressel was able to get away with it for so long by playing the sweater-vested, bespectacled, politically correct saint. His hospital visits, charity work, and support of the troops are all great things. But if he used those things, consciously or subconsciously, to shield his unsavory behind the scenes work, he's no better than any other coach who was caught cheating or any priest who was caught abusing children.
I make that comparison, not because I think what Tressel has done over the past two-plus decades is anywhere near as filthy and vile as that, but in a sense, he was taking advantage of kids. For his benefit. For the benefit of winning games and Big Ten championships and beating Michigan.
Sure, the players got to participate. Those in the early 2000s got to be part of a national championship team, and several classes got to lay claim to being undefeated in their careers against Michigan. Some, and probably the majority, will cherish those memories as they move on to life after football. But others, the ones who were really taken advantage of, found a hollowness in those trophies, rings, and golden pants. They weren't prized possessions full of significance. They were a means to an end – an end, which just like the ink that will always stain their arms, will leave lasting scars on their college experience.
To many a Buckeye fan, Tressel was seen as  role model for kids, a mentor helping bridge the gap between childhood and adulthood for many who lacked significant father figures in their lives. But what did those kids really learn? On one hand, their coach was taking them to visit sick children in hospitals, but on the other hand, he was letting them get impermissible car deals, cash, drugs, and more. Instead of learning right from wrong or being punished for their mistakes, they were taught that winning games and beating Michigan were more important than playing by the rules.
Perhaps the mentality of today's youth is partially to blame. In an era of Facebook and YouTube, Twitter and FourSquare, over-hyped commitment press conferences, and recruiting rankings that seemingly start at birth, playing for school pride and gaining an education is no longer enough. Making money, driving the sweetest rides, and smoking weed have become symbols of entitlement for many athletes. The problem is, these players don't realize that if they work hard for two or three years, they can have all of that stuff legally when they become pros. They need role models to help them understand that. Of course, it should start with the parents, but many times these kids don't have that, and the responsibility falls on the coaches. A true coach of character and integrity wouldn't recruit those kids in the first place, but certainly would make sure they're getting the best education possible, both in the classroom and in life. A coach's job, more than just winning games, is to provide leadership, accountability, and an example of character and integrity, not just write about them.
Upon being hired by Ohio State in 2001, Tressel stood at mid court at halftime of an Ohio State basketball game and stated, "I can assure you that you will be proud of your young people in the classroom, in the community, and most especially in 310 days in Ann Arbor, Michigan, on the football field."And that's where Tressel failed. He lived up to the "on the football field" part, but failed in the other aspects, and that's the sad part about this whole thing.
The NCAA investigation will go on for the coming months and eventually sanctions will be imposed on the Ohio State football program. What those sanctions are is yet to be determined, but current players and incoming recruits will be affected, and former players' careers tainted, whether they participated in the shenanigans or not. But hopefully everyone learns a valuable lesson from all of this: no matter how good your perceived reputation is, the truth will always come out and cheaters never win.