---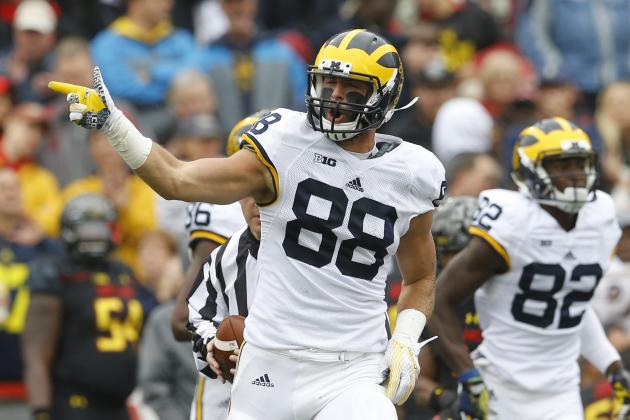 (Patrick Semansky, AP)
Previous: Quarterbacks, Running Backs, Wide Receivers
No position group saw its stock rise more than the tight ends when Jim Harbaugh took over in Ann Arbor. In Year 1, a handful of Michigan tight ends took on bigger roles in the offense, led by an All-American.
But the most obvious difference in Ann Arbor is the urgency with which Harbaugh is seeking out the best tight ends in the country. The 2016 recruiting class alone included three tight end commits and two preferred walk-ons.
Will the tight ends' role in the offense continue to grow? All signs point to yes.
One of Michigan's best players and one of the best offensive weapons in the country decided to return to school for his senior year. When Jake Butt announced his intention to stay in Ann Arbor, Michigan's offense gained one of the toughest offensive matchups in college football.
Butt exploded during his junior year, more than doubling his career receiving yards and receptions. His 51 catches were good for second on the team and he trailed only Jehu Chesson and Amara Darboh with 654 receiving yards.
Though he finished with only three touchdowns on the season, Butt regularly demonstrated his knack for making the spectacular play. In the season opener, Butt's fingertip catch over two Utah defenders was one of the best plays of the season. When Michigan needed every bit of offense it could get in Indiana, Butt came through with seven catches, 82 yards and a touchdown.
The 6-foot-6, 250-pound senior will look to improve his play in big games this season after catching only six passes for 58 yards combined against Michigan State and Ohio State. Butt has the size, athleticism, and now, experience to be one of the best targets in the country.
Projected Stats – Butt

Receptions
Yards
YPC
Long
TD
YPG
60
700
11.7
6
53.8
Career Stats
2015
51
654
12.8
56
3
50.3
2014
21
211
10.0
29
2
21.1
2013
20
235
11.8
37
2
18.1
Totals
92
1,100
12.0
56
7
30.6
Besides Butt, Michigan doesn't have much on-field experience returning at the tight end position. A.J. Williams caught 12 passes for 129 yards as a senior, but no other Wolverine tight end caught more than five passes.
One player who showed signs of breaking out early last season was Ian Bunting, who enters his junior season at 6-foot-7 inches tall and over 250 pounds.
Bunting began the 2015 season as Jake Rudock's second favorite tight end target, catching four passes for 53 yards during the non-conference season. But once the Big Ten schedule arrived, Bunting disappeared for eight games, not catching a single pass, though he did have one 17-yard grab in the Citrus Bowl.
He doesn't have as much natural receiving ability as some of the other tight ends on the roster, but Bunting is the most likely returning player to make some noise behind Butt this season. He has solid hands and has shown an ability to pick up yards after the catch. His enormous frame doesn't hurt, either.
Speaking of huge frames, Michigan also has two big tight ends who didn't catch a single pass last season, but figure to be in the offensive mix very soon. Tyrone Wheatley caused a stir at the spring game when he caught a pass over the middle and lumbered for a solid gain. The former four-star recruit is a strong, gifted athlete who has good hands for a 280-pound target.
Also a defensive lineman in high school, Wheatley has no issue doing the dirty work Harbaugh expects from tight ends in the trenches. His biggest hurdle is becoming a more comfortable offensive player who runs tight routes and gaining the awareness to make adjustments on the fly.
Another familiar name to watch is Zach Gentry, who was one of Harbaugh's first commits at Michigan and transitioned from quarterback to tight end last season.
Gentry showed up in a few big plays during the spring game, but like Wheatley and Bunting, it's his size that really stands out. If he grows more comfortable at the position, he will become a nice mismatch for Michigan in the short passing game.
Projected Stats – Bunting

Receptions
Yards
YPC
Long
TD
YPG
20
180
9.0
1
13.8
Career Stats
2015
5
72
14.4
21
0
7.2
2014
0
0
0
0
0
0
Totals
5
72
14.4
21
0
7.2
Projected Stats – Wheatley

Receptions
Yards
YPC
Long
TD
YPG
8
75
9.4
0
5.8
Career Stats
2015
N/A
N/A
N/A
N/A
N/A
N/A
Totals
N/A
N/A
N/A
N/A
N/A
N/A
Projected Stats – Gentry

Receptions
Yards
YPC
Long
TD
YPG
10
100
10.0
1
7.7
Career Stats
2015
N/A
N/A
N/A
N/A
N/A
N/A
Totals
N/A
N/A
N/A
N/A
N/A
N/A
As I mentioned above, Michigan stacked its roster with young tight ends this offseason, highlighted by a trio of commits who have a chance to crack the rotation right away.
Devin Asiasi arrives in Ann Arbor as the most highly-ranked tight end commit. Asiasi brings Harbaugh the complete package as he can catch and run with the ball in the passing game and also block in the trenches. It's well documented that offensive players from De La Salle High School in California spend time perfecting their blocking ability, and at nearly 300 pounds, Asiasi is a beast in that regard.
Michigan's other two tight end commits, Sean McKeon and Nick Eubanks, both check in at 6-feet-5 inches tall and specialize as receivers. McKeon has been committed to the Wolverines since the summer of 2015 and is the purest downfield receiver of this group. He's fast for a tight end and has wide receiver-type hands. Eubanks, on the other hand, should be more of a short game weapon. When Butt graduates, Eubanks will be a candidate for more red zone targets if he proves he can hang onto the ball.
Michigan also welcomes two preferred walk-ons to the roster in Dan Jokisch and Dane Drobocky.
Projected Stats – Asiasi

Receptions
Yards
YPC
Long
TDs
YPG
20
230
11.5
1
17.7
Projected Stats – McKeon

Receptions
Yards
YPC
Long
TDs
YPG
5
80
16.0
0
6.2
Projected Stats – Eubanks

Receptions
Yards
YPC
Long
TDs
YPG
Redshirt
Michael Jocz: Senior, 6-4, 239, from Novi, Mich. (Novi)
No career stats
Joseph Files: Sophomore, 6-4, 252, from Lake Orion, Mich. (Cranbrook Kingwood)
No career stats
Kenneth Ferris: Sophomore, 6-5, 237, from Fowlerville, Mich. (Fowlerville)
No career stats