---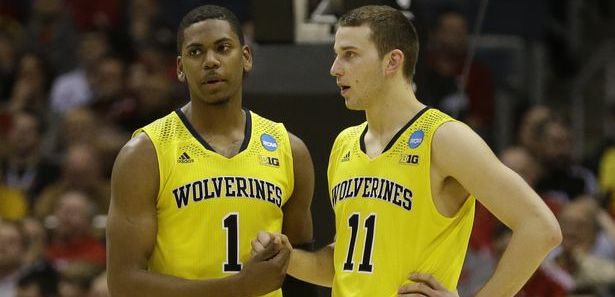 Michigan star guard Nik Stauskas and athletic forward Glenn Robinson III announced Tuesday afternoon at a press conference at the Crisler Center that they will declare for the NBA Draft after their sophomore seasons with the Wolverines.
In two seasons, Stauskas and Robinson helped Michigan advance to the national championship and then return to the Elite Eight in addition to the program's first outright Big Ten title since 1986.
Stauskas took over a team that lost leaders Trey Burke and Tim Hardaway, Jr. from the 2012-13 team and came within one miracle shot of leading his team back to the final Four.
Thanks to an offseason dedicated to improving his game, Stauskas not only increased his scoring from 11 points per game to 17.5 during his second college season, he also led the team with 3.3 assists following the exit of assist-leader Burke.
"For as long as I can remember I have had a goal of playing in the NBA, whether it was on my backyard court or winning the Big Ten title at Crisler Center," Stauskas said in a statement released by U-M media relations. "Following some heartfelt discussions with my family, Coach Beilein and the rest of the coaching staff, I am ready to pursue my goals and begin my NBA career.
"What cannot be understated is how the University of Michigan has helped prepare me for this moment both on and off the court," continued Stauskas. "This great university took a chance on me and gave me the opportunity to achieve my college basketball dreams. I hope in some small way, I was able provide some lasting moments. As I move forward into this next stage of my life, it cannot be said enough how thankful I am to the Wolverine fans for embracing me. I will always be a Wolverine at heart."
Robinson, often criticized for his seemingly nonchalant demeanor, stepped up during the later part of the season to give Michigan the boost it needed to contend for a championship. He finally found a comfort level with his mid-range jumper and became an all-round offensive weapon as a result.
"I have thought a lot about the next step in my career over this past year," said Robinson. "After talking with my mom, my dad, my grandma, Coach Beilein and the coaching staff, I feel the time is right for me to begin my professional career and declare for the NBA Draft. I am confident I have the work ethic, the talent and maturity to pursue this path successfully.
"It has truly been a blessing to have had the opportunity to attend to the University of Michigan and be part of this basketball program," added Robinson. "The Wolverine fans and U-M alumni are the best in the world. I have developed many relationships and created so many positive memories that I know will last a lifetime. As excited as I am about my future, I will always be grateful for this wonderful two year experience at the University of Michigan."
The two sophomores helped amass a school record 59 wins in two seasons in Ann Arbor.
Stauskas became a fan favorite with his clutch shooting, most notably jump-starting Michigan's run to the regular season outright Big Ten championship this season with a step-back three-pointer in Madison to bury the No. 3 Badgers. The flashy guard ended his outstanding college career by dropping 24 points on the eventual-runner up Kentucky Wildcats. Stauskas played 39 minutes during the game and single-handedly kept the Wolverines in the game.
The departure of these two key pieces seemingly leaves the team in the hands of fellow sophomore Caris LeVert, pending the decision of Mitch McGary. LeVert similarly stepped up this season, more than tripling his minutes and trailing just Stauskas on the team with 12.9 points per game and 2.9 assists per game.
Though the loss of his leading scorer certainly stings, John Beilein had to expect this decision. If McGary returns for another season, then Michigan is equipped with enough returning talent to compete for another conference championship. If McGary follows in the footsteps of his classmates, then Beilein will once again have to work his magic with the incoming freshmen. But what's encouraging is that he's replaced a similar loss of production before. Pretty recently, in fact.
Burke and THJ scored 43.6% of Michigan's points in 2013. Stauskas and GR3 scored 41.6% of U-M's points in 2014.

— Drew Hallett (@DrewCHallett) April 15, 2014
Four-star small forward Kameron Chatman and a pair of three-stars, center Ricky Doyle and power forward D.J. Wilson, certainly bring a fresh wave of talent to Ann Arbor, but filling the holes of all three sophomores would represent an extremely difficult test. Beilein proved he can cope with losing talent to the next level through the team's shocking performance this season, but Michigan would certainly benefit from keeping at least one of the star sophomores to help LeVert mentor the newcomers.
The loss of Stauskas and Robinson doesn't bury the defending Big Ten champions for the upcoming season, but McGary's decision, which could come at any time, will certainly hold a much greater significance now that his teammates have moved on.