---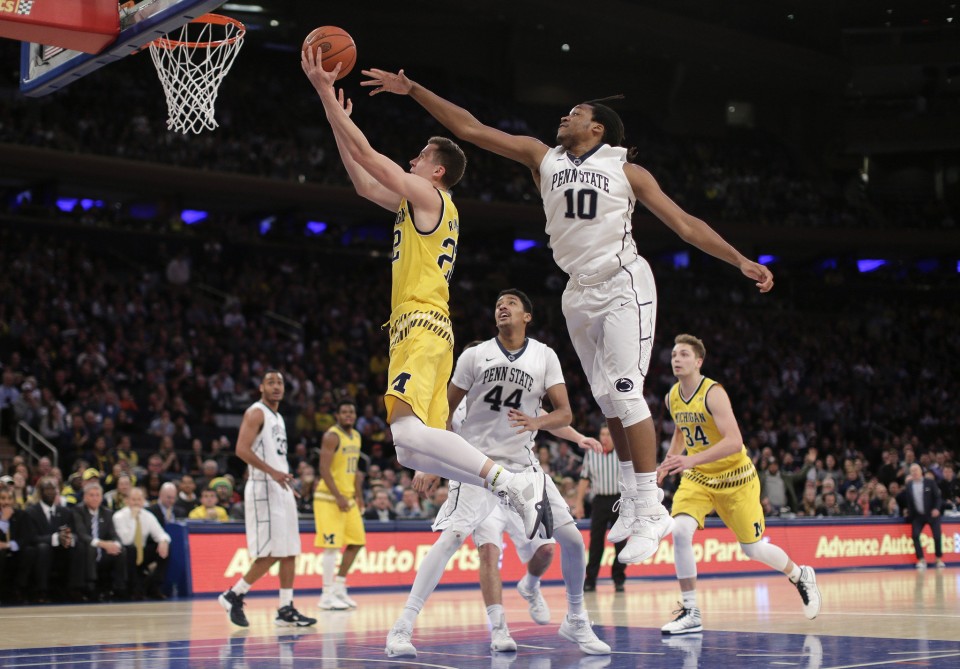 (Julie Jacobson, AP)
John Beilein's Michigan teams have always gotten the "live by the three, die by the three" saying tacked onto them – but sometimes mistakenly so. In today's matchup with Penn State at Madison Square Garden, an uninformed observer would have been forgiven if he thought the saying applied more to the Nittany Lions, as Michigan attempted only 20 triples (versus 35 two-point attempts) and made just six of them.
That's in stark contrast to the Wolverines' normal trend of taking nearly half of their field goal tries from distance – at 46.9 percent, they attempt more threes per field goal attempt than all but seven other teams in the country.
The Wolverines, however, still managed to get the job done with a 79-72 victory to bring their conference record to 7-2 halfway through Big Ten play.
With Penn State selling out to guard the deep shot, Michigan was content to drive inside and take what was left to them, led by Zak Irvin and Muhammad-Ali Abdur-Rahkman's efforts, who combined to make 12 of their 19 (63.2%) attempts inside the arc. The duo paced Michigan with 35 total points on an array of hard takes to the rim while Derrick Walton and Mark Donnal added 13 and 10 points, respectively, and cleaned up the boards to the tune of 16 rebounds.
Duncan Robinson was the odd man out as the only starter to not reach double figures, and the one Wolverine neutralized most by Penn State's aggressive defensive tactics. The pure shooter only got one trey to fall – the first time he's failed to make multiple threes since a late November loss to UConn – on a measly (for him) five attempts, which ties for his lowest triple tries in a single Big Ten game.
Throughout the first half, the two teams happily traded punch for punch as each seemingly scored at will after a couple quick steps into the lane. But an Irvin corner three at the buzzer put the "visiting" Wolverines up by 12.
Penn State would never get closer than five in the second half despite some beyond-NBA-range threes falling for sophomore Shep Garner late; Michigan pushed the lead to as many as 15.
As soon as it seemed that the Nittany Lions could threaten to take the lead following a 9-0 run late in the second half, Robinson made his biggest shot of the game on a beautiful drive and left-hand finish before Walton threaded a dime – one of his game-high seven assists – to Rahk on the fast break to bring the lead right back to nine points with just over four minutes remaining.
Penn State's magic proceeded to run out and Michigan made nine of their 10 free throws over the final 1:49 to put the clamps on their third straight win.
The Wolverines continued to play without star senior Caris LeVert, as he was dressed in street clothes for the eighth straight game, but his left ankle is reportedly getting close to full strength.
His return over the next week would be a major boon for a Michigan team that has impressively navigated through the first half of their conference schedule but faces Indiana and Michigan State this coming Tuesday and Saturday, respectively.
Nonetheless, Beilein's squad has held serve against the teams they've been expected to beat and has looked competitive in their two losses.
Today's win in the first half of a basketball/hockey double-header in the heart of the Big Apple was another expected victory for Michigan, but perhaps a step in the right direction, complete with proof that Beilein doesn't need to see his team drain everything from deep to remain in control.
***Zak Irvin***
20 points (5-of-8 2pt, 2-of-4 3pt, 4-of-7 FT), two rebounds, one assist, one turnover in 34 minutes
**Derrick Walton Jr.**
13 points (2-of-5 2pt, 1-of-4 3pt, 6-of-6 FT), 10 rebounds (one offensive), seven assists, three steals, zero turnovers in 39 minutes
*Muhammad-Ali Abdur-Rahkman*
13 points (7-of-11 2pt, 0-of-2 3pt, 1-of-2 FT), three rebounds (two offensive), one assist, one steal, two turnovers in 35 minutes
Season Three-Stars Standings
Derrick Walton Jr – 23
Duncan Robinson – 16
Caris LeVert – 15
Zak Irvin – 10
Aubrey Dawkins – 5
Muhammad-Ali Abdur-Rahkman – 4
Mark Donnal – 1
Spike Albrecht – 1
Moritz Wagner – 1
Final Game Stats

#

Name

FG-FGA

3FG-3FGA

FT-FTA

OR

DR

TOT

PF

TP

A

TO

BLK

S

MIN

34
Mark Donnal*
2-4
0-0
6-8
4
2
6
3
10
1
1
1
0
25
10
Derrick Walton*
3-9
1-4
6-6
1
9
10
2
13
7
0
0
3
39
21
Zak Irvin*
7-12
2-4
4-7
0
2
2
1
20
1
1
0
0
34
22
Duncan Robinson*
2-6
1-5
4-4
1
1
2
3
9
2
0
0
1
27
12
Muhammad-Ali Abdur-Rahkman*
7-13
0-2
1-2
2
3
5
2
15
1
2
0
1
35
05
D.J. Wilson
0-2
0-1
0-0
0
0
0
0
0
0
1
0
0
4
11
Andrew Dakich
0-0
0-0
0-0
0
0
0
0
0
0
1
0
0
1
13
Moritz Wagner
0-0
0-0
0-0
0
0
0
1
0
0
0
0
0
2
24
Aubrey Dawkins
2-5
2-4
1-2
1
1
2
2
7
1
1
0
2
19
32
Ricky Doyle
2-4
0-0
1-2
1
2
3
1
5
0
0
1
0
16
Totals
25-55
6-20
23-31
11
23
34
14
79
13
7
2
7
200
Penn State
26-62
9-29
11-15
13
23
36
23
72
13
11
4
3

200

Full Stats