---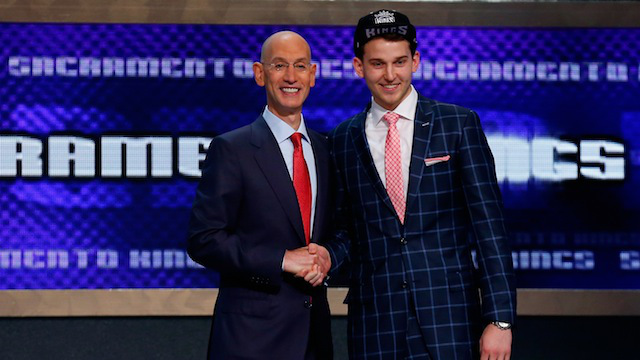 (Getty Images)
In last year's NBA Draft, Trey Burke and Tim Hardaway Jr became the first Michigan basketball players to be drafted in the first round since Jamal Crawford was picked eighth in the 2000 draft. On Thursday night, Nik Stauskas and Mitch McGary followed suit, giving the Michigan basketball program multiple first round picks in back-to-back drafts for the first time in program history.
Stauskas was selected eighth overall by the Sacramento Kings and McGary was taken 21st by the Oklahoma City Thunder. Glenn Robinson III missed out on the first round, but was drafted 40th overall by the Minnesota Timberwolves, marking the first time since 1990 that Michigan has had three or more players taken in the same draft.
The Kings finished 13th out of 15 teams in the Western Conference last season with a record of 28-54. They were lead by a trio of big-time scorers, center Demarcus Cousins (22.7 points per game), point guard Isaiah Thomas (20.3 ppg), and small forward Rudy Gay (20.1 ppg). No other player on the roster averaged in double figures. Last year, Sacramento selected another shooting guard, Kansas' Ben McLemore, but he averaged just 8.8 points per game and shot just 32 percent from three-point range. There was some talk prior to the draft that the Kings were looking to shop McLemore, but that didn't happen. So now we'll see how the Kings plan to use them both.
The Kings feel like they can use McLemore and Stauskas together in the same backcourt at times I'm told.

— Jonathan Givony (@DraftExpress) June 27, 2014
A scroll through the Kings message boards shows that the pick is met with mixed feelings. For one, the Kings were one of the worst defensive teams in the league and Stauskas isn't known for his defense. But in all fairness, it's probably a safe bet to assume that most Kings fans haven't seen Stauskas play very much. Sacramento ranked 27th in the league in three-point shooting and Stauskas will help that immediately. He'll also stretch the floor for Cousins inside.
In the days leading up to the draft, it became apparent that McGary would be selected somewhere in the 20s. Oklahoma City and Charlotte both seemed to value the big man, and when it came time for the Thunder to make their first of two first-round picks, they snatched him despite the fact that he played only eight games during his sophomore season and is coming off of back surgery.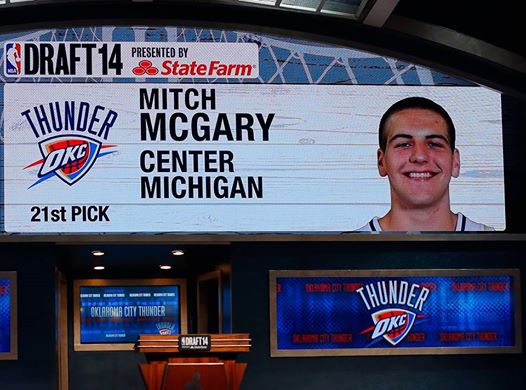 It's a great fit and situation for McGary as Oklahoma City finished second in the Western Conference last season behind San Antonio and lost to the Spurs in the Western Conference Finals in six games. They went 59-23 on the season and were led by small forward Kevin Durant (29.6 ppg) and point guard Russell Westbrook (26.7 ppg). McGary will join Serge Ibaka (12.1 ppg) and center Steven Adams (3.9 ppg) and could be seen as a replacement for Kendrick Perkins, who may be done in Oklahoma City. Perkins is coming up on the final year of his contract, in which he is due $9 million. He played just 19.5 minutes per game last season and averaged just 3.2 points and 5.4 rebounds. McGary can fill that "glue-guy" role off the bench immediately, provided his back fully heals.
Robinson, meanwhile, gets a good opportunity to learn the ropes of NBA play for a team that isn't stacked with talent, but isn't quite a bottom-feeder either. Minnesota finished 10th in the Western Conference last season with a 40-42 record. The Timberwolves ranked third in the league in scoring (106.9 ppg), but 26th in defense (104.3). Robinson is a good defender and can help in that regard. They were led by power forward Kevin Love, who averaged 26.1 points and 12.5 rebounds per game, though there's a good chance he'll be traded. Minnesota also had double-digit scorers in shooting guard Kevin Martin (19.1 ppg), center Nikola Pekovic (17.4 ppg), and small forward Corey Brewer (12.3 ppg).
Robinson is highly unlikely to crack the starting lineup in 2014, but will have a chance to continue his development while coming off the bench. Minnesota drafted a pair of small forwards in last year's draft as well, UCLA's Shabazz Muhammad and Purdue's Robbie Hummell, who averaged 3.9 and 3.4 points per game during their rookie seasons, respectively. Robinson will join UCLA point guard Zach LaVine, who was the Timberwolves' first-round selection.
The last time Michigan had three players taken in the same draft was 1990 when Rumeal Robinson (10th), Loy Vaught (13th), Terry Mills (16th), and Sean Higgins (54th) were selected. Michigan is the first Big Ten school to have three players taken in the same draft since Ohio State in 2007. Michigan is also the first Big Ten program to have multiple players taken in back-to-back drafts since Michigan State in 2000 and 2001.