---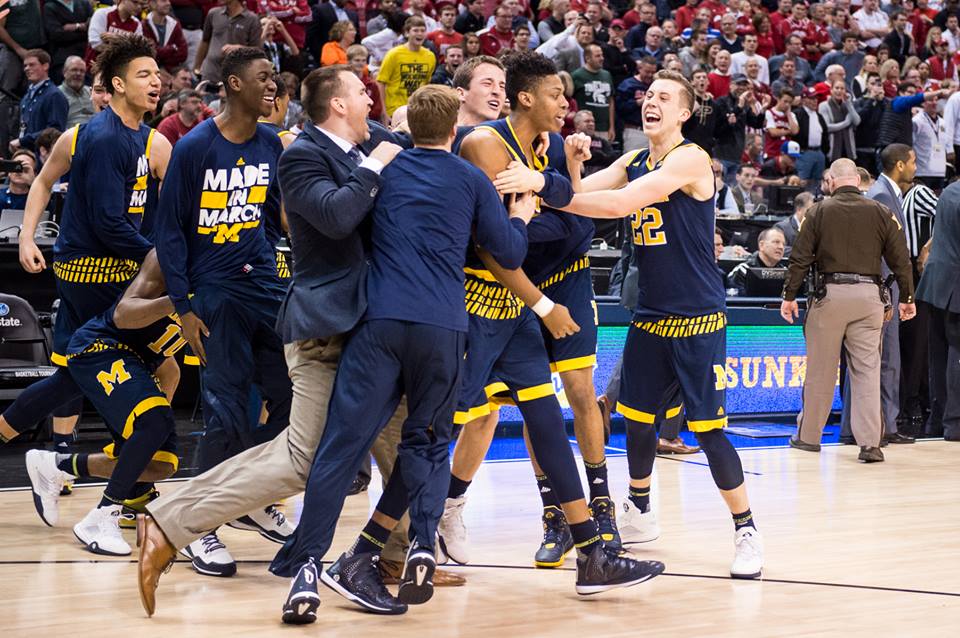 (MGoBlue.com)
When the day started Michigan was staring a second straight NCAA Tournament absence square in the face. Now, the Wolverines are being fitted for their dancing shoes.
It took a near miracle for Michigan to survive Northwestern on Day 2 of the Big Ten Tournament, but 24 hours later, John Beilein's crew knocked off the outright conference champs to advance to the semifinals.
For Friday's win, the Wolverines certainly took the route less traveled.
On a day when point guard Derrick Walton went without a field goal and scored just two points, a pair of rarely-used bench options stepped up to salvage the season.
Moritz Wagner gave Michigan a huge boost off the bench, scoring nine points on a perfect 3-of-3 from the field and 2-of-2 from the charity stripe. He also ripped down a pair of offensive rebounds and played solid defense against an Indiana team that makes a living inside the paint.
But Wagner's effort may have been for naught without the last-second heroics of Kam Chatman, a former five-star recruit and starting forward turned bench warmer. Chatman, who forced his way back into the rotation with solid play down the stretch, found himself with the ball in his hands as the clock sped toward triple zeroes.
So he shot, and it's a good thing he did.
Chatman's contested three-pointer went in with 0.2 seconds left on the clock and gave Michigan a 72-69 lead.
His final line — 5 points, 1 rebound, 1 steal and 1 block — won't jump off the box score, but the sophomore made the only play he needed to: The biggest shot of Michigan's season in likely the program's most important game since Aaron Harrison's miracle shot bounced the Wolverines from the Elite 8 two years ago.
As fate would have it, Chatman was only in the game after Teddy 'TV' Valentine's crew bounced Muhammad-Ali Abdur-Rahkman from the game with just over a minute to go. MAAR left the game with 15 points, second only to Zak Irvin, who scored 17 points on 5-13 shooting.
Irvin, a 61.8 percent free throw shooter, went a career best 6-of-6 from the line.
Walton, who made a field goal in all 28 of his regular season games this year, is without a bucket in 77 minutes during the Big Ten Tournament. Instead, he dished out a Big Ten tourney record 12 assists in the win over the Hoosiers, giving him 17 in the two games combined.
Duncan Robinson also had a tough shooting day — just 4 for 12 total and 1 for 6 from beyond the arc — but his last make was a big one, tying the game at 69 with under a minute to play. It was the second straight game Robinson hit a triple with Michigan trailing in the final minute.
Now Michigan will turn its attention to a Purdue team that obliterated Illinois by 31 points in Friday's second matchup. The Wolverines split two meetings with the Boilermakers this season, but the inside trio of A.J. Hammons, Caleb Swanigan and Isaac Hass will give a much smaller Michigan team fits.
Michigan allowed Indiana to grab 15 offensive rebounds Friday. Beilein will need to shore up that aspect before Saturday's 1pm tip.
Another upset victory over Purdue would almost guarantee Michigan a spot in the NCAA Tournament. As it stands, the Wolverines are right on the cut line, along with teams like Syracuse, Florida, UCONN and Saint Mary's.
Final Game Stats

#

Name

FG-FGA

3FG-3FGA

FT-FTA

OR

DR

TOT

PF

TP

A

TO

BLK

S

MIN

34
Mark Donnal*
6-6
0-0
0-1
1
3
4
4
12
0
2
2
1
20
10
Derrick Walton*
0-3
0-3
2-2
1
2
3
1
2
12
2
0
2
36
21
Zak Irvin*
5-13
1-4
6-6
0
5
5
2
17
2
2
0
1
35
22
Duncan Robinson*
4-12
1-6
3-3
0
1
1
3
12
3
1
0
0
34
12
Muhammad-Ali Abdur-Rahkman*
6-13
2-4
1-2
2
0
2
5
15
0
1
0
1
34
03
Kam Chatman
2-3
1-2
0-0
1
0
1
2
5
0
0
1
1
8
11
Andrew Dakich
0-1
0-0
0-0
0
0
0
0
0
0
1
0
0
4
13
Moritz Wagner
3-3
1-1
2-2
2
0
2
2
9
0
0
0
0
16
24
Aubrey Dawkins
0-2
0-1
0-0
1
0
1
1
0
0
0
0
1
9
32
Ricky Doyle
0-0
0-0
0-0
0
0
0
0
0
1
0
0
0
4
Totals
26-56
6-21
14-16
9
16
25
20
72
18
10
3
7
200
Indiana
24-53
4-17
17-21
15
22
37
17
69
13
15
7
6

200
Full Stats