---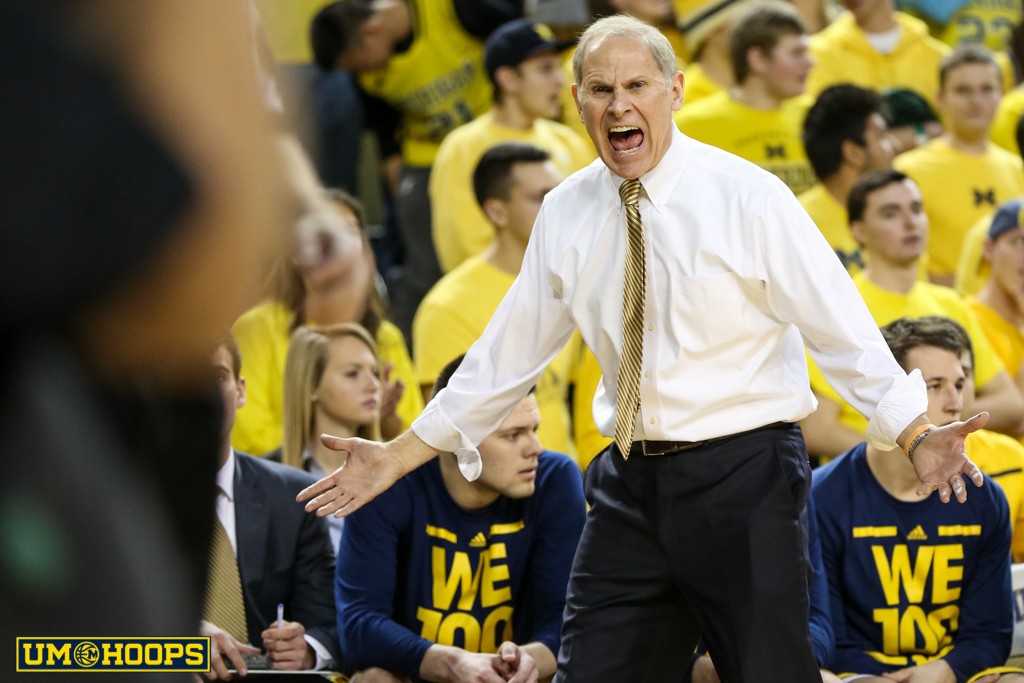 (Dustin Johnson, UM Hoops)
I didn't write about Michigan's two basketball games this past week; I simply couldn't bring myself to. We all know what happened – Michigan got romped twice in their own gym and looked lifeless outside of about five minutes against Indiana and a few moments when the Wolverines' bench warmers made some brutal losses look just a little better on the final stat sheet.
I've never tried to hide that I'm a very passionate Michigan basketball fan first and a Michigan basketball blogger second. After all, I used to be the president of the Maize Rage and have been going to games at Crisler since some time around the turn of the century.
So when the Wolverines suffer a gut-wrenching loss (think Josh Gasser's banked three at the buzzer in 2011 or Evan Turner's last second heave in the 2010 Big Ten Tournament) or get their asses flattened like pancakes pounded by a spatula after being removed from the griddle (think, well, both those "games" last week), I usually struggle to bring myself to settle my emotions enough to bring fingers to keyboard.
But I thought I should ramble a little about how I feel now after digesting those losses, throwing them up, and taking some antacid.
By the way, the final deficits against Indiana and Michigan State were 13 and 16, respectively, but probably would have more accurately reflected the nature of the games if those numbers were doubled.
Hopefully the Selection Committee takes a look at the final score of each game and says "well those are bad losses but not that bad!" and then proceeds to put Michigan somewhere other than Dayton, Spokane, or Oklahoma City (if they make it, I'm hoping to go to their first round game, but I would rather it not actually be a First Round game, if you know what I mean).
In reality, we all know that those losses were that bad. Like really that bad.
As Rafiki says, however, "it doesn't matter, it's in the past!" Michigan can't change the disaster that happened last week, but they can hopefully learn a bit from them and pave the way for a brighter future.
So what's to learn about those two games that people are certainly, definitely, NOT AT ALL panicking about?
Well, let's rationalize a bit to begin. Indiana and Michigan State are two very good teams that played excellent games (I'm not going to reference many stats in this column because of how skewed the numbers are over the stretch, but any time two teams combine to make 56 percent of their shots in a given week, that's some good play). They have combined to win 81.3 percent of their matchups so far this season and have beaten some good teams. They are both shoo-ins for the Big Dance, and they'll probably embarrass a couple other teams not named Michigan going forward (do not pay any attention to Indiana's game at Penn State).
For those rough games, Michigan still does not have a bad loss to show on their record – and I honestly don't expect margin of defeat to come into play on Selection Sunday. They also have a couple very good wins on their resume and could add to their two top-100 RPI wins with victories they have already acquired earlier this season, should Penn State or North Carolina State climb up a few spots. For now, the Wolverines still look like relatively safe bets to make the Tournament.
If you are one of the many Michigan fans teetering on the edge right now, please take a step back, then another. It's not time to panic just yet. If Michigan comes home from Minneapolis with a loss on Ash Wednesday, though, I give you full permission to run forward and jump.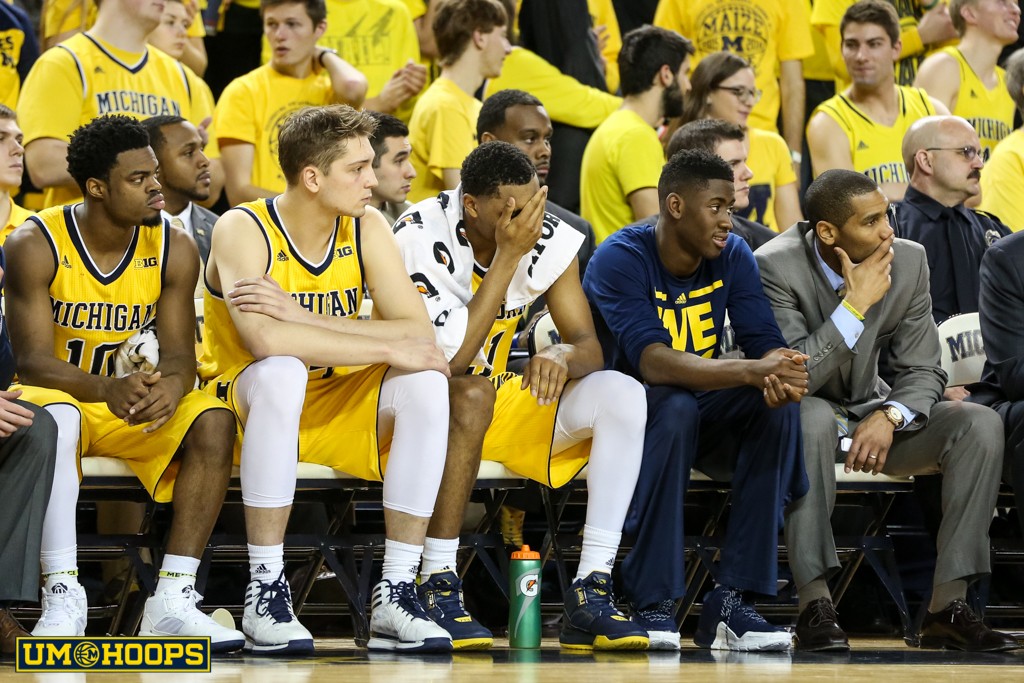 (Dustin Johnson, UM Hoops)
Anyway, about those games.
The Wolverines actually came out looking very good against Indiana last Tuesday, jumping out to an early 11-point lead and threatening to run away from the Hoosiers. Things quickly erupted though, and before the halftime horn mercifully blew in a dead silent Crisler Center, Michigan found itself on the wrong end of a 25-0 run and a 21-point deficit.
Before they could throw a counter punch, the Wolverines were knocked out by a savage Indiana offense. So what happened? Ultimately, the Hoosiers took advantage of Michigan's poor transition defense, the Wolverines panicked and began turning the ball over and missing ill-advised shots so bad that they may as well also have been turnovers, and by halftime, the Wolverines were in a complete state of shock. Effectively, it was game over. To rub salt in the already gaping wound that caused the knockout, Tom Crean quickly mentioned former Michigan player Max Bielfeldt as a reason for Indiana's terrific play. That, of course, was mostly garbage – Bielfeldt finished with just five points on 2-of-8 shooting (the worst percentage for any Hoosier that attempted a shot) in 18 minutes – but stung nonetheless. The stated reason Crean praised Bielfeldt was for his excellent first half plus/minus rating, which was absolutely comical given that just about every Indiana player had a through-the-roof first half plus/minus.
As soon as that panic set in, Michigan's offense – which, again, came out firing on all cylinders – devolved into what looked like a typical eighth grade offense, with guys trying to play hero ball and failing miserably. Indiana capitalized, with six of their buckets (good for 15 points) down the stretch in the first half coming within 10 seconds of a Michigan miss or turnover, and a couple others coming off of terrible looks or turnovers as well.
Michigan is simply not good enough to overcome a shocking run like that, and Indiana simply could not miss for quite a long stretch. Further, the Wolverines are lacking their best individual playmaker, their primary facilitator, and their presumed leader. That recipe, combined with a seeming lack of confidence once things get bad for the Maize and Blue, is a recipe for disaster, and disaster is what descended upon Ann Arbor. In my opinion, it was one of those games where you almost have to say "it happens" and move on. Obviously it was a poor, poor result and an even worse performance, but I don't place too much blame on the coaching staff.
I can't say the same for the Michigan State loss. Coming off the tough-pill-to-swallow beatdown against Indiana, Michigan was certainly going to be a bit wary and perhaps high-strung or nervous with their in-state rivals coming to town playing much better than them (as an aside, players will never admit to paying close attention to other teams, or to keeping track of their ranking, or to listening to talking heads' opinion of their team, but they absolutely do).
Unfortunately, I do not believe the coaching staff put the Wolverines in position to win.
Now don't get me wrong. Michigan State is a very good team, and has been for many seasons. They are a tough, physical team, and perhaps not the best matchup for a Michigan team that usually plays with more finesse than physicality.
But the Spartans are also fairly easy to gameplan for in my opinion. This year, Michigan State has one guy who can do it all on offense and is dangerous any time he's on the floor. That player, of course is Denzel Valentine. He's an All-Everything senior that is a phenomenal passer, a very good shooter, and an excellent rebounder for his size as well. There is one other player, Eron Harris, who is fairly multi-dimensional, with the ability to drive, pass, shoot, get fouled, etc. But Harris is also prone to fits of erraticism and is not quite the shooter, finisher, or passer that Valentine is, and turns the ball over more than Valentine while handling the ball less.
Meanwhile, the Spartans also boast some excellent offensive complementary pieces that, while key to their success, are a little more one-dimensional. Bryn Forbes is an outstanding spot-up shooter that doesn't do much more than shoot the three-ball. Matt Costello and Deyonta Davis are a load to handle down low, but neither is a threat to score from more than 12 feet away. Matt McQuaid is a plus shooter but does not shoot much while big men Kenny Goins and Gavin Schilling are basically the same players as Costello and Davis but both significant downgrades.
How do you beat, or at least challenge, the Spartans then? If Valentine proves too difficult to handle, so be it – you have to grin and bear it. He's one of the best players in the country and can break down any defense. If Harris drives his way into some fouls and knocks down a couple deep shots, shrug your shoulders. But you absolutely CANNOT let Bryn Forbes get wide open and kill you from deep.
And that's exactly what happened. Forbes had 23 points – seven triples and another long two – by halftime to Michigan's 28 total. Of his eight makes, Forbes may have had a Wolverine within three feet of him once or twice.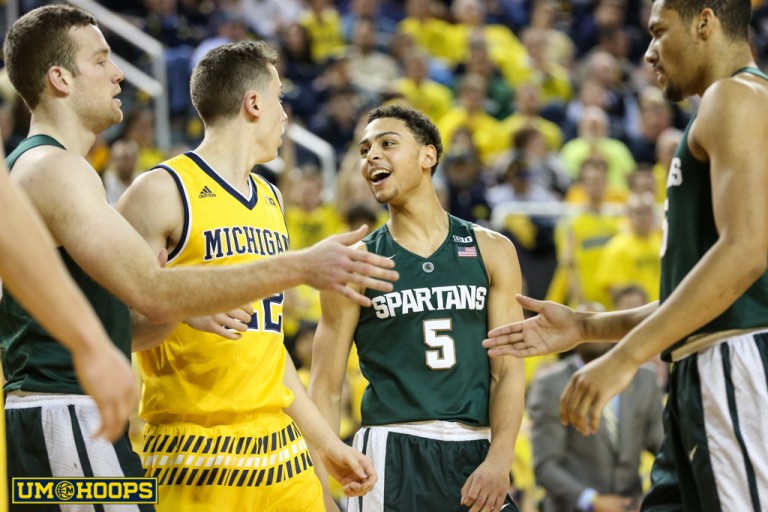 (Dustin Johnson, UM Hoops)
That is a lack of effort, a lack of effective defense, and also a lack of a competent defensive gameplan. Michigan came out in a soft man defense that showed little urgency in sticking with Forbes – again, one of the more lethal shooters in the country – and paid dearly for it. Duncan Robinson was a primary culprit, running under screens and getting completely stone-walled by picks, but the coaching staff deserves equal blame for allowing Michigan State to come out and drain 10 very mildly contested threes in a single half.
About midway through the first half, when it was clear that the Wolverines had completely missed the mark on the scouting report, Beilein switched to a 1-3-1 zone in an attempt to keep another game spiraling quickly out of control within striking distance.
It was fine for a change of pace, and it even managed to flummox the Spartans into making a couple dumb mistakes. But Michigan went back to it after those couple mistakes, which Michigan State was ecstatic to see. The Spartans promptly drained a triple, and when the Wolverines inexplicably went back to the zone yet again, they made another. And another. And another.
I have never seen Beilein look so helpless, but the answer in slowing Michigan State's offense was never going to come by playing zone for an extended period of time. Michigan State is simply too good of a shooting team to fall prey.
Perhaps most frustrating about the decision to play zone for so long is that the 1-3-1 zone is not designed to limit shooting whatsoever. Rather, it's designed to confuse the offense, create turnovers, and prevent easy driving buckets. Michigan State was not killing Michigan with easy buckets at the hoop; they were killing the Wolverines from beyond the arc. So instead of switching up the gameplan and sticking the best perimeter defender Michigan has – probably Derrick Walton at this point – onto Forbes and instructing him to not let the senior transfer touch the ball, Beilein inexplicably switched to a zone that is prone to giving up wide open shots from deep. And give up shots the zone did.
By the time halftime arrived – again again by the grace of God – Michigan was pretty much out of the picture and sapped of any confidence that once existed. Of course, the Wolverines moved to a more aggressive man defense in the second half, with Walton face-guarding Forbes, to open the second half. But it was too late. The lack of a first half adjustment failed the team.
In the aftermath of the second straight embarrassment at home, Michigan fans across the blogosphere at Twittersphere began (yet again) calling for Beilein's head.
To that, I merely say this: stop it. Yes, Michigan got beat bad twice in a row. And yes, perhaps it could have been mitigated by some better coaching decisions.
But if you want people to take you seriously, you must first think and act rationally. John Beilein is one of the best things to happen to the Michigan basketball program in quite a long time. I don't need to run through his list of accolades and accomplishments since taking over the program in the 2007-'08 season.
So I pray that many of those calling for his firing are uninformed tweens that have known nothing but success over the majority of Beilein's tenure in Ann Arbor, and expect Michigan to be dominant each year. Unfortunately, those are unrealistic expectations for all but a few fan bases in the country.
It's even more unrealistic to expect that when a team is missing their unquestioned best player and a key secondary piece. Both of those guys, of course, are seniors – Michigan's only seniors heading into this season. And if you don't understand the value of seniors in this day of overhyped freshmen in college basketball, I suggest you listen to what Tom Izzo had to say after his team's triumphant victory on Saturday.
Take a look at any top team in the country and you'll likely find that a senior (or two or three) is the driving force behind the success. Guys like Buddy Hield, Isaiah Ryan Arcidiacono, Daniel Ochefu, Jared Uthoff, Denzel Valentine, Matt Costello, Bryn Forbes, Marcus Paige, Brice Johnson, Rasheed Sulaimon, Jake Layman, Perry Ellis, Sheldon McClellan, Angel Rodriguez, and so many more are guys that make teams tick.
Michigan's two seniors are currently watching from the bench. Hopefully they get one of them back soon, but in the meantime, patience and understanding are highly advised.
Crappy performances happen in college basketball. Shots fall and don't fall, players make mistakes and lose confidence. Teams lose, sometimes badly, and coaches make mistakes too.
Still, Michigan is probably going to be okay. They had a couple big hiccups and they have some recovering and rebounding to do, but it's not the end of the world, and it's certainly not time to overreact after losing two games in which the projected outcomes were pretty much coin flips.
There are more opportunities on the way, and I believe that John Beilein will have an answer.
I, at least, have a good feeling about the two games this week.
The past is over. Let's play on.