---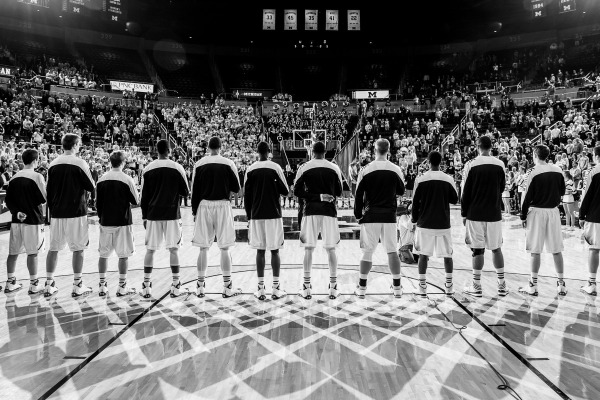 (MGoBlue.com)
Six and a half years ago, an eternity for college athletics, Michigan announced the hiring of John Beilein from West Virginia. Beilein, whose father was a farmer and paper mill plant superintendent, made a name for himself with a unique system predicated on always having four players be a threat from three-point land.
Having coached at Canisius, Le Moyne, and Erie Community College, among other little-known schools, Beilein knew that he would have to devise some plan to be able to compete at the higher ranks. He was never going to get the best athletes or biggest players, so he had to continuously tweak his offense to make what he had work.
Somewhere along the way, Beilein was labled an offensive genius. Perhaps it was for the fact that he had never been an assistant coach in his life, or maybe it was his job in taking Canisius to the NCAA Tournament and winning a Tournament game as the head man at Richmond with a 14th-seeded team.
Wherever it came from, the mantra stuck through his time at West Virginia, where Beilein took the Mountaineers to the Elite Eight and the Sweet Sixteen with players that were simply not on the same level as the competition they consistently faced.
Eventually, Beilein's success throughout the lower levels of coaching brought him to Ann Arbor and finally gave him the opportunity to show what his system could do with an equal playing field.
In his first year, competing with a team left over by Tommy Amaker, Beilein looked like he might have made a mistake. The Wolverines hobbled to a 10-22 record in the 2007-08 season and weren't projected to do much better the next.
Soon, however, it seemed clear that Beilein had a plan. He led Michigan to its first NCAA Tournament appearance in 10 years with a squad picked by most to finish near the bottom of the Big Ten and upset the seventh-seeded Clemson Tigers in the first round.
Then, following another brutal year in 2009-10 in which Beilein's preseason top-15 team flopped to a 15-17 record, question marks arose again.
With pressure mounting and Beilein's first recruiting classes starting to mature, he made a move that would alter the course of Michigan basketball. John Beilein, a loyal and honest man if there ever was one, cleaned out his coaching staff, promoting Jeff Meyer permanently to assistant and hiring young guns Lavall Jordan and Bacari Alexander.
One season later, with his own coaches and his first Michigan team that featured only players that he had recruited, Beilein led the Wolverines back to the second round of the Big Dance.
Since then, he has not looked back.
Tonight, Beilein will watch as Michigan adds an NCAA Final Four banner to the rafters of the Crisler Center. He'll reminisce of last season's dream run one final time, he said, and then it's back to work.
Coaching transitions are never easy, and Beilein's rise to the top at Michigan certainly did not come without some low moments, but he showed his true talents last year.
Now, Beilein will look to prove himself once again with a clean slate. It won't be as difficult as when he was competing with under-sized players or guys that he never recruited, but there will be plenty of challenges. Michigan will play at Duke and versus Arizona, two top-10 teams, along with a trip to a packed Puerto Rico Tip-off in the non-conference alone. The Big Ten also projects to be the strongest conference in the nation, with four teams in the preseason top 25 and a few middle-of-the-pack teams that should also contend for an NCAA berth.
This year's Michigan team is bursting at the seams with potential, however, and though it will be different from any Beilein team of the past, it's a safe bet that the offense will thrive with a few tweaks here and there.
The Wolverines do lose Trey Burke, Tim Hardaway, Jr., and a few senior leaders, but they also return five sophomores who made waves as the Fresh Five last season and add a few very talented freshmen.
Derrick Walton, who will be called upon to lead this Michigan team as a freshman, will never be the same player as Burke, but Beilein doesn't need that. He will tinker with what he has until he finds the right system. There probably won't be as many pick-and-roll actions at the top of the key, and the ball will not rest in the hands of one player as often as it did with Burke.
Instead, diversity and versatility will be the name of the game. Walton and Spike Albrecht will be called upon to handle the ball and find the scorers, of which there are many, but Michigan should be able to field adept lineups featuring anything from two point guards on the floor to nothing but 6'6 players and above.
That versatility is almost unfair when given to a coach with an offensive mind like Beilein's.
Nonetheless, Michigan will not be perfect, and already there are questions emerging. Mitch McGary, Beilein's best ever catch on the recruiting trail, has been hampered by a lower back condition for all of fall practice and will not play in tonight's season opener. He may not be fully healthy all season long.
The question of youth is also an issue. Can Michigan really expect to compete in the Big Ten and in the NCAA Tournament with a team dominated by underclassmen?
But that is the nature of college basketball. If there were no uncertainty, there would be no fun.
At this juncture of the year, Michigan looks to be in great shape. Boasting arguably the best athlete and one of the best shooters in all of college basketball (Glenn Robinson III and Nik Stauskas) along with a preseason AP All-American (McGary), two freshmen with great offensive and defensive prowess (Walton and Zak Irvin), a wildcard sophomore who seems worlds better than last year (Caris LeVert), and a pair of veteran big men who are leaders on and off the court (Jon Horford and Jordan Morgan), Beilein seems poised to bring his team back to the promised land.
The long journey of the college basketball season begins tonight, and many eyes will be on Ann Arbor.
Brace yourself, for it's the best time of the year.
2013-14 Michigan basketball predictions

Top 5 Scorers
1. Glenn Robinson III
14.0
2. Nik Stauskas
13.5
3. Mitch McGary
12.0*
4. Zak Irvin
9.5
5. Caris LeVert
8.0
Top 5 Rebounders
1. Mitch McGary
9.5*
2. Glenn Robinson III
6.0
3. Jon Horford
4.0
4. Jordan Morgan
3.5
5. Nik Stauskas
3.5
Top 5 Assists
1. Derrick Walton, Jr.
4.0
2. Caris LeVert
3.0
3. Nik Stauskas
2.0
4. Spike Albrecht
1.5
5. Zak Irvin
1.5
Top 5 Field Goal Percentage Shooters
1. Mitch McGary
2. Jon Horford
3. Glenn Robinson III
4. Jordan Morgan
5. Spike Albrecht
Top 5 3-Point Percentage Shooters
1. Nik Stauskas
2. Spike Albrecht
3. Zak Irvin
4. Glenn Robinson III
5. Caris LeVert
Minute breakdown
1 – Walton (26), Albrecht (14)
2 – LeVert (25), Irvin (15)
3 – Stauskas (28), Robinson III (7), Irvin (5)
4 – Robinson III (33), McGary (7)*
5 – McGary (18)*, Horford (12), Morgan (10)
Superlatives
Most improved player
Caris LeVert
Most valuable freshman
Derrick Walton Jr.
Most valuable player
Glenn Robinson III
Final record
30-7 (15-3 Big Ten)
Conference finish
T1
Postseason
NCAA Tournament, Elite Eight
*denotes projected stats when healthy