---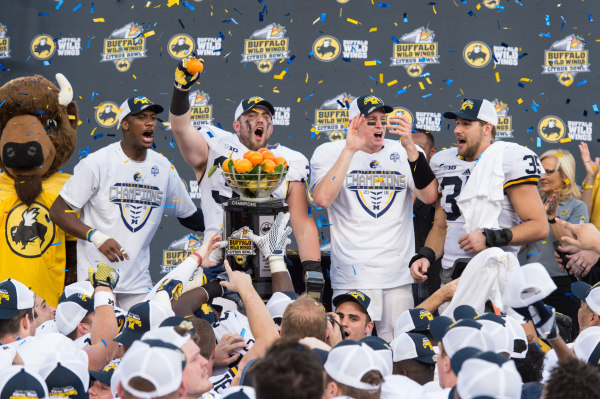 (MGoBlue.com)
Prior to Friday's Citrus Bowl, Michigan's offense had surpassed 500 yards just once all season, in a 48-41 double-overitme win at Indiana. Prior to Friday's Citrus Bowl, Florida's defense, which ranked sixth nationally, allowing 295.4 yards per game, hadn't surrendered 500 yards to anyone. On Friday, Michigan's offense racked up 503 yards, scoring on seven of nine possessions, en route to a 41-7 blowout of the SEC East champion Gators.
Final Stats
Michigan
Florida
Score
41
7
Record
10-3 (6-2)
10-4 (7-1)
Total Yards
503
273
Net Rushing Yards
225
118
Net Passing Yards
278
155
First Downs
28
14
Turnovers
0
2
Penalties-Yards
4-30
7-66
Punts-Yards
1-57
4-216
Time of Possession
38:38
21:22
Third Down Conversions
9-of-12
7-of-13
Fourth Down Conversions
0-of-0
0-of-2
Sacks By-Yards
2-24
0-0
Field Goals
2-for-2
0-for-0
PATs
5-for-5
1-for-1
Red Zone Scores-Chances
6-of-7
1-of-3
Red Zone Scores-TDs
4-of-7
1-of-3
Full Box Score
After a month to prepare, Michigan turned in its most complete performance of the season, thoroughly dominating Florida to achieve the 27th 10-plus win season in the program's 136 year history.
Both teams entered the contest boasting top-10 defenses, leading most to believe the game would be a low-scoring affair. But it was Michigan's defense that lived up to its billing, holding Florida to just 273 total yards and seven points. The Gators managed 118 rushing yards on 27 carries, and Florida quarterback Treon Harris completed just eight of 21 passes for 146 yards, no touchdowns, and an interception.
Florida opened its whole bag of tricks, trying a fake field goal, a fake punt, a flea flicker, and a play that included a direct snap to the running back, reverse to the receiver, pass to the quarterback. Only the latter produced a positive result for the Gators, resulting in their only touchdown of the game.
Michigan, meanwhile, didn't need trick plays; simply a sound, fundamental football. Jake Rudock completed 20 of 31 pass attempts for 278 yards, three touchdowns, and no interceptions. Even with the game well in hand in the fourth quarter, Harbaugh left him in to the end, a fitting tribute to the grad-year senior who transferred from Iowa and improved his chances of being drafted this April from none to, well, a chance.
Jehu Chesson continued his rise from seldom-used contributor to star in the making. The redshirt junior caught five passes for 118 yards and a touchdown, torching Vernon Hargreaves, who most believe to be a first-round draft pick in a few months.
De'Veon Smith eclipsed 100 yards for the first time since a Week 4 win over BYU, rushing for 109 yards on 25 carries. Drake Johnson and Sione Houma also ran well, notching a touchdown apiece. Johnson added a receiving score as well.
It was a fitting end to Harbaugh's first season at the helm, sending off a small but important senior group, and setting up great expectations entering the offseason, with a thorough beatdown of a good SEC team.
Michigan and Florida entered in very similar positions — better than expected seasons under first-year head coaches. But Friday's Citrus Bowl left the two on divergent paths nine months before they step on the field again and shows which coach has his team in better position.
Michigan has some holes to fill next season — namely at quarterback, center, and linebacker — but with nearly everyone returning, and a likely Top 10 preseason ranking, expectations should be through the roof. But before we get there, we get a 41-7 win over the SEC East champion to hang our hat on all offseason.
Jake Rudock (20 of 31 for 278 yards, 3 TDs, 4 carries for 29 yards)
In his final game as a collegiate athlete, Jake Rudock went out the same way he did in his final game of high school: a champion in Citrus Bowl Stadium. The St. Thomas Aquinas product and Iowa transfer capped his career with a remarkable performance against the nation's 11th-best pass defense with at least two future NFL draft picks in the secondary. He looked night and day different from the beginning of the season when many Michigan fans questioned whether or not he was the right man for the job. By the end of the game, one would be hard pressed to find a single Michigan fan who didn't wish Rudock had one more year of eligibility. He moved into second place in school history in single season passing yards with 3,017 and became the first Michigan quarterback to pass for more than 250 yards in five consecutive games.
Previous:
Week 1 – Jake Butt (8 receptions for 93 yards and 1 TD)
Week 2 – De'Veon Smith (23 carries for 126 yards, 3 TDs)
Week 3 – Ty Isaac (8 carries for 114 yards, 1 TD)
Week 4 — De'Veon Smith (16 carries for 125 yards and 1 TD)
Week 5 — Drake Johnson (13 carries for 68 yards, 1 TD, 1 rec for 31 yards, 1 TD)
Week 6 — Mason Cole, Ben Braden, Graham Glasgow, Kyle Kalis, Erik Magnuson
Week 7 — Kenny Allen (3-for-3 field goals, 2-2 PATs)
Week 8 — Jabrill Peppers (4 carries for 16 yards, 1 TD, 1 punt return for 41 yards, 1 kick return for 43 yards)
Week 9 — Jake Rudock (18 of 25 for 337 yards, 2 TDs, 1 carry for 4 yards, 1 TD)
Week 10 — Jake Rudock (33 of 46 for 440 yards, 6 TDs, 1 INT, 7 carries for 64 yards)
Week 11 — Jake Rudock (25 of 38 for 256 yards, 2 TDs, 1 INT)
Week 12 — Jehu Chesson (8 receptions for 111 yards, 1 TD)
Chris Wormley (4 tackles, 2.5 TFL, 1 sack)
This was a tough one as the entire defense played well and essentially shut down Florida's offense. Joe Bolden said after the game when asked if he was surprised that Florida only scored seven points, that he was surprised that the did score seven points. That's the mentality of a great defense, and it started with the defensive front. Chris Wormley was unblockable for the Florida offensive line and recorded four tackles, two-and-a-half tackles for loss, and a sack.
Previous:
Week 1 – Chris Wormley (5 tackles, 3 TFL)
Week 2 – Chris Wormley (6 tackles, 3 TFL, 1 sack)
Week 3 – Jourdan Lewis (3 tackles, 4 PBU)
Week 4 — Ryan Glasgow (3 tackles, 2 TFL)
Week 5 — Desmond Morgan (9 tackles, 1 INT, 2 PBU)
Week 6 — Jourdan Lewis (4 tackles, 1 TFL, 1 INT, 1 touchdown, 1 PBU)
Week 7 — Willie Henry (5 tackles, 3 TFL, 2 sacks, 1 PBU)
Week 8 — James Ross (9 tackles, 1 TFL, 1 sack)
Week 9 — Chris Wormley (4 tackles, 2 TFL, 2 sacks)
Week 10 — Delano Hill (10 tackles, 8 solo, 1 PBU)
Week 11 — Taco Charlton (4 tackles, 3 TFL, 2 sacks)
Week 12 — Jourdan Lewis (6 tackles, 5 solo, 1 TFL, 1 sack)
Final Individual Stats
Passing
Comp-Att
Yds
Avg.
TD
INT
Long
Sack

Jake Rudock

20-31

278

9.0

3

0

45

0

Treon Harris

8-21

146

7.0

0

1

27

2

Josh Grady

1-2

7

3.5

0

0

7

0

Antonio Callaway (WR)

1-1

2

2.0

1

0

2

0

Johnny Townsend (P)

0-1

1

0.0

0

0

1

0
| | | | | | |
| --- | --- | --- | --- | --- | --- |
| Rushing | Car. | Yards | Avg. | TD | Long |
| De'Veon Smith | 25 | 109 | 4.4 | 0 | 24 |
| Drake Johnson | 6 | 58 | 9.7 | 1 | 17 |
| Treon Harris (QB) | 11 | 55 | 5.0 | 0 | 22 |
| Kelvin Taylor | 11 | 50 | 4.5 | 0 | 21 |
| Seone Houma | 9 | 32 | 3.6 | 1 | 8 |
| Jake Rudock (QB) | 4 | 29 | 7.3 | 0 | 14 |
| Jordan Conkrite | 3 | 17 | 5.7 | 0 | 8 |
| Taven Bryan (DL) | 1 | -1 | -1.0 | 0 | -1 |
| Josh Grady (QB) | 1 | -3 | -3.0 | 0 | -3 |
| | | | | | |
| --- | --- | --- | --- | --- | --- |
| Receiving | Rec | Yds | Avg. | TD | Long |
| Jehu Chesson | 5 | 118 | 23.6 | 1 | 45 |
| Antonio Callaway | 5 | 75 | 26.0 | 0 | 26 |
| Grant Perry | 5 | 51 | 10.2 | 1 | 24 |
| Jake Butt (TE) | 3 | 34 | 11.3 | 0 | 12 |
| Brandon Powell | 1 | 26 | 26.0 | 0 | 26 |
| Khalid Hill | 1 | 24 | 24.0 | 0 | 24 |
| Amara Darboh | 2 | 24 | 12.0 | 0 | 17 |
| Chris Thompson | 1 | 20 | 20.0 | 0 | 20 |
| Ian Bunting (TE) | 1 | 17 | 17.0 | 0 | 17 |
| Demarcus Robinson | 1 | 17 | 17.0 | 0 | 17 |
| Jordan Cronkrite (RB) | 1 | 15 | 15.0 | 0 | 15 |
| Drake Johnson (RB) | 2 | 10 | 5.0 | 1 | 8 |
| Treon Harris (QB) | 1 | 2 | 2.0 | 1 | 2 |
| De'Veon Smith (RB) | 1 | 0 | 0.0 | 0 | 0 |
| | | | | | |
| --- | --- | --- | --- | --- | --- |
| Kicking | FG | Pct | Long | XP | Pts |
| Kenny Allen | 2/2 | 100.0 | 25 | 5/5 | 11 |
| Neil MacInnes | 0/0 | 0.0 | 0 | 1/1 | 1 |
| | | | | | | |
| --- | --- | --- | --- | --- | --- | --- |
| Punting | No | Yds | Avg | TB | In 20 | Long |
| Johnny Townsend | 4 | 216 | 54.0 | 0 | 0 | 61 |
| Kenny Allen | 1 | 57 | 57.0 | 1 | 0 | 57 |
| | | | | | |
| --- | --- | --- | --- | --- | --- |
| Kick Returns | No | Yds | Avg | Long | TD |
| Antonio Callaway | 3 | 79 | 26.3 | 37 | 0 |
| Vernon Hargreaves | 2 | 38 | 19.0 | 25 | 0 |
| Brandon Powell | 2 | 36 | 18.0 | 19 | 0 |
| Jehu Chesson | 1 | 28 | 28.0 | 28 | 0 |
| | | | | | |
| --- | --- | --- | --- | --- | --- |
| Punt Returns | No | Yds | Avg | Long | TD |
| Amara Darboh | 1 | 11 | 11.0 | 11 | 0 |
| | | | | | |