---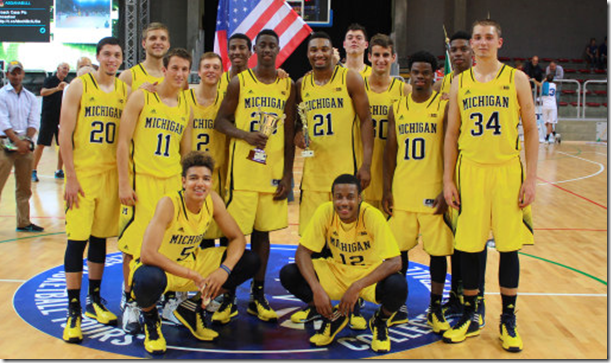 (UMHoops)
Michigan fans, I have some good news for you: college basketball season is just around the corner. Practice has started, John Beilein is back at work with the team, and football will soon be a distant memory.
As everyone knows, the Wolverines took one of their every-four-years off-season trips this summer to play some lower-tier teams in Italy, and the results were encouraging, with four 20-plus point wins, a healthy dose of balanced scoring (eight players averaged more than eight points per game), and strong freshmen play.
About that last point, as Michigan fans have become accustomed to, the Maize and Blue will largely be looking to replace the lost production of Nik Stauskas, Glenn Robinson III, Mitch McGary, Jordan Morgan, and Jon Horford with five freshmen and a sixth redshirt freshman. You'd be right to blame Beilein with continuous gripes of too much youth if not for his absurd record of turning these young (and often overlooked) Wolverines into high NBA Draft selections. Of those five departures, two were first-rounders, one was a second-rounder, another is off to play first division ball in Europe with Virtus Roma, and the last transferred to Florida. With this turnover comes new names and faces to follow, new games to drool over, and a bevy of prospects that are question marks waiting to become stars under Beilein's tutelage.
Today, let's take a trip back in time to analyze some tape of each projected rotation player in Italy and see how their style of play will translate this fall and what still needs to improve. Special thanks to UMHoops for the video.
#23 Caris LeVert – 6'7″, 200
Italy stats: 14.3 ppg, 6 rpg, 4.3 apg, 3 spg, 1.8 TOs, 50% FG, 40% 3pt., 64.3% FT, 4 starts
What he showed: After suffering a stress fracture in his foot over the summer, LeVert was thought to be iffy to even suit up in Italy. Instead, he looked completely healthy and ready to lead the team moving forward. The junior just turned 20 in August, but he certainly looked capable of being The Guy this season, even though his scoring numbers weren't gaudy.
LeVert came to Ann Arbor two years ago as a late addition after John Groce left Ohio University for Illinois and was by most counts a frustrating, wiry, inconsistent human in jelly-in-basketball-player-mold. A year later, LeVert had easily become the second offensive option on a very talented squad. Now, he is fully expected to lead the team, and his play in Italy leaves few questions. His shot looks as smooth as ever, his passing is crisp, his off-the-ball and pick-and-roll play looks improved, and he can rebound and run with anyone. But what stood out most was his confidence.
In the past, LeVert would sometimes appear to be thinking two steps ahead of his feet and would carelessly turn it over or take an ill-advised shot, but now he is showing that he can take the ball, survey the defense, and take the smartest course of action with his long strides and terrific finishing ability. He is comfortable passing or shooting, he isn't hesitating at all, and he can even be seen directing his comrades a couple times. By all means, expect an outstanding season from Caris.
Where he can improve: No basketball player is perfect, especially in college, but LeVert's well-rounded game is hard to nitpick at. One area that I think he has the potential to be even better is his man-to-man defense. LeVert's size (he grew an inch and gained plenty more weight this off-season) and length give him the prototypical shutdown defender mold, but he lacked aggressiveness at times on that end of the floor last year. His steal numbers are quite encouraging, and his free throw shooting shouldn't be an issue.
#21 Zak Irvin 6'6″, 215
Italy stats: 20.8 ppg, 7.3 rpg, 1.3 apg, 1 spg, 2.3 TOs, 68.8% FG, 66.7% 3pt., 83.3% FT, 4 starts
What he showed: Shooting, shooting, and more shooting. Zak Irvin proved how big of a deep threat he is while shooting 42.5 percent from downtown as a freshman who did one thing. It's pretty clear that his stroke didn't take a summer break, and his outside shot should continue to make it easier for him to develop a dribble-drive game. In this video, we see some strong finishes, but Irvin really only takes it to the rack by himself a couple of times off two or three dribbles to his left. The majority of his two-pointers here are breakaway dunks and smooth backdoor cuts that won't be as readily available against better competition. His rebounding numbers are also phenomenal.
Where he can improve: Coaches and players alike have been raving about Irvin's game since the end of last season, and he has great potential, but his game still lacks LeVert-level diversification. Irvin's shot is so good right now that I think he relies on it perhaps a bit too much. Look for him to continue to work on his handling and driving skills while using his outside shot to his advantage in creating inside for himself and others. Irvin, like everyone else on the team, needs to also be a little lighter on his feet defensively and use his athleticism and length to create havoc.
#10 Derrick Walton 6'0″, 185
Italy stats: 8.8 ppg, 3.3 apg, 4.5 rpg, 2.5 spg, 1.5 TOs, 44.8% FG, 27.3% 3pt., 50% FT, 4 starts
What he showed: If Caris LeVert is The Guy on this team and Zak Irvin is the dynamic sidekick, Derrick Walton needs to be the glue to hold everything together, and he looks the part to me. I love Walton's creativity in the paint, his jump shot is worlds better from his high school days, and his acceleration and Trey Burkeian moves all point to No. 10 becoming the next great point guard out of Beilein's factory. Walton's high basketball IQ allowed him to learn the ins and outs of the offense rapidly as a freshman, and his grasp should only help the freshmen get up to speed that much sooner.
What he can improve: It's tough to extrapolate too much from a few overseas blowouts, but Walton's box scores seem to indicate that he may have spent some time away from the court this summer. His 10-2-9-14 scoring outputs point to a lack of consistency and his poor shooting certainly needs to improve, but I have no doubts that the small sample size and long off-season can take most of the blame here.
#34 Mark Donnal 6'9″, 240
Italy stats: 10.3 ppg, 6.5 rpg, 1.3 apg, .3 bpg, .3 TOs, 69.6% FG, 0% 3pt. (0-3), 81.8% FT, 4 starts
What he showed: Redshirt freshman Mark Donnal displays great movement throughout this clip, and his soft touch around the basket will be a welcome addition after Jordan Morgan sometimes struggled throughout his career in finishing the bunnies. Donnal needs to be able to run the floor in this offense, and he looked more than capable of doing that, beating his man down on a couple occasions and then out-smarting a defender for position as well. Donnal's high field goal and free throw percentages are exactly what this team needs out of him: smart, solid play and finishing. If he does that, his job is done. Lastly, Donnal's 14 offensive rebounds to 12 defensive is something exciting to keep an eye on.
What he can improve: What intrigued me most about Donnal as a prospect was his outside shooting. Obviously as a big man you want Donnal to be able to play inside, and he appears to be picking that up pretty well, but his outside shot in high school made me drool over the possibilities in Beilein's offense. The pick-and-pop would be a terrific addition to this offense, but unfortunately it looks like Donnal is still progressing inside before he thinks too much about stepping out for the trey. His 0-for-3 line from downtown is discouraging for me, and I think he has the talent to do a lot better than one block every four games.
#3 Kameron Chatman 6'7″, 210
Italy stats: 9.5 ppg, 4.3 rpg, 2.5 apg, 2 spg, 1.3 TOs, 42.5% FG, 33.3% 3pt., 0.0% FT, 4 starts
What he showed: Chatman comes in this season as the most highly touted true freshman of the bunch, and his versatility should help contribute to Michigan's excellent depth this season. Watching this video, I'm most impressed with Chatman's vision and midrange game. For a big freshman, Chatman really zips off a few nice passes, and his confident stroke from just inside the deep line bring about memories of GRIII, Tim Hardaway Jr., and Trey Burke. Chatman's role is just that, to be a role player who can score a few points, rebound well, defend, and provide value in different ways. He doesn't need to fill up the stat sheet every night, but we should see a solid 6-9 points per game from the Oregon native. I feel like my keyboard is on replay, but Chatman also has great length and appears to have good, not great, athleticism.
What he can improve: Two things stick out right away in Chatman's line after four games: low shooting percentages and zero attempted free throws. Chatman is most likely going to start from the beginning at the four spot for Beilein, meaning he'll be going against guys his size on a regular basis. He is not going to be able to curtsy his way to easy one-dribble mid-rangers every night. Instead, Chatman needs to embrace aggressiveness, get to the hole a little more often, and either finish a layup or get fouled. His stroke looks very smooth right now, but he will need to up those shooting numbers a bit.
#32 Ricky Doyle 6'9″, 245
Italy stats: 11.5 ppg, 8 rpg, .3 apg, .3 bpg, 0 TOs, 74.1% FG, 60% FT
What he showed: Ricky Doyle was perhaps the biggest revelation of the Italy tour. In high school, Doyle played in a low-level league and was not active on the AAU circuit. Most of his development came from private lessons. Now in college, the book will be out soon that Doyle is a true big man in every sense of the word. Throughout his nearly three-minute long highlight video seen here, Doyle scored a number of strong buckets by finding open spots, running the floor well, and cleaning up misses, but the one thing that stood out to me was the number of times he put the ball on the floor – zero. Watch for yourself. Not once does Doyle put the rock to hardwood, even at the top of the key while waiting for the wings to complete their action. His field goal percentage is very impressive, and should stay pretty high this year considering the types of shots he'll be taking, and his team-high eight rebounds per game are as encouraging a stat as any on this trip.
What he can improve: Doyle won't be asked to do too much offensively this year other than finish off what Michigan's skilled guards create for him, but some offensive versatility would be nice. He should be able to put the ball on the floor when going back-to-the-basket. Doyle's free throw percentage is also a hair lower than what you're comfortable with, and eventually he will work on his range. The Florida native will also want to improve his defensive footwork and mindset, as his 12 fouls were by far the most on the trip. With only him and Donnal really competing for minutes at the five, Doyle needs to be smart when it comes to foul trouble.
#12 Muhammad-Ali Abdur-Rahkman 6'4″, 175
Italy stats: 10 ppg, 2.5 apg, 3.3 rpg, 2.3 spg, 2.3 TOs, 47.8% FG, 20% 3pt., 64% FT
What he showed: Driving. If not for Doyle's breakout performance, Muhammad-Ali Abdur-Rahkman's (you can't expect me to write that out every time) impressive four-game stretch would be making the most headlines from the newbies. Michigan basketball's Twitter account routinely went nuts over MAAR's driving and finishing ability, and you spot a few glimpses throughout this clip. Abdur-Rahkman was a late pickup this off-season from the Philadelphia area, and while many questioned the scholarship offer, he already looks well on his way to providing immense value as that threat to get to the hole every time. I love his quickness on the dribble and his ability to keep his head up at all times. What's more is that Abdur-Rahkman didn't do all his damage in one game. He reached double figures in scoring three of four games and had multiple steals and assists in all four games.
What he can improve: Shooting. Abdur-Rahkman will earn minutes on the wing this season with his driving ability alone, and he should get to the free throw line often, but he will need to make defenders respect his outside shot if he is to bring his game up to the next level. Abdur-Rahkman made just two of his 10 three-point attempts on the trip, and he isn't shown taking anything from distance in this video. The knock on his game in high school was always that shot, and it looks like he has a ways to go.
#24 Aubrey Dawkins 6'6″, 190
Italy stats: 9.3 ppg, 2.8 rpg, .5 apg, .3 spg, .8 TOs, 63.6% FG, 62.5% 3pt., 80% FT
What he showed: Aubrey Dawkins, the son of former Duke great and current Stanford coach Johnny, is probably going to be just a shooter this season if he plays at all, and that's fine – especially when he is draining nearly two-thirds of his deep attempts. His stroke is smooth and his prep year on the East Coast should serve him well in transitioning to the college game. Dawkins does also showcase a good handle and a few nice finishes in this cut-up, but I expect his game to be pretty similar to Zak Irvin's of last year. The skinny native Californian is also reputed to be a terrific athlete, which will serve him well down the road and perhaps bring some Glenn Robinson III comparisons eventually.
What he can improve: Again, like Irvin, Dawkins will continue to work on his dribble-drive game so that defenders cannot simply stick to him in the corner and erase him from the picture. Dawkins will need to move around a lot to create open looks for himself while also improving on his ability to get to the rack and the free throw line (just five attempts in four games).
#2 Spike Albrecht 5'11″, 175
Italy stats: 5 ppg, 2.5 apg, 2 rpg, .8 spg, .8 TOs, 46.7% FG, 37.5% 3pt., 75% FT
What he showed: At 22 years old and in his junior season, Spike is pretty safely expected to be the ever-reliable backup point guard. He's never going to be the biggest, strongest, or most athletic player on the court, but he is calm and collected with the ball in his hands and usually makes the right pass. I'd like to see him shoot a little bit more this season with his terrific numbers, but Albrecht can most definitely be counted on to dribble under the basket and somehow find that open guy on the opposite wing at least once a game. His cool approach to the game and quiet, relaxed demeanor should do well to keep the team playing their style.
What he can improve: There was one really nice behind-the-back, pull-up elbow jumper drained in this video that I'd love to see more from out of Spike, but other than perhaps increased aggressiveness, Albrecht has a very defined game and a somewhat defined ceiling.
# 5 D.J. Wilson 6'9″, 220
Italy stats: N/A
Unfortunately, D.J. Wilson broke his pinky just before the trip to Europe and was unable to take part in gameplay, so I will hold off scouting for now, but if you follow me on Twitter (@SamSedlecky), you'll see that I have some very high hopes for this lanky Sacramento native.