---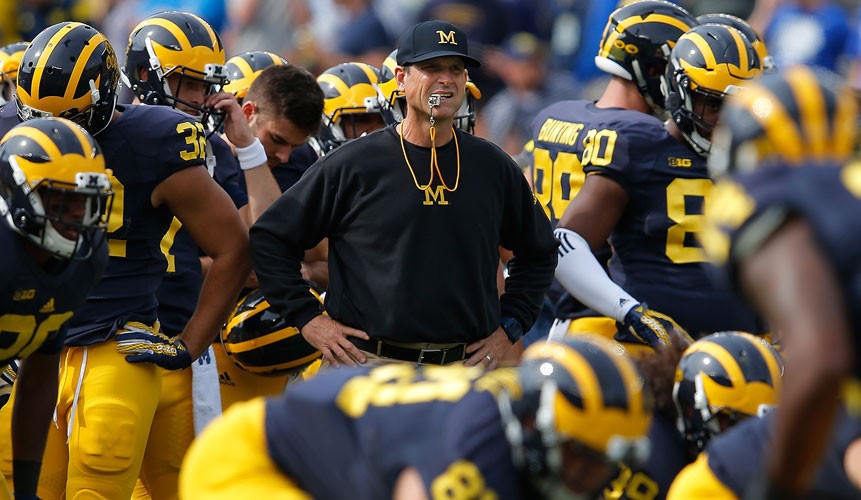 (Doug Pensinger, Getty Images)
Last year at this time no one knew what to expect. Everyone was hopeful about Jim Harbaugh's first season, but coming off of a disastrous 5-7 showing and seven years of very un-Michigan-like football, we were all nervous. Our season predictions ranged from 8-4 to 10-3, with the latter being right on. Even though we didn't know what to expect, we were generally right about what happened.
This year is a little different. There actually are expectations. And they are big. Michigan is ranked in the top 10 and several national pundits have predicted the Wolverines to win the Big Ten and reach the College Football Playoff. Are they just buying into the Harbaugh hype? Or could they be right? Here are our predictions for the season.
What are you most excited about this season?
Justin: When I think of the Michigan teams I grew up watching, I think defense. Sure, there were great offensive players that shouldn't be overlooked — guys like Anthony Carter, Jamie Morris, and Tyrone Wheatley, to name a few. But a great defense, one that smothers opposing offenses, is what makes Michigan football in my opinion. Lloyd Carr rode the 1997 defense to a national championship. The 2006 defense was deadly until it ran into Ohio State and USC. And last year's defense, which posted three straight shutouts, was fun to watch until it faltered late in the season.
I can't tell you how excited I am to watch an upgraded version of last year's defense with the addition of the number one recruit in the country and a blitz-crazy defensive coordinator. The biggest position battle in fall camp is at the quarterback position, but with the defense Michigan has, whoever wins the job will just need to be careful with the football and manage the game. And if the defense lives up to its billing, Michigan fans will be in for a special season.
Derick: The guy I'm most excited to watch is Rashan Gary, and it's not even close. Gary is Michigan's first ever No. 1 overall recruit, and he comes in as one of the most decorated commits since recruiting blew up several years ago.
Gary was the unanimous No. 1 player in the country on every major recruiting site, and comes into Ann Arbor to join a defensive line that's already very good. Gary will line up with Chris Wormley, Ryan Glasgow, Taco Charlton, Maurice Hurst, Bryan Mone and others as one of the best lines in the Big Ten. If he makes as much of an impact as guys like Jadeveon Clowney and Robert Nkemdiche — who were similarly ranked out of high school — he'll be the most exciting player on the roster.
Sam: I just can't stop thinking (and giddily laughing) about how dominant this defense could potentially be. The front four should be an absolute terror for any offensive line in the country, the secondary is athletic, veteran, and potentially another highlight waiting to happen (looking at you, Dymonte Thomas), and the linebacker group seems to be getting good reviews despite a relative lack of experience. And, oh yeah, Jabrill Peppers will be roaming all over the field and should be unleashed to wreak havoc in Don Brown's system.
Josh: Another year of Harbaugh. If that's not a decided schematic advantage, I don't know what is!
Joe: I'm super excited to see a few things during this upcoming season. The first would be the new style of defense that Coach Brown is bringing onboard. This should be a fun defense to watch and bring a ton of pressure and new looks. They should be ELITE from day one. The second thing I'm looking for is how the incoming class plays and improves over the course of the year. If they are everything we've read over the last few months, the future is BRIGHT!
What worries you the most entering the season?
Justin: As I mentioned above, I'm not overly worried about the quarterback position. As long as Speight or O'Korn doesn't become a turnover machine, Michigan will be okay. There are enough proven weapons — Jehu Chesson, Amara Darboh, Jake Butt, De'Veon Smith — and a strong defense to lean back on. What worries me the most this season is the road schedule.
Michigan will be able to handle the non-conference portion of the schedule handily, and with Penn State and Wisconsin at home, I see those as wins. Then the Wolverines face Rutgers and Illinois, which should put them at 7-0 and very highly ranked. But that's where things get tough. In the final five games of the season, Michigan has to travel to East Lansing, Iowa City, and Columbus with home games against Maryland and Indiana sandwiched in between.
Michigan has struggled on the road the past several seasons. To make matters worse, they haven't won in East Lansing since 2007, Iowa City since 2005, and Columbus since 2000. That's nearly a decade without a road win over any of those teams. And to have a chance at the College Football Playoff this season they'll likely have to win all three. To at least win the Big Ten they'll have to win at least two of the three, as long as the one loss is at Big Ten West foe Iowa rather than the other two, who are in the same Big Ten East as Michigan. It's hard to see that happening.
Derick: I'm most worried about the expectations. Michigan won 10 games last season when it was the underdog and nobody expected much in Jim Harbaugh's first year. But now, as the team jumps from irrelevant to popular national championship pick, it seems like things have escalated a little too quickly. Michigan has three extremely difficult road games at the end of the season,and if they take care of business weeks one through seven, those games will hold a massive importance. Can a team that hasn't played many nationally meaningful games handle that gauntlet down the stretch? It's going to be tough.
Sam: This one is pretty easy for me – I'm still not sold on the quarterback position. Yes, I know that Jim Harbaugh is widely reputed to be one of the best quarterback whisperers in the country and has worked wonders in season after season. But this is a pretty important position, and there still seems to be some disagreement over who will start. That's usually not a great sign with real football only a week away. We've all heard of O'Korn as the high-risk/high-reward type while Wilton Speight seems to be the more prototypical "game manager" quarterback, but neither has the whole package. At least not yet.
Josh: The media keeps saying quarterback or linebacker. Personally, I am not worried (nor will I ever be) about the quarterback position as long as James Joseph Harbaugh is patrolling our sidelines. Linebacker is a slight concern but the defensive line is so talented and so deep (8 or 9 guys) that I don't see the need to actually worry about the LBs. Plus, it's not like they lost any world beaters off last year's crew anyway.
Offensive line (both its progression and health) is my main concern and it's not even close. There isn't much proven depth, or depth period, behind the starting five so a significant injury to the offensive line could derail the entire season.
Even IF injuries are avoided we still have the issue of breaking in a new left tackle. If Grant Newsome doesn't work, who steps in for him? Go ahead, look at the depth chart: four freshmen, and a small cadre of former Brady Hoke guys who have limited game action and a total of ZERO starts. If this team is to compete for a B1G Ten title the offensive line needs to not only be better than last year but they ALL need to stay healthy the entire year.
Joe: It's gotta be the quarterback play that worries me the most. I was hoping that O'Korn would separate himself from the pack but that hasn't happened. This could be viewed as a positive or negative. I trust in Harbaugh and hope this gets settled soon.
Who will be the offensive breakout player this season?
Justin: Based on the hype coming out of fall camp, Ben Bredeson is probably the smart pick here. But I don't like to trust true freshman offensive linemen. I know Mason Cole worked out pretty well two years ago, but that's more the exception than the rule. To me, it's between two players: tight end Ian Bunting and receiver Grant Perry. Everyone knows Jim Harbaugh's affinity for tight ends, and just because he has Jake Butt it doesn't mean no other tight ends will see the field. Bunting is huge at 6-foot-7, 252, and after two years learning the ropes, he's poised for a bigger role.
But when push comes to shove, I'm going to go with Perry, the slot guy who caught 14 passes for 128 yards and a touchdown last season. He showed enough potential to get considerable playing time in the season opener at Utah, where he caught three passes for 41 yards, but was still raw and it showed with mistakes that lead to turnovers. By season's end, he looked more comfortable, catching five passes for 51 yards and a touchdown in the Citrus Bowl win over Florida.
This season, Chesson, Darboh, and Butt are established threats and opposing defenses will try their best to match up with them. That leaves the potential for Perry to rack up a bunch of catches and yards. He caught 105 passes for 1,727  yards and 20 touchdowns as a senior at Brother Rice High School in 2014 and racked up 176 catches for 2,771 yards and 27 scores in three years of varsity football, so he knows how to be productive. Now, with a year of college ball under his belt, he's ready to take on a bigger role.
Derick: The breakout player on offense will be Ben Bredeson. Word from summer camp has brought nothing but praise on the freshman lineman, who was one of the top commits in the country. If Bredeson is playing well enough to earn the starting left tackle position as a true freshman, we can expect a 2014 Mason Cole-like performance, which would be a huge lift to the offense. With four solid veteran linemen to his right, Bredeson would be in a perfect situation to succeed.
Sam: This is a tough call for me, as I'm never sure what people want to constitute "breaking out" as. As far as I see it, Amara Darboh, Jehu Chesson, and Jake Butt certainly can't qualify for this, the majority of the offensive line is too veteran for me to see a true breakout coming, and De'Veon Smith is fairly proven as well. So while I do think all those guys will have nice years and I'm uncertain on the quarterback position, I will go with Tyrone Wheatley, Jr. By all accounts, Wheatley has the body type that will allow him to be a highly effective in-line blocker from the beginning while also possessing the speed and hands to be a legitimate (and legitimately terrifying) receiving threat. I think he'll see a lot of action in two-TE sets and should be a major asset in both the running and passing games.
Josh: This one was tough, but I'm gonna go with Ben Bredeson. Yes, an offensive lineman. A freshman offensive lineman. I'm calling it now, Ben Bredeson will supplant either Grant Newsome, or more likely, Kyle Kalis before mid-season and perform at a (freshman) Mason Cole-esque leve
Joe: I want a running back to step up and take charge in a crowded backfield. We have some horses back there but I'd prefer a lead to get behind. I don't care who it is, just make it happen.
Who will be the defensive breakout player this season?
Justin: Rashan Gary is the obvious choice here, but I'm going to go with Bryan Mone, who missed all of last season after suffering a broken leg in fall camp. Prior to the injury he figured to play a major part in the defense, rotating with Ryan Glasgow and Maurice Hurst. The injury meant more time for Glasgow, who shined in the role, but his season ended early with an injury of his own. Now, Mone says he's in the best shape of his life, and with Michigan playing four linemen, he'll get his chance to shine at nose tackle.
Derick: I want to say Jabrill Peppers, because he really hasn't made a major defensive impact yet, but that feels like cheating. So I'll go with Bryan Mone. Mone showed signs of being a solid defensive tackle as a true freshman, and expectations were sky high for his sophomore year. But after an injury ended his season before it even started, Mone fell out of the spotlight and has been flying under the radar since. If he's healthy, he'll be a huge piece in filling the gap left by Willie Henry in opposing backfields.
Sam: Everyone? Again, there are so many guys on that side of the ball that the field in my eyes is quite limited. You might make an argument for Taco Charlton on the line, but I think he's proven enough already – he's going to have an insane season. Bryan Mone could be an option here, as could the presumptive starting linebackers in Ben Gedeon and Mike McCray, but my pick is Dymonte Thomas. Thomas was a big-time recruit out of Ohio who is incredibly athletic, strong, and a sure tackler. The only question is whether he can be disciplined enough to prevent a big play here or there, but keep watching that interception he made in the Spring Game and tell me he doesn't have the tools to be great.
Josh: Jabrill Peppers. Now hear me out first. Peppers' impact was huge last year but his stats weren't exactly something you brag about; 45 total tackles, 5.5 for loss. No picks, no forced fumbles, no fumble recoveries. If Matt Milano, a former three-star safety for Boston College can rack up 17.5 tackles for loss and 6.5 sacks in Don Brown's defense from that position what will the greatest athlete we've seen since Charles Woodson do? I'd be shocked if he didn't have at least 15 tackles for loss, five sacks and a defensive touchdown or two.
Joe: It's hard to say anyone on the defense will be a breakout player as they have a lot of studs coming back from last year. They are established and will carry this team from the get go.
Michigan will win the Big Ten if…
Justin: …they don't suffer any key injuries. We all know that injuries are part of the game, but when the talent is there, a key piece of winning it all is staying healthy. Sure, Ohio State defied that logic two years ago when Braxton Miller got hurt, then J.T. Barrett got hurt, and Cardale Jones still lead them to the national title. But nine times out of ten, that scenario spells doom for a contender.
If Michigan stays healthy that means they'll be at full strength all season. And with the talent they have, especially on the defensive side, that's the recipe for a Big Ten title.
Derick: Michigan will win the Big Ten if freshmen linebackers like Devin Bush and Devin Gil can compliment a healthy Mike McCray and Peppers to give the defense a more solid anchor than last season. The secondary and defensive line will be tough, but the linebackers were the weak underbelly of the 2015 team. Left tackle will also be a position to watch. With the rest of the line already well established at the college level, the final piece to the offensive line will be crucial. Michigan has to run the ball much better to take a step forward in 2016. Finally, look for Jeremy Clark to either take a step forward as a fifth-year senior or a younger player to supplant him as the team's third cornerback. Lewis and Channing Stribling were excellent in coverage last season, but Clark showed mixed results covering opposing No. 3 receivers. He got better toward the end of the season, but with possible championship expectations on the line, Harbaugh might not be so patient this year.
Sam: …they can stop Ohio State's dynamic offense. The Buckeyes shredded Michigan's once-stout defense in The Game last November and Urban Meyer always seems to find a way to move the ball (at least when he isn't playing Michigan State in 2015). This season, I really think Michigan should be undefeated heading down to Columbus — there will certainly be challenges along the way, but no team on the schedule up to that point should be able to beat them on paper — and the days of The Game deciding the fate of the Big Ten race should return.
Josh: …there are no significant injuries, especially on the offensive line, the running game resembles what Harbaugh did at Stanford post Year 1 (200-plus yards per game) and Don Brown can finally be the one to figure out how to stop spread to run teams. Possible? Yes. Likely? Probably not yet. For the record I think Don Brown WILL figure out how to stop getting gashed by teams like Indiana and Ohio State.
Joe: The lines play at an elite level. They should be better and will lead this team to a Big 10 title if they play as advertised.
What is your prediction for the season (record, who will Michigan lose to, and what bowl game will they play in)?
Justin: Michigan topped last year's prediction by one, though my prediction of a win over an SEC team in the bowl game was right. I had Michigan losing to Penn State, which was my only misstep. This year, I think we're looking at an 11-2 team that will lose at Iowa and Ohio State. Jim Harbaugh will at least get past Michigan State in East Lansing and be 9-0 heading into Iowa City, but losses in two of the last three regular season games will be a disappointing end to a great season. Still, assuming Ohio State wins the conference and makes the College Football Playoff, the Rose Bowl will select Michigan and the Wolverines will head to Pasadena for the first time since 2007.
Derick: Last season I predicted Michigan would finish 9-4 and thought I was being "generous." I didn't know what to expect from Harbaugh's team less than a year removed from a 5-7 campaign and certainly didn't expect it to go into Happy Valley and push around Penn State. This season, expectations couldn't be more different. Michigan is in everyone's playoff discussion and Harbaugh is the biggest story in college football.
I don't buy into hype, but I do draw conclusions based on facts and what my eyes tell me. Few teams have as many elite seniors who turned down NFL money to return to Michigan. Lewis, Butt, Chesson, Darboh, Wormley and others will play on Sundays, but here they are practicing in the Maize and Blue in August. As far as the incoming class goes, I don' think Harbaugh has a top five class, I think he has the No. 1 class. Sure, other teams might have more five- and four-stars, but guys like Gary, Bredeson, Long and Hill could make an immediate impact as freshmen. Chris Evans is an offensive weapon who will almost certainly find himself a role in a stacked offense and Kekoa Crawford might, too.
Looking at the schedule, I think there's no question Michigan will carve through its nonconference schedule. Maybe Colorado will turn out to be a little tougher than expected, but I don't see any of that trio pulling off an upset in Ann Arbor. The pair of games nobody is talking about (but they should be) is Penn State and Wisconsin, who come to the Big House in Weeks 4 and 5, respectively. Penn State is breaking in a new quarterback and I'm not a believer in the James Franklin experiment, but Wisconsin, as always, will be a tough team to knock out. If Michigan gets through those two games, it's a leisurely walk to East Lansing at 7-0.
That's where things get tough. Like, brutally tough. Few teams in the FBS will be asked to play three potential top 10 teams on the road in a five-game span. But that's exactly what Michigan has to do. Unlike at this time last year, I think Michigan is a better team than Michigan State, especially with MSU's defense trending steadily in the wrong direction since 2013. We all thought the Spartans would take a major step back when Kirk Cousins left, and Connor Cook stepped in to lead them to the playoff, so don't discount MSU just because of the new starting quarterback.
Even though I think Michigan State will be very good, I think Michigan will go into East Lansing and pull out a win. Harbaugh will have "Oh, he has trouble with the snap!" playing on repeat all week, and Michigan will arrive at Spartan Stadium with a vengeance. Just no tent spikes, please. I would be worried about a post-MSU letdown if it wasn't for Michigan's Week 9 matchup with a pathetic Maryland team. The quarterback situation for new head coach D.J. Durkin is so grim, I'd be shocked if the Terps can find six wins on their schedule.
Unfortunately, the undefeated train will come to a stop at 9-0. Iowa is still extremely talented after an undefeated 2015 regular season and something about Iowa City has never been kind to strong Michigan teams. I think the No. 2 Wolverines will fall to the Hawkeyes in a slugfest and need a win over Ohio State to win the Big Ten East. After outscoring a sneaky good Indiana team in the final home game, Michigan will go to Columbus with the College Football Playoff still in its sights. The young Buckeyes won't be young anymore, after 11 games to replace their 450 draft picks, or whatever it was. Michigan will be much more competitive than it was at home in 2015, but I think Ohio State will come away with a close, maybe 2006-esque victory that knocks Michigan out of the title talk. OSU will head to Indianapolis and Michigan will be done at 10-2.
I think 10 wins will be enough to land Michigan a long-awaited Rose Bowl appearance against UCLA. Just like it did in the Citrus Bowl, Michigan will show up better prepared after a month of practice with Harbaugh and take care of UCLA, 34-20. With 11 wins in Harbaugh's second season and Michigan State and Ohio State at home in 2017, Michigan will begin the season ranked in the top five and have a legitimate chance to make the final four.
Sam: I really want to pick Michigan to go to the Playoff, but…well…fine. Give me Michigan to run the table in the regular season with a couple close calls at Iowa and at Ohio State before losing to Alabama or Clemson in the first round. By my count, that should equal a 13-1 season with a Big Ten championship and a loss in the Fiesta or Peach Bowl.
Josh: Michigan will probably be favored in every game they play, aside from Ohio State, and they should win all those games. Given the talent returning and the coaching staff we have I am very optimistic about their chances this year. However, football isn't played on paper and numerous things can upset the balance.
They should have beaten Michigan State last year and they also would have lost to Minnesota were it not for some Hoke-ian clock (mis)management by Tracy Claeys at the end of that game. They almost lost to Indiana — yes Glasgow out was a big factor — but it proves my point; it's tough to win all, or even most of, your games in college football because injuries and other stuff happen.
I just don't see how Michigan can get through an entire season without a major injury, or some Halloween voodoo a la Minnesota last year, causing setbacks. I think a 10-2 season is very reasonable, and that should not be viewed as a disappointment (lest I remind you that we suffered losing seasons in three of the seven years prior to Harbaugh and only ONE year in which they lost fewer than five games).
Losses will be at Ohio State (they are far more talented than Michigan but more importantly have been in the same system their entire careers) and at Iowa, Kinnick Stadium at night scares me for some reason.
They'll play in another New Year's Day bowl and the 'Michigan is overrated' headed into 2017 will start all over again. But hey, I thought this was a seven or eight win team tops last year and they proved me wrong. Here's to hoping they do it again!
Joe: I'm looking at 10-2 season with losses at two of the three big road games. I think they're still a year away from the CFP but wouldn't be surprised if they sneak in. They still have some work to do. Let's put the good guys in the Cotton so I can see them play in person.