---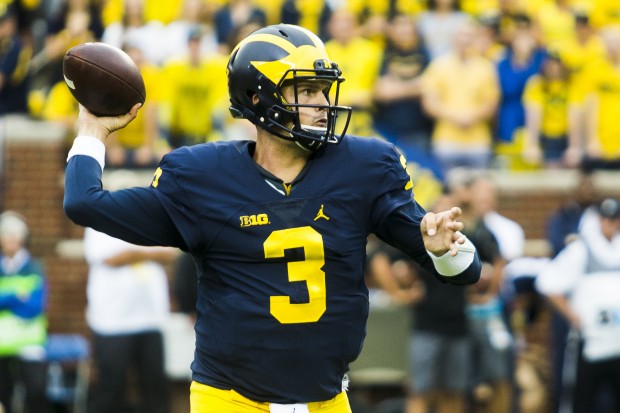 (Katy Kildee MLive.com)
If Week 1 is for getting a chance to hit someone other than your teammates and show what all of the offseason preparation was for, Week 2 is for improving on what went wrong the previous week. Michigan looked nearly flawless in its season opening win over Hawaii a week ago but a little less so on Saturday against UCF. Still, it was enough to yield a 51-14 win.
There was no opening drive interception this time, but the offensive line had trouble run blocking and the defense allowed several big plays. After piling up 306 rushing yards in Week 1, Michigan rushed for just 119 yards on 2.9 yards per carry. The offensive line allowed eight tackles for loss, reminding many of the Brady Hoke days when Michigan struggled mightily to run the ball.
But it was clear that UCF's defensive game plan was the load the box and force quarterback Wilton Speight — making just his second career start — to beat them with his arm. And that he did. Speight looked cool, calm, and collected all day, completing 25-of-37 passes for 312 yards and four touchdowns. He made smart decisions when needed and showed his ability to stand in the pocket and find an open receiver even while being hit.
Final Stats
Michigan
UCF
Score
51
14
Record
2-0
1-1
Total Yards
447
331
Net Rushing Yards
119
275
Net Passing Yards
328
56
First Downs
23
15
Turnovers
0
2
Penalties-Yards
2-20
9-76
Punts-Yards
3-137
4-130
Time of Possession
34:25
25:35
Third Down Conversions
8-of-18
2-of-13
Fourth Down Conversions
3-of-4
2-of-5
Sacks By-Yards
3-18
2-12
Field Goals
3-for-3
0-for-2
PATs
6-for-6
2-for-2
Red Zone Scores-Chances
7-of-8
0-of-0
Red Zone Scores-TDs
4-of-8
0-of-0
Full Box Score
Jim Harbaugh left Speight and most of the starters in well into the fourth quarter despite a large lead, perhaps to send a message that they shouldn't let up or perhaps just to get them as many reps as possible. But he was pleased with Speight's performance.
"When the quarterback throws for four touchdowns and over 300 yards, that's a great performance," Harbaugh said after the game. "It wouldn't be going out on a limb to say he'll probably be our offensive player of the week."
Michigan's big three of Jehu Chesson, Amara Darboh, and Jake Butt were targeted often and combined for 16 catches for 281 yards and four scores, lead by Darboh's career-high 111 yards. All three caught passes of at least 25 yards.
Defensively, Michigan was a bit Jekyll and Hyde, recording 10 tackles for loss and three sacks, but also giving up four runs of 26 or more yards, including a 87-yard touchdown run. That will certainly have Ohio State quarterback J.T. Barrett licking his chops, but there are still nine games to play before Michigan heads to Columbus.
UCF head coach Scott Frost was proud of the way his young team performed.
"It's hard to say when the score is what it is, but we came in here and outhit those guys today," Frost said. "Standing on the sideline, there was no doubt who was hitting harder. Our guys came in hungry and wanting to do that. It's rare you can come into Michigan and rush for 300 yards on them. They had to run a fly sweep in the fourth quarter to get to 100."
Whether UCF out-hit Michigan is up for debate, but regardless, it's cold comfort for a team that lost by 37.
Two Michigan players who will never be out-hit by everyone lead the way for the Wolverines on defense. Michigan's stars from New Jersey were impressive as Jabrill Peppers lead the team with eight tackles, including two for loss, and Rashan Gary notched six tackles, 2.5 for loss, and half a sack.
"I was itching for a sack this week," Gary said after the game. "I didn't get one last week and I felt like I owed the D-line. I missed one against Hawaii. And I said 'I'm not going to miss' if I get another opportunity."
At 2-0, Michigan has outscored its opponents 114-17 with one non-conference game remaining. Colorado (2-0) comes to town next Saturday before the Big Ten slate begins the following week.
Wilton Speight (25-of-37 for 312 yards, 4 touchdowns)
In just his second career start, Speight displayed the poise of a veteran, completing 25-of-37 passes for 312 yards and four touchdowns. With UCF stacking the box to stop the run, Michigan used the play-action passing game to pull away early. Speight threw two touchdown passes to Jake Butt and one to Amara Darboh in the first 20 minutes of action and added another to Darboh in the fourth quarter. Through two games, Speight has completed 70 percent of his passes (35-of-50) for 457 yards, seven touchdowns, and one interception.
Previous
Week 1 – Chris Evans (8 carries, 112 yards, 2 touchdowns)
Rashan Gary (6 tackles, 2.5 tackles for loss, 0.5 sacks)
The No. 1 overall recruit in last year's class didn't take long to make his presence felt. While he notched three tackles in his first career game last week, he didn't record a tackle for loss or a sack. That changed on Saturday against UCF. He finished second on the team with six tackles and 2.5 of those were behind the line of scrimmage. He also recorded his first career sack, which he combined with Ben Gedeon. With Taco Charlton out due to an injury he suffered last week, Gary will continue to get plenty of playing time and he has lived up to the hype so far.
Previous
Week 1 – Mike McCray (9 tackles, 3.5 tackles for loss, 2 sacks, 1 forced fumble)