---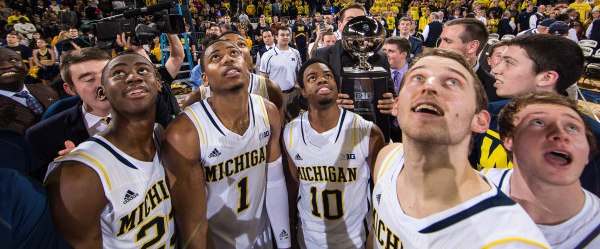 (MGoBlue.com)
March started with a bang for the Michigan Wolverines, as they clinched an outright Big Ten championship during the first week and stormed to the finals in the conference tournament. With an opportunity to enter the Big Dance on an eight-game winning streak, Michigan's momentum came to a screeching halt when Michigan State took the title with a 14-point win on Sunday.
The Wolverines, who figured to earn a No. 1 seed in the East with a victory, dropped to the sixth overall seed, No. 2 in the Indianapolis region. Michigan's road to the Final Four looks just as difficult this year as it did during the National Championship game run in 2013.
What will it take for John Beilein's surprise Big Ten champions to end up in Arlington next month?
Second Round
(15) Wofford | 20-12 (11-5 Southern Conference)
RPI Rank
vs. RPI Top 25
vs. RPI 26-50
vs. RPI 51-100
SOS
Last 12
156
0-1
0-2
0-2
252
10-2
Michigan's first test comes against a Wofford team making just its third NCAA Tournament appearance in school history. The Terriers played just one RPI top 25 opponent during the 2013-14 season, a 72-57 loss to VCU on Dec. 17.
Wofford received an NCAA Tournament bid after a surprise run in the Southern Conference tournament. The third-seeded Terriers benefitted from some early upsets, and beat last-seeded The Citadel, seventh-seeded Georgia Southern, and fifth-seeded Western Carolina en route to the title. Wofford's best win came on Dec. 21, when it beat RPI No. 168 Winthrop.
On paper, Michigan should have no trouble with Wofford. But No. 15 seeds thrived in the past two tournaments. In 2012, Duke and Missouri were upset as No. 2 seeds by Lehigh and Norfolk State, respectively. Then, in 2013, Florida Gulf Coast not only shocked the Georgetown Hoyas, but went on to beat seventh-seeded San Diego State to reach the Sweet 16.
Wofford's 153 RPI closely mirrors that of Charlotte (151), which handed Michigan its worst loss of the season during the Puerto Rico Classic. Anything can happen in March, so the Wolverines can't take this major underdog lightly.
Third Round
(7) Texas | 23-10 (11-7 Big 12)
RPI Rank
vs. RPI Top 25
vs. RPI 26-50
vs. RPI 51-100
SOS
Last 12
37
3-3
3-5
6-1
65
6-6
If the Wolverines advance to the round of 32, they'll see either seven-seed Texas or 10-seed Arizona State. After climbing as high as 15th in the AP Poll, the Longhorns limped into the field of 68, losing five of their last eight games. In January, Texas beat four straight top-25 teams, and it ranks as the fourth-best rebounding team in the country, but six losses in the final two months of the regular season took some of the wind out of coach Rick Barnes's sails.
(10) Arizona State | 21-11 (10-8 Pac-12)
RPI Rank
vs. RPI Top 25
vs. RPI Top 50
vs. RPI Top 100
SOS
Last 12
44
1-3
3-4
4-1
58
6-6
Arizona State struggled even worse than Texas down the stretch, losing three straight games including a 21-point waxing at the hands of Stanford in the first round of the Pac 12 Tournament. The Sun Devils did defeat in-state rival Arizona in double overtime on Valentine's Day, but proceeded to lose five of seven afterwards.
A Michigan team that won seven of its last eight games holds an enormous advantage in a matchup that will feature a struggling opponent. Only a major upset stands between the Wolverines and a return to Indianapolis for the Sweet 16.
Regional Semifinals (Sweet Sixteen)
(3) Duke | 26-8 (13-5 ACC)
RPI Rank
vs. RPI Top 25
vs. RPI 26-50
vs. RPI 51-100
SOS
Last 12
7
5-5
1-0
6-1
6
9-3
With two victories in the opening weekend, Michigan will likely earn a rematch with the Duke Blue Devils that won the previous matchup by 10 in Durham during the Big Ten-ACC Challenge.
These two teams have a way of finding each other throughout the course of every season. Duke survived a two-point upset bid from the eighth-seeded Wolverines in the 2011 tournament and defeated Beilein's team the following season in the Maui Invitational. Michigan's last win over Duke came on Dec. 6, 2008 in Crisler Arena, just 15 days after losing to the Blue Devils in the 2K Sports Classic championship.
Duke finished tied for third in the ACC this season and lost to Virginia in the conference championship game. The Blue Devils may represent the toughest obstacle for the Wolverines in the Midwest region, as the battle-tested group went 6-4 against RPI top-25 teams.
If Duke falters during the first weekend, Michigan would likely play Massachusetts, Iowa, or Tennessee.
(12) Iowa| 20-12 (9-9 Big Ten)
RPI Rank
vs. RPI Top 25
vs. RPI 26-50
vs. RPI 51-100
SOS
Last 12
55
2-8
3-1
2-2
44
4-8
Iowa completely fell apart late in the season, losing six of its last seven, but beat Michigan by 18 points in Iowa City in the middle of Big Ten play. At their best, the Hawkeyes played like a top-10 team, but that group completely evaporated and just barely squeaked into the NCAA Tournament.
(12) Tennessee | 21-12 (11-7 SEC)
RPI Rank
vs. RPI Top 25
vs. RPI 26-50
vs. RPI 51-100
SOS
Last 12
40
1-5
2-2
4-2
11
7-5
Tennessee, on the other hand, used a five-game winning streak to cement its spot in the tournament before losing a tough battle to Florida in the SEC semifinals. The Volunteers beat just two NCAA Tournament teams this season (Xavier and Virginia) while Michigan won nine of those games. The last meeting came in the first round of the 2011 tournament, when Michigan ran former coach Bruce Pearl out of town with a 30-point drubbing.
(6) UMass | 24-8 (10-6 Atlantic 10)
RPI Rank
vs. RPI Top 25
vs. RPI 26-50
vs. RPI 51-100
SOS
Last 12
21
2-0
5-4
6-3
48
7-5
UMass remains more of a mystery after finishing in fifth place in the difficult-to-understand Atlantic 10. Though the league received six bids to the NCAA Tournament, the Minutemen beat just two ranked opponents throughout the season and lost to 12th-place George Mason during conference play.
Should Michigan play against one of these three teams, the Elite Eight would be well within reach.
Regional Finals (Elite Eight)
(1) Wichita State | 34-0 (18-0 Missouri Valley Conference)
RPI Rank
vs. RPI Top 25
vs. RPI Top 50
vs. RPI Top 100
SOS
Last 12
4
0-0
3-0
7-0
111
12-0
The final test for the Wolverines in their quest for the Final Four could come in many different forms. Wichita State, the only undefeated team in college basketball, looks to return to the Final Four after falling to Louisville in Atlanta last season. The Shockers won all but six of their 34 games this season by double figures, but played just one team seeded better than 10th in the tournament.
(4) Louisville | 29-5 (15-3 AAC)
RPI Rank
vs. RPI Top 25
vs. RPI 26-50
vs. RPI 51-100
SOS
Last 12
19
4-3
1-2
4-0
96
11-1
Louisville emerged as a popular pick to reach the Final Four from the Midwest region just one year after winning the national championship. The AAC Champions impressed by winning 12 of their last 13 games and finishing with a 29-5 record.
But the Cardinals didn't drop to a No. 4 seed for nothing. Louisville played just nine games against RPI top-40 opponents all season and went just 4-5 in those games. In fact, the defending champs may have received a much lower seed if it weren't for three victories over Connecticut.
(8) Kentucky | 24-10 (12-6 SEC)
RPI Rank
vs. RPI Top 25
vs. RPI 26-50
vs. RPI 51-100
SOS
Last 12
16
1-5
3-1
10-3
2
7-5
There's a chance Michigan could also see preseason No. 1 Kentucky in the Elite Eight. The young Wildcats lost five of their last 10 games, beat just one top-25 opponent (Louisville), and dropped to a No. 8 seed matched up against Kansas State.
(5) Saint Louis | 26-6 (13-3 Atlantic 10)
RPI Rank
vs. RPI Top 25
vs. RPI 26-50
vs. RPI 51-100
SOS
Last 12
26
2-3
3-1
4-1
68
8-4
A final potential matchup would have Michigan and Saint Louis battling for a Final Four trip. The Billikens started the season 25-2 before dropping four of their last five. Saint Louis played two ranked opponents all season, a six-point loss to then-No. 10 Wisconsin on Nov. 26 and a five-point loss to Wichita State on Dec. 1.
No matter which matchups the Wolverines face, the road to Arlington won't be easy. In what potentially stands as the most difficult bracket in the tournament, Michigan will compete with the only undefeated group in the country, the preseason No. 1 team, the defending national champion and the best coach in college basketball history.
But for a Michigan team that started 6-4 and lost a preseason All-American only to win the Big Ten outright, the Midwest region represents just another step towards the goal of a National Championship.