---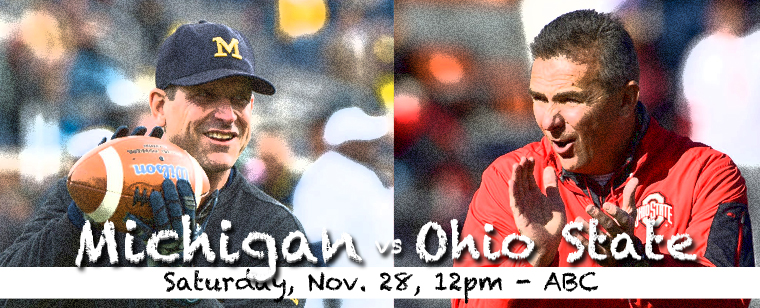 College football's best rivalry renews at high noon tomorrow, and for the first time in years a lot is at stake for both teams. Both have a shot at a Big Ten championship game appearance, though it depends on the outcome of the Michigan State-Penn State game later tomorrow afternoon. If Penn State beats the Spartans, the winner of The Game will advance to Indianapolis to face Iowa for the conference title.
Quick Facts

Michigan Stadium – 12p.m. EST – ABC
Ohio State Head Coach:
Urban Meyer (4th season)
Coaching Record:
152-27 (48-4, 30-1 at OSU)
Co-Offensive Coordinators:
Ed Warriner (1st season)
Tim Beck (1st season)
Co-Defensive Coordinators:
Luck Fickell (4th season)
Chris Ash (2nd season)
Last Season:
14-1 (8-0)
Last Meeting:
OSU 42 – UM 28 (2014)
All-Time Series:
Michigan leads 58-47-6
Record in Ann Arbor:
Michigan 31-21-4
Record in Michigan Stadium:
Michigan 23-19-3
Jim Harbaugh vs Ohio State:
1st meeting
Last Michigan win:
2011 (40-34)
Last Ohio State win:
2014 (42-28)
Current Streak:
Ohio State 3
But even if Michigan State seals their fate with a win, there's still plenty to play for. Ohio State is still alive for a second straight College Football Playoff berth, though they need a lot of help. Michigan, meanwhile, has lost nine of the last 10 to their rivals from Columbus and would love nothing more than to cap the first season of the Jim Harbaugh era in the same fashion as his mentor, Bo Schembechler: by beating Ohio State. A win would essentially clinch a New Years Six bowl for Michigan, likely the Rose Bowl against whichever Pac-12 team doesn't make the playoff.
Before we get ahead of ourselves, the biggest game of the season is tomorrow. The game lost some of its luster a week ago when Ohio State lost to Michigan State, ending its 23-game winning streak, but that should only give Michigan more confidence that it can make it two in a row for the Buckeyes. After plowing through the Big Ten last season, dominating Wisconsin in the Big Ten Championship game, cruising past Alabama and Oregon to win the national title, and winning their first 10 to open this season, Ohio State was starting to look invincible. But last Saturday they were exposed by the first team with a pulse they've played all season, tallying just 132 total yards of offense in a 17-14 loss to the Spartans.
Prior to that, the combined record of their 10 opponents was a paltry 43-58. The only Power 5 team Ohio State had played was Penn State, who they beat 38-10. Their second best win was a 20-13 victory over Northern Illinois in Week 3. In other words, probably close to a dozen teams nationally would have been 10-0 with that schedule.
So was the Michigan State game just an aberration? Or did the schedule from the first 10 weeks simply mask larger problems? Let's take a look at the matchup.
When Ohio State has the ball
Ohio State fans are increasingly upset with new offensive coordinators Ed Warriner and Tim Beck. The architect of last year's offense, Tom Herman, moved on to Houston and currently has the Cougars at 10-1 and ranked 21st in the AP and Coaches polls.
This season, Ohio State ranks 48th nationally and 3rd in the Big Ten in total offense (424.1 yards per game), 15th and 1st in rushing (230.4 yards per game), 100th and 10th in passing (193.7 yards per game), 37th and 2nd in pass efficiency (141.61), and 36th and 2nd in scoring (34.4 points per game).
The talk leading into the season centered around the trio of quarterbacks at Urban Meyer's disposal, and while Braxton Miller made the switch to receiver, Meyer let the quarterback race hang in suspension for too long. Cardale Jones got the nod to start the season, but has since lost it in favor of J.T. Barrett. Neither has found consistency. Jones has completed 62.5 percent of his passes for 1,460 yards, eight touchdowns, and five interceptions, while Barrett has completed 64.4 percent for just 668 yards, nine touchdowns, and three interceptions. Barrett's legs have been more dangerous, scoring eight rushing touchdowns with an average of 6.1 yards per carry. Miller, meanwhile, is the third leading receiver with 324 yards and three touchdowns and the third leading rusher with 227 yards and one score.
The best player on the offense is junior running back Ezekiel Elliott, who up until last week was one of the leading Heisman Trophy candidates. He ranks second in the Big Ten with 132.5 rushing yards per game and had rushed for at least 100 yards in each game until being held to just 33 yards on 12 carries last week. The fact that he got only 12 carries is a sore subject among Buckeye fans as Meyer chose to run Barrett more often than his workhorse. Elliott made his feelings known after the game that he wasn't happy with the play calling and essentially announcing his intention to enter the NFL Draft after the season.
Junior Michael Thomas is the leading receiver with 47 receptions for 659 yards and eight touchdowns. He has had two 100-yard receiving games with seven catches for 107 yards against Maryland and five catches for 103 yards against Rutgers. The other nine games he has been pretty consistent with four or five catches for 60-80 yards. The one outlier is last week when he caught just two passes for eight yards. Much of that is a result of Ohio State only throwing a few passes due to the weather, but Michigan State's secondary has been porous all season and he wasn't able to take advantage of it. Sophomore Jalin Marshall is the second leading receiver with 29 receptions for 417 yards and four touchdowns. He had a six-catch, 110-yard game against Indiana, but the has been pretty pedestrian since then.
The offensive line is experienced, returning four starters from last year's dominant line, but like the offense as a whole, has been consistent all season. Senior left tackle Taylor Decker is the leader and a likely first-round NFL draft pick next spring. The line was dominated by Michigan State's defensive front last Saturday, and the question begs whether the team's rushing success is more of a product of Elliott than the line's ability to open holes. It has done pretty well in pass protection, having allowed 16 sacks this season — the same number Michigan has allowed.
When Michigan has the ball
Ohio State's defense ranks 8th nationally and 3rd in the Big Ten in total defense (298 yards allowed per game), 30th and 7th against the run (133.7 yards per game), 5th and 3rd against the pass (164.3 yards per game), 7th and 4th in pass defense efficiency (100.64), and 2nd and 2nd in scoring defense (14.1 points per game).
The defensive line was considered one of the best in the nation last season and is very good again this year. Junior defensive end Joey Bosa is the one everybody talks about after leading the Big Ten in tackles for loss (21) and sacks (13.5) in 2014. He won the Nagurski-Woodson Defensive Player of the Year award last season. He hasn't been quite as dominant at getting to the quarterback in 2015 with just four sacks, but he does still lead the team with 15 tackles for loss (third in the Big Ten) and 12 quarterback hurries. The other defensive end, Tyquan Lewis, ranks second on the team with 12.5 tackles for loss and leads the team with 6.5 sacks. Inside, senior tackle Adolphus Washington is a force for offensive linemen to block. He has seven tackles for loss and four sacks. The other starting tackle spot is a rotation between senior Tommy Schutt and sophomore Michael Hill. Schutt has five tackles for loss and 2.5 sacks, while Hill has gotten more playing time as of late and has a half of a tackle for loss.
Once you get past the front four, it doesn't get any easier. The linebacking corps is fast and versatile, led by sophomore Raekwon McMillan, who leads the team and ranks third in the Big Ten with 105 total tackles. He also has four tackles for loss and one sack, but more than getting into the backfield, he flies around the field making tackles. Senior weak side linebacker Joshua Perry ranks second on the team with 88 tackles, fourth with seven tackles for loss, and fifth with three sacks, while sophomore strong side linebacker Darron Lee has 52 tackles, eight for loss, and 2.5 sacks.
The secondary is also very talented, led by junior safety Vonn Bell, who leads the team with nine pass breakups and ranks third with 59 tackles. He also has two interceptions. Junior Tyvis Powell is the other safety. Michigan fans will remember him as the guy who intercepted Devin Gardern's two-point conversion attempt two years ago in the Big House. He has 59 tackles, three pass breakups and two interceptions. The corners are sophomores Gareon Conley and Eli Apple, who have combined for 63 tackles, three for loss, half a sack, 10 pass breakups, and three interceptions. Both are very good in coverage.
One area of weakness for Ohio State has been field goal kicking. Meyer has seemingly lost confidence in senior kicker Jack Willoughby's ability to make anything longer than 40 yards. He's 7 of 11 on the season, but is 0-3 from 40-49 yards and just 3 of 7 from 30 yards or more. Punting, on the other hand, isn't a problem for the Buckeyes. Junior Aussie punter Cameron Johnston ranks second in the Big Ten with a 43.9-yard per punt average. Of his 54 punts, 17 have gone longer than 50 yards, 24 have been downed inside the 20, 20 have been fair caught, and just six have gone into the end zone for a touchback.
Junior H-back Dontre Wilson and sophomore running back Curtis Samuel are the kick returners, averaging 23.9 and 22.8 yards per return, respectively. Marshall is the punt returner, and a dangerous one at that, averaging 12.8 yards per return.
Ohio State laid an egg against Michigan State last week and it's hard to imagine them doing so two weeks in a row. That's the bad news for Michigan. The good news is the Wolverines have played well at home all season and have plenty of motivation with a potential Big Ten Championship Game appearance on the line. The weather calls for a perfect late November Saturday with cloudy skies, 42 degrees, and no precipitation, so the scene will be set for a classic Ohio State-Michigan game. And I think that's exactly what we will get.
Make no mistake about it; Ohio State is the better team. But the gap that has separated the two teams for the last decade will be as narrow as it has been since the last time the two faced off as top 10 teams in 2006. Michigan will need to break out its bag of tricks, but won't need to fully rely on them like they have the past several meetings. Michigan has a legitimate chance to win. The biggest key will be giving Jake Rudock time to throw. It's unlikely that Michigan will be able to move the ball consistently on the ground, since it hasn't done so against anyone since early in the season. But Rudock has been as good as any quarterback in the Big Ten during conference play, and especially the last three weeks when the passing game has taken off. Jehu Chesson and Amara Darboh will have trouble getting open against Conley and Apple, and Jake Butt will meet his match against Bell, so if Rudock is constantly under pressure, it will be a long day for Michigan's offense.
Fortunately, I believe Jim Harbaugh and offensive coordinator Tim Drevno will pull out all stops with Jabrill Peppers. Harbaugh hinted at using the dynamic sophomore more at running back earlier this week, and with a month off between this game and a bowl — barring a Michigan State loss — there's no need to hold Peppers back. I could see a running back rotation of Peppers and De'Veon Smith with Peppers getting the majority of the snaps in a variety of looks to not only get the ball to him in space, but use him as a decoy to get others open. That's really the best shot Michigan has at being able to move the ball with any consistency.
On defense, Michigan will have to stop Elliott. That's really what it comes down to. The chance of him getting just 12 carries is about as likely as Rudock running the triple option. Elliott may get 12 carries in the first quarter until Michigan proves it can stop him. Remember the Indiana game when Jordan Howard ran and ran and ran again? That's what Ohio State's game plan will be. If Michigan's front seven can rise to the occasion and slow him down, Ohio State's offense is much more containable. Miller is a threat when he gets the ball in space and has the ability beat the defense deep, but the rest of the offense isn't as dangerous as anyone else Michigan has faced and Jourdan Lewis can lock down Thomas.
If Elliott is gashing through Michigan's defense for six to eight yards a pop, Michigan will lose. If Michigan's defense is holding him in check like Michigan State's did, and forces the Buckeyes to rely on Barrett's arm and legs, I like Michigan's chances. I think the latter will happen. Michigan will sell out to stop Elliott and may give up a big play or two to Miller or Barrett, but will gladly take that over getting the ball rammed down its throat play after play after play. Peppers puts together a performance for the ages in all three phases of the game, reminiscent of his idol, Charles Woodson's, performance 18 years ago, and leads Michigan to a thrilling narrow win.
Michigan 27 – Ohio State 24