---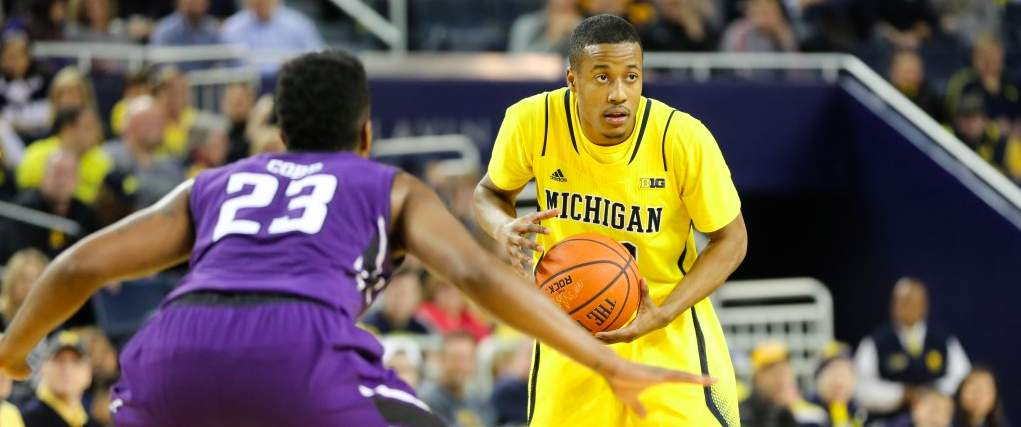 (Dustin Johnson, UMHoops)
On Muhammad Ali's 73rd birthday, Michigan's freshman guard who bears his name delivered the knockout blow to Northwestern. Muhammad-Ali Abdur-Rahkman, starting in place of Spike Albrecht who was out with a respiratory infection, recorded a career high nine points and five rebounds, but none was more important than his three-pointer in the final minute that served as the game-winning basket in Michigan's 56-54 win over the Wildcats on Saturday night.
Michigan also started the game with a three, this one by Derrick Walton Jr, and jumped out to a 25-11 lead just over 10 minutes into the game. But the lead would be short-lived as Northwestern outscored Michigan 21-6 the rest of the half. Vic Law put the Wildcats on top with a jumper at the buzzer. Northwestern led 32-31.
The second half began the same way the first half ended as Northwestern scored seven of the first ten points and took a 39-34 lead. Max Bielfeldt hit a jumper and then a three to tie the game at 39 with 13:13 to play.
The rest of the game went back and forth, neither team able to pull away by more than four points. A Zak Irvin three — his only basket of the game — put Michigan ahead 53-49 with 3:48 left, but Michigan was held scoreless for the next two minutes and 51 seconds. A three by Scottie Lindsey cut the lead to one with just over a minute left, but Abdur-Rahkman hit the dagger, a three from the right wing. Alex Olah followed with a jumper, and after a Caris LeVert miss, Northwestern had one final chance to force overtime. But Bryant McIntosh missed a layup in the closing seconds and Michigan hung on for the win.
Michigan shot just 34.5 percent from the field and 39.1 percent from downtown and was out-rebounded 38-29. But the Wolverines made four more three-pointers and committed nine fewer turnovers than their counterparts. Michigan converted 12 Northwestern turnovers into 19 points.
LeVert led Michigan with 18 points on 7-of-19 shooting and also led the team with six rebounds and seven assists. But he left the arena on crutches with what John Beilein said after the game was likely a sprained ankle. Walton was the only other player in double figures with 14 points on 4-of-6 three-point shooting. Rahkman added nine and Irvin six. Olah led Northwestern with 22 points on 9-of-12 shooting.
Michigan makes its first trip to Piscataway, N.J. on Tuesday to face Big Ten newcomer Rutgers (10-9, 2-4) at 6:30 p.m. The game will be televised by Big Ten Network.
Final Game Stats

#

Name

FG-FGA

3FG-3FGA

FT-FTA

OR

DR

TOT

PF

TP

A

TO

BLK

S

MIN

02
M-A. Abdur-Rahkman*
4-7
1-3
0-0
1
4
5
2
9
1
1
0
1
26
32
Ricky Doyle*
1-2
0-0
0-0
1
0
1
0
2
0
0
0
0
10
10
Derrick Walton Jr*
4-11
4-6
2-2
0
5
5
2
14
0
0
0
3
40
21
Zak Irvin*
1-6
1-4
3-5
2
2
4
0
6
2
1
0
1
37
23
Caris LeVert*
7-19
2-4
2-3
0
6
6
1
18
7
1
1
0
38
03
Kameron Chatman
1-3
0-0
0-0
0
2
2
0
2
0
0
0
0
9
12
M-A. Abdur-Rahkman
1-6
1-5
0-0
1
0
1
0
3
1
1
0
0
15
24
Aubrey Dawkins
0-2
0-2
0-0
0
0
0
1
0
0
0
0
0
10
34
Mark Donnal
0-2
0-1
0-1
1
0
1
4
0
0
0
0
0
11
44
Max Bielfeldt
2-6
1-3
0-0
2
0
2
1
5
0
0
1
1
19
Totals
20-58
9-23
7-11
9
20
29
11
56
10
3
2
6
200
Northwestern
22-52
5-20
5-6
8
30
38
16
54
12
12
2
1
200

Full Stats