---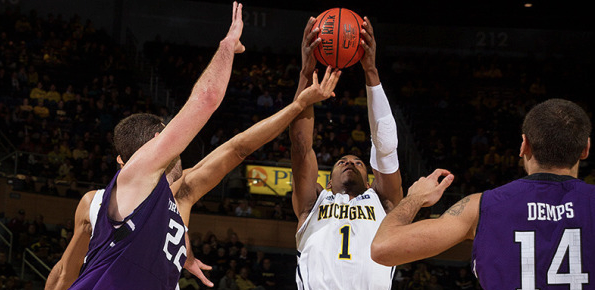 (MGoBlue.com)
With a snow storm brewing outside the doors of the Crisler Center in Ann Arbor, the Michigan Wolverines welcomed the Wildcats of Northwestern to town for each team's second Big Ten contest of the 2013-14 basketball season.
For the first half or so, it seemed that the cold had rubbed off on both teams, but eventually the rout was on for Michigan as the Maize and Blue pulled away to win 74-51 and move to 2-0 in conference play.
All five of Michigan's starters scored at least four points in a first half that saw the Wolverines take a 31-24 lead at the break, and Nik Stauskas, Glenn Robinson III, and Derrick Walton, Jr. all reached double figures – with 18, 12, and 11 points, respectively – by the afternoon's end.
In a game that Michigan needed to win convincingly to prove they will be a factor in the Big Ten, the young team came together to dominate all aspects of the game. The Wolverines outshot Northwestern by nearly 15 percent from the floor, rebounded 87 percent of the Wildcats' misses and 29 percent of their own misses, and finished with three more assists and three fewer turnovers than their counterparts.
Chris Collins, Northwestern's first-year head man, noted after the game that his team has such a tough time scoring that they simply cannot afford to give up the 70-plus points they did today, and despite 17 points from star senior Drew Crawford, the Wildcats are having trouble supporting him.
"We all have to be better, we have to have some other guys step up and give us some scoring."
Stauskas, with his game-high 18, himself struggled to keep up with Crawford early, but again let his offense do the talking, as he drove to the hoop countless times to rack up eight free throws and four assists. He hit 5-of-10 shots overall and 2-of-5 from downtown.
Also complementing the offense and team nicely was the big man platoon of Jordan Morgan and Jon Horford, who will continue to have be productive inside in Mitch McGary's absence. Morgan got the start once again and chipped in eight first-half points on a perfect 3-of-3 from the field and 2-of-2 at the free throw line to go along with eight rebounds (two offensive) in 18 minutes; Horford did the majority of his damage after the break, finishing with seven points, eight rebounds (two offensive), and one block in 20 minutes.
Horford was happy with the production of Michigan's five man today, but continues to stress the importance of team play over individual play.
"We know we need a post presence every game, but we're in the business of winning. We don't really care where it comes from, whether it be Jordan, myself, or Max, as long as that presence is there and we're getting wins we'll take them."
While Michigan was in control for the majority of the game, Northwestern was able to stay relatively close throughout the first half and cut the lead to six early in the second half before missing a layup on a 2-on-1 fast break and letting the Wolverines bring the lead right back to double digits.
After the game, Collins felt that missed opportunity was the difference.
"It's a six-point game, 39-33, we had a 2-on-1 and we miss a wide-open layup to cut the lead to four. I thought that was a real big play in the game."
Ultimately, however, it was Michigan's game to win all along and they took advantage.
With continued strong defense and team play on offense, the Maize and Blue should be able to stay in business the rest of the year.
***Nik Stauskas***
18 points (5-of-10 FG, 2-of-5 3PT, 6-of-8 FT), four assists, four rebounds (one offensive), two turnovers in 34 minutes
**Drew Crawford**
17 points (6-of-14 FG, 2-of-8 3PT, 3-of-4 FT), three assists, two rebounds, two steals, one block, four turnovers in 37 minutes
*Derrick Walton, Jr.*
11 points (3-of-4 FG, 0-of-1 3PT, 5-of-6 FT), one assist, three rebounds, two turnovers in 25 minutes
• Glenn Robinson III started after apparently suffering a mild ankle sprain at Minnesota on Thursday night, scoring 12 points on 12 shots in 31 minutes. He showed no ill effects of the injury, and though Beilein mentioned he will be receiving treatment on his ankle for the remainder of the season, there did not seem to be any concern with his long-term health.
• Caris LeVert continued to struggle offensively, managing only seven points on 1-of-5 shooting, but he did record two assists to zero turnovers in 30 minutes. Beilein said after that he is not concerned in the slightest about LeVert's play and that he was just a couple baskets off from a really good game today. I don't think his starting spot is in jeopardy by any means, but I do think LeVert could see a slight dip in minutes until he breaks his offensive funk.
Final Game Stats

#

Name

FG-FGA

3FG-3FGA

FT-FTA

OR

DR

TOT

PF

TP

A

TO

BLK

S

MIN

01
Glenn Robinson III*
6-12
0-4
0-0
1
2
3
2
12
0
2
0
1
31
10
Derrick Walton Jr.*
3-4
0-1
5-6
0
3
3
1
11
1
2
0
0
25
11
Nik Stauskas*
5-10
2-5
6-8
1
3
4
1
18
4
2
0
0
34
52
Jordan Morgan*
3-3
0-0
2-2
2
6
8
2
8
1
3
0
1
13
23
Caris LeVert*
1-5
1-3
4-4
0
2
2
1
7
2
0
0
0
30
02
Spike Albrecht
1-1
1-1
0-0
0
2
2
3
3
4
0
0
1
19
05
Andrew Dakich
0-0
0-0
0-0
0
0
0
0
0
0
0
0
0
2
14
Brad Anlauf
0-2
0-0
0-0
0
0
0
0
0
0
0
0
0
1
15
Jon Horford
3-6
0-0
1-2
2
6
8
3
7
1
0
1
1
20
20
Sean Lonergan
0-0
0-0
0-0
0
0
0
0
0
1
0
0
1
2
21
Zak Irvin
2-4
1-3
0-0
0
0
0
0
5
1
0
0
1
16
44
Max Bielfeldt
1-1
1-1
0-0
0
0
0
0
3
0
0
0
0
2
Totals
25-48
6-18
18-22
7
26
33
13
74
15
9
1
6
200
Northwestern
19-49
6-23
7-8
4
17
21
16
51
12
12
3
3
200

Full Stats