---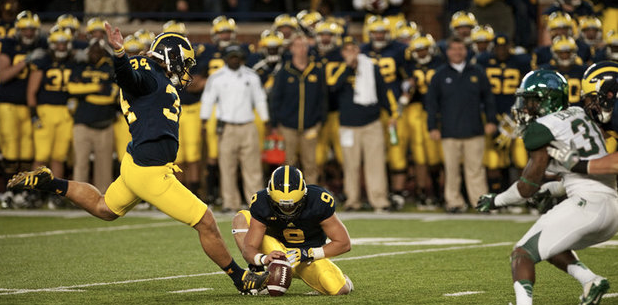 To wrap up our Predicting Michigan series, Derick takes a look at what to expect from the special teams this season. Previously, we previewed the quarterbacks, running backs, wide receivers, offensive line, tight ends, defensive line, linebackers, and the secondary.
The New Mr. Reliable
In 2010, Michigan's kicking game was one of the most embarrassing displays of football the maize and blue faithful had ever witnessed. As a team, Michigan went 4-of-14 in field goal attempts, and by the end of the season former coach Rich Rodriguez wouldn't even consider attempting a field goal outside of 35 yards.
One of the culprits of the 28.6 percent success rate was then-redshirt freshman Brendan Gibbons. Gibbons missed four of his five field goal attempts, converting only a 24-yarder in the blowout win against Connecticut in week one, in which he also missed an extra point. Following two more misses the next week against Notre Dame, Gibbons surrendered the starting job to Seth Broekhuizen, who wasn't much better (3-of-9).
In 2011, Gibbons regained the starting job and was much better, converting 13-of-17 field goal attempts. Going into the Sugar Bowl, he was only 2-of-5 on kicks of 40-yards or more, so there were still many questions about his reliability. He answered them all in New Orleans. The redshirt sophomore converted all three of his field goal attempts, including a game-winning 37-yarder in overtime. He then won the fans over by admitting he kept his cool by "thinking about brunette girls" before punching the winning kick through the uprights.
Last season, Gibbons did the best work of his career, and earned an All-Big Ten honorable mention at place kicker. His conversion rate of 88.9 percent (16-of-18) was truly incredible considering the low point in his career just two years earlier. Gibbons had several pressure-packed kicks, but he confidently cashed them in, including the 38-yard game-winner with five seconds remaining to defeat Michigan State and the game-tying 26-yarder against Northwestern with two seconds left to send the game into overtime.
Also during his redshirt junior season, he converted all 45 extra-point attempts, running his streak to 97, which is second in Michigan history to J.D. Carlson's record of 126 straight. Though the Wolverines lost to the Cornhuskers, Gibbons also answered questions about his leg strength in Nebraska by nailing a 52-yarder in the second quarter.
This offseason, Michigan fans can finally stop worrying about the kicking game, as Gibbons figures to battle Northwestern kicker Jeff Budzien for the Bakken-Anderson Kicker of the Year award in the Big Ten. Seniors Drew Dileo and Jareth Glanda will be the holder and long-snapper, respectively, so this group should have no problems after working together for so long.
Career Stats – Gibbons

Year
FG Made
FG Att
FG %
Long
Blocked
PAT Made
PAT Att
PAT %
2010
1
5
20.0
24
0
13
14
92.8
2011
13
17
76.5
43
1
54
55
98.2
2012
16
18
88.9
52
0
45
45
100.0
Totals
30
40
75.0
52
1
112
114
98.2
Lack Of Discipline
Michigan figured to have one of the best kicker-punter duos in the entire country coming into 2013, until 2012 Eddleman-Fields Punter of the Year award-winner Will Hagerup was suspended for the third time in his Michigan career. The suspension originally kept Hagerup out of the 2013 Outback Bowl, but was later extended to include the entire following season.
Hagerup will redshirt this year, as Head Coach Brady Hoke tries to work with the young man to figure out some personal issues and get him back on the field. If the senior can clean up his act, he will be one of the best punters in the country upon his return. Hagerup set a University of Michigan record in 2012 with an average of 45 yards per punt. Just a few years after seeing kicker Zoltan Mesko similarly dominate the punting game, Hagerup separated himself as one of the best punters in the history of the Big Ten. His loss will be Matt Wile's gain, however, as the junior tries to take advantage of a new opportunity.
Filling in for a suspended Hagerup is nothing new for Wile, as he has done so six times in his young career. Though Mesko and Hagerup are hard acts to follow, Wile is similarly gifted with a big leg in the punting game. His power numbers are skewed by his ability to come in and pooch punt for Brady Hoke, which is another valuable skill. Wile has 13 career punts inside the 20-yard line, which emphasizes his ability to put the ball where he wants to.
Along with his precision, Wile averaged 39.2 yards per punt in his career, which is around two yards shorter than Hagerup's career rate. To get an idea of how strong Wile's leg really is, fans can look to his most recent performance in the Outback Bowl, when he averaged 48.8 yards in three punt attempts.
Walk-ons J.J. McGrath and Kenny Allen will round out the kicking roster.
Career Stats – Wile

Year
Kickoffs
Avg
TB
Punts
Avg
TB
In 20
Long
2011
79
64.0
19
17
41.6
0
4
58
2012
77
60.5
28
12
35.9
1
9
56
Totals
156
62.3
47
29
39.2
1
13
58
Speed Is Exciting
Michigan has been one of the worst teams in the country at returning kicks since the days of Steve Breaston, even finishing as low as 117th out of 120 teams in total kick returns during the 2011 Sugar Bowl season.
Last year, Brady Hoke brought in true freshman Dennis Norfleet to solve the returning woes alongside receiver Jeremy Gallon. Hoke hopes that the speedy playmaker will emerge as the lone returner during his sophomore campaign, as he definitely has the most potential on the team in that regard.
Returning kicks is immensely important, because it can dictate the field position battle throughout the game. Denard Robinson was often able to make up for poor field position during his career by busting huge runs and finishing drives with long touchdown plays, but Michigan would prefer not to rely on such plays. Norfleet is one of the quickest players in the country, and if he gets past defenders they have no chance to catch him. This season he will need to learn how to run with his blockers, and use his elusiveness at the right times to give the offense a short field and possibly end the Michigan kick-return drought.
Career Stats – Norfleet

Year
Kick Ret
Avg
Long
TD
Punt Ret
Avg
Long
TD
2012
35
23.6
38
0
2
26.5
42
0
Totals
35
23.6
38
0
2
26.5
42
0
Career Stats – Gallon

Year
Kick Ret
Avg
Long
TD
Punt Ret
Avg
Long
TD
2010
27
21.8
47
0
10
4.3
15
0
2011
3
15.3
20
0
19
10.1
32
0
2012
2
11.5
12
0
12
5.5
26
0
Totals
32
20.6
47
0
41
7.3
32
0
Wrapping Up
Since Brady Hoke has taken over as Head Coach, Michigan has done an outstanding job of preaching the little things that are important to winning football games. Special teams doesn't get as much glory as the great offensive or defensive groups in the country, but games are won and lost on special teams plays every week.
If Michigan can continue the strong kicking game they demonstrated during 2012, and improve in the kick and punt return categories, it can shift momentum more easily with short fields and easy scores. The loss of Hagerup is a tough one to swallow for this unit, but the rest of the group will have to pick up the slack and put the offense and defense in positions to succeed.