---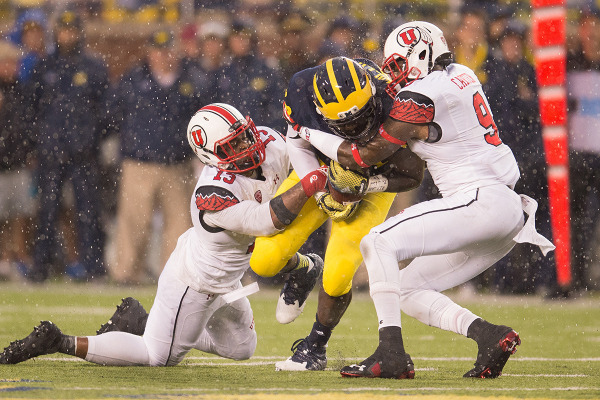 (MGoBlue.com)
It took more than two hours longer than expected, but the result was what no one rooting for the maize and blue wanted. No, that's not a riddle; it describes Michigan's 26-10 loss to Utah on Saturday, although Michigan's offense remains a riddle no one except opposing defenses can solve.
For the second time in three weeks, Michigan's offense failed to run a play in the opponent's red zone and failed to score a touchdown, this time resulting in a 16-point loss despite out-gaining the Utes 308-286. The game was delayed two-and-a-half hours midway through the fourth quarter, but the outcome remained the same and Michigan fell to 2-2.
The game didn't start poorly, however, as Michigan took an early 3-0 lead on a 42-yard Matt Wile field goal on the first possession on the game. Michigan's defense then forced a three-and-out and the offense marched into Utah territory once again. This time, after back-to-back completions to Devin Funchess of 19 yards and 24 yards, the drive was stalled by a holding penalty on Erik Magnuson. Instead of 1st-and-10 from the Utah 43, Michigan faced 1st-and-20 from the 43 and was unable to get the first down. Outside of field goal range, and facing 4th-and-13, Michigan punted and downed the ball at the Ute 3-yard line.
Final Stats
Michigan
Utah
Score
10
26
Record
2-2
3-0
Total Yards
308
286
Net Rushing Yards
118
81
Net Passing Yards
190
205
First Downs
13
19
Turnovers
4
1
Penalties-Yards
3-20
6-50
Punts-Yards
5-194
5-213
Time of Possession
33:32
26:28
Third Down Conversions
9-of-19
6-of-17
Fourth Down Conversions
2-of-4
0-of-0
Sacks By-Yards
3-30
4-22
Field Goals
1-for-1
4-for-5
PATs
1-for-1
2-for-2
Red Zone Scores-Chances
0-of-0
2-of-3

Full Box Score
Utah got a big play on 3rd-and-5 from its own eight when quarterback Travis Wilson found running back Bubba Poole wide open for a screen pass and Poole raced 67 yards before he was brought down by Jourdan Lewis. Michigan's defense held strong, forcing a field goal to tie the game at three.
Michigan's offense went three-and-out, but Ute receiver Kaelyn Clay returned Will Hagerup's punt 66 yards for a touchdown — his third return touchdown of the season. Suddenly, Michigan was down 10-3.
At the beginning of the second quarter, Wilson scrambled to his right and tried to hurdle a Michigan defender. Instead, he was hid mid-air by Joe Bolden, flipping over and landing awkwardly on his head. He was taken to the locker room and Michigan took advantage of his replacement, Kendal Thompson. On Utah's next possession, Willie Henry sacked Thompson on 3rd-and-4, forcing a punt. Gardner was picked up on Michigan's ensuing possession, but on 3rd-and-12, Henry made Michigan's play of the game, picking off Thompson and carrying it into the end zone to tie the game at 10.
Utah responded with a 16-play, 54-yard field goal drive to take a 13-10 lead into the half, then went 67 yards in just five plays on its first possession of the second half. The drive was capped by a 28-yard touchdown pass from Wilson, who returned after getting stitches in his nose, to Dres Anderson.
After the two teams traded punts, Michigan moved the ball into Utah territory. On 3rd-and-8 from the Utah 45, Gardner completed a five-yard pass to Amara Darboh, setting up a 4th-and-3. Instead of punting to pin the Utes deep once again, Hoke elected to go for it, but Gardner's roll-out came up a yard short. Utah took advantage of the short field position and kicked a 48-yard field goal to take a 23-10 lead.
Gardner was intercepted for the second time on the second play of Michigan's next possession and Utah kicked another field goal, this time from 50 yards out to go ahead 26-10.
Shane Morris replaced Gardner, but threw an interception of his own that was returned 59 yards to the Michigan 17. A sideline penalty on Utah moved it back 15 yards, but then the skies opened up. The game was suspended for a total time of 2:24, and when it resumed with only a few hundred fans remaining — most wearing red — Utah missed a 41-yard field goal.
Morris lead what looked to be a promising drive, converting two long third downs, but fumbled at the Utah 47 and any hopes Michigan had of a comeback were dashed.
For the game, Gardner completed 14-of-26 for 148 yards, no touchdowns, and two interceptions. Morris went 4-of-13 for 42 yards, one touchdown, and one fumble. Funchess led all receivers with four catches for 82 yards, while Derrick Green led the way on the ground with 59 yards on 14 carries (4.2 yards per carry). Green was also Michigan's second-leading receiver with two catches for 26 yards.
Wilson completed 14-of-20 for 172 yards and one touchdown, while Utah's two star receivers, Anderson and Kenneth Scott, combined for 10 catches for 78 yards and a score.
Michigan's defense held Utah to 81 yards rushing (2.2 yards per carry) and just 286 total yards — 271 yards below its season average — and just one touchdown and four field goals. Jake Ryan led the way with 13 tackles, three for loss, and one sack. Frank Clark added 2.5 tackles for loss and a sack, while Mario Ojemudia recorded 2.5 tackles for loss and Henry had the sack, interception, and score.
Michigan enters Big Ten play at 2-2, having out-gained every team it has played, but tormented by turnovers. The offense has yet to reach the red zone or score a touchdown against power-five teams, Notre Dame and Utah. The defense, however, has yet to allow an opponent to reach 300 yards of offense.
Minnesota (3-1) comes to town next Saturday looking to take back the Little Brown Jug. The Gophers have beaten Eastern Illinois, Middle Tennessee, and San Jose State, and lost to TCU. The game will be televised by ABC at 3:30 p.m. EST.