---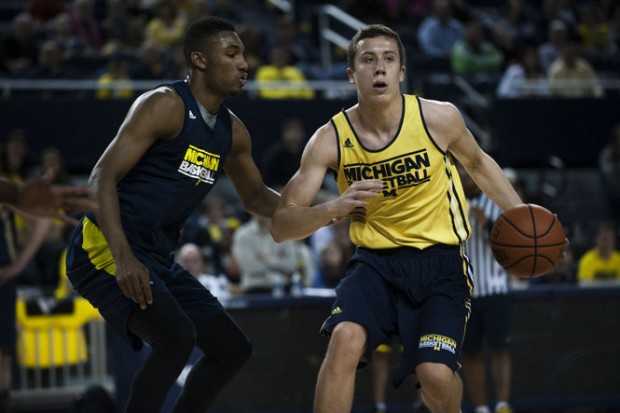 (Katie McLean, Ann Arbor News)
While we're in the midst of football season – a season of rebirth and return of the Michigan of old – college basketball is surprisingly just around the corner. Michigan basketball tips off their own season in two weeks with a team that is looking to prove that last year's mediocrity is firmly in the past. As usual, we will begin to preview the season looking at the newest and youngest players first before finishing with the seniors (they exist this year!).
#22 Duncan Robinson
Measurements
6'8″, 210
Hometown
New Castle, N.H.
High School
Phillips Exeter (Williams College)
Stats (2013-14)
17.1 points, 6.5 rebounds, 55.7% FG, 45.6% 3pt., 87.8% FT, 1.8 assists, 1.2 blocks, and 1.1 steals in 34.7 minutes per game
AAU
Middlesex Magic
Projected Position(s)
Forward (Wing)
Committed
August 6, 2014
Major Suitors
N/A
Chance of Redshirt
N/A (already redshirted)
Recruiting Rankings
Rivals
N/A
ESPN
N/A
247
N/A
Scout
N/A
247 Composite
N/A
Background: It's quite the interesting haul of newcomers that the Michigan Wolverines will be rolling out this year. We've already discussed the lone true freshman, Moritz Wagner, on the team this season, who John Beilein lured from a pro career in Germany. The other new name for fans to get accustomed to is Duncan Robinson.
You'll most likely already recognize Robinson's face and lanky stature – he has been in Ann Arbor for a full season adhering to the NCAA's transfer rules – but he was probably the guy sitting on the bench sporting warmups or a shirt and tie that you assumed was a student manager or graduate assistant. This season, Robinson will reveal his true position by wearing a different outfit – an outfit that includes a number.
Duncan Robinson is not the love child of the former Twin Towers duo in San Antonio from the late 90s to early 2000s. He's a former Division III basketball standout and renowned shooter at tiny Williams College in Williamstown, MA under former John Beilein assistant Mike Maker who found his way to Ann Arbor after earning national Freshman of the Year honors.
Division I head coaches, who almost unanimously passed on Robinson out of prestigious Phillips Exeter, all of a sudden came calling after Maker took the head coaching job at Marist College.
Beilein, always on the prowl for dead-eye shooters at any level, was one of those coaches who came calling. A few conversations between future coach and player and a campus visit later, and the match was too good to pass up. After tearing up the lower levels for a year, Duncan Robinson thought it was time to explore big time college basketball and committed to Michigan on August 6, 2014.
Now, the time has come to make the unlikely and unusual jump official. When the Wolverines tip off the season in early November, Robinson will be suited up – this time in a uniform – and ready to play.
Shooting, Shooting, and more Shooting: There's not a whole lot of mystery or surprise in Duncan Robinson's game – he's projected to be mostly Just a Shooter in the Big Ten. And that's not a bad thing, especially when John Beilein is on the bench. Zak Irvin did little more than shoot the deep ball his freshman year, Nik Stauskas had some variety to his game but was deadliest from three his first season, and Michigan cornerstones Stu Douglass and Zack Novak were also proficient shooters who rarely created their own offense; each of these players had significant positive impacts on the basketball program, and Robinson has a chance to do the same. Duncan Robinson has reportedly broken a number of Stauskas's shooting records from practice and is being encouraged by Beilein and staff to hunt for shots rather than to hesitate when he has at least one eye on the basket and his hands on the ball. Luckily for this team, shooting is one of those skills that translates as well as anything on the basketball court. A great quarterback or a great power forward at a lower level school could struggle mightily in making a jump like this, but Robinson has the size and the jumper to provide value. On the same note, however, if Robinson ever goes cold for an extended period of time, his minutes will likely dry up – and fast.
Microwave Depth: Stop me if you're heard this already – Michigan has a very deep team this season. After going through a number of years in which barely seven players were viable options to get minutes and a season last year in which two walk-ons saw meaningful time together on the floor, the Wolverines have a bevy of options across all five positions. Robinson should provide some versatility in his role of bringing instant shooting off the bench, something that other back-up candidates at the four position – Kam Chatman, D.J. Wilson, and Mo Wagner – aren't as proficient in. If Michigan trails big in any game or needs a big three at the end of a contest, Robinson would likely be asked to at least stand in as a viable option to knock it down from deep. In this offense, anyone that can come in cold and heat up instantly will see some minutes.
What He Will Have to Work On
Defense: By all means, defense seems like the most likely thing to keep Robinson off the floor. While the height of the rim and the size of the ball don't change from DIII to DI, the talent level of opposing players changes greatly. Duncan Robinson seems like an able enough athlete with decent size and a good wingspan, but his quickness is not seen as a strong suit at this time. And while Robinson has beefed up a bit while attending Camp Sanderson over the past year, he will likely get pushed around on occasion by bigger, stronger, and more athletic fours. If his defense leaves quite a bit to be desired, the newcomer will likely spend a majority of his time on the bench yet again this season.
Creating Offense: I know, I know…I've already said that Duncan Robinson is expected to be little more than a catch-and-shoot type player at this level. And I stand by that. But to reach his peak potential, Robinson will eventually have to diversify his game a bit. We saw Nik Stauskas go from great shooter to great all-around offensive threat, and Zak Irvin seems to be on a similar path in this offense. Robinson would be wise to work on other parts of his game other than making it rain with his eyes closed. He needs to be able to confidently put the ball on the floor to utilize the shot fake that Beilein preaches about, and Robinson probably needs to at least be competent running the pick-and-roll and passing the ball if he's to reach All-Conference levels. Another thing to pay attention to is Robinson's ability to get his shot off. His stroke is clean and quick, but he admitted last offseason that he definitely noticed the increased difficulty in pulling the trigger against more athletic competition. If his shot is getting consistently blocked or altered, Robinson could be in trouble.
Burning Question: How many minutes can Duncan Robinson earn this season
Duncan Robinson has a pretty obvious role on this team. With seasoned players like Derrick Walton, Caris LeVert, Zak Irvin, and Spike Albrecht all returning and all capable of creating offense, Michigan doesn't need another bona fide playmaker, and Robinson could provide valuable minutes off the bench if he maintains his reputation as a consistent knock-down shooter. But poor defense and rebounding could really hinder his ability to see the floor. There is no shortage of options across the board, and particularly at the 3 and 4 spots that I could see Robinson getting any time at, so if he shows significant weaknesses or simply can't handle the ball at all, he'll be replaceable.
Stat Predictions: 1.8 points, 1 rebound, .8 assists, .5 steals in 5 minutes per game
Bottom Line: Duncan Robinson provides a skill set that John Beilein loves, but I think he's a year away from competing for significant minutes at Michigan. The step up in competition should be eased by his year of practice, but Robinson is just not big or strong enough yet to compete defensively, and the bevy of players available will make it very difficult to carve out 15-20 minutes a game. Of all the players on the team, Robinson perhaps has the biggest range of outcomes. I think his ceiling would be at the level of a senior Jon Diebler – a terrific shooter with just enough offensive diversity to scare his defender – while Robinson's floor is at the level of Matt Vogrich – by all means a terrific practice shooter but a guy who never really got it going in games.