---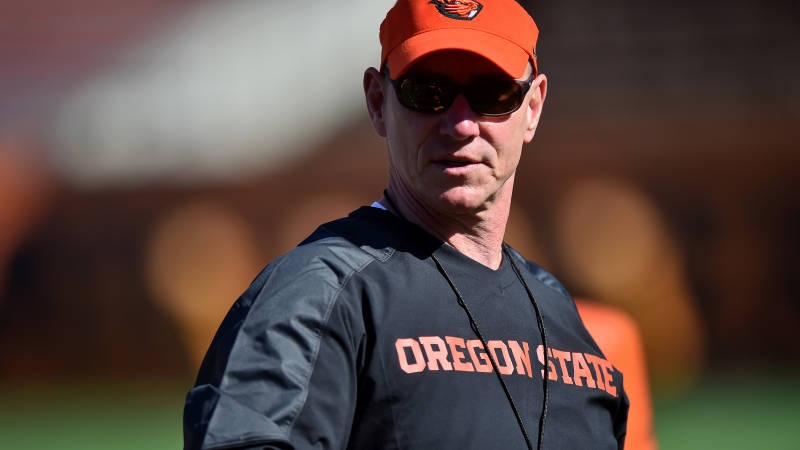 (Scobel Wiggins, Oregon State Athletics)
Our season preview series continues today with the second of our opponent previews. We kicked off the series last week with a preview of the team we feel will be the easiest on Michigan's schedule, UNLV. Today is the second easiest, the Oregon State Beavers, who come to Ann Arbor on Sept. 12 for Jim Harbaugh's home opener.
Overview
Like Michigan, Oregon State is ushering in a new head coach this fall. Mike Riley took a step up at Nebraska after 14 seasons in Corvallis (10 as head coach), so Gary Andersen bolted Wisconsin for Oregon State after just two seasons. He inherits a team that has gone backwards in each of the last two seasons.
Schedule
Date
Opponent
Sept. 4
Weber State
Sept. 12
at Michigan
Sept. 19
San Jose State
Sept. 26
Stanford
Oct. 10
at Arizona
Oct. 17
at Washington State
Oct. 24
Colorado
Oct. 31
at Utah
Nov. 7
UCLA
Nov. 14
at California
Nov. 21
Washington
Nov. 28
at Oregon
Andersen made no bones about the fact that Wisconsin's academic standards pushed him out, so he took a major step down to get to a place that allows him to recruit who he wants. He voluntarily left a school that has been to more Rose Bowls since 1993 (six) than the school he left it for has conference championships in school history (five). In fact, Oregon State hasn't won the Pac-12 since 2000, and while the Beavers have finished in the top 25 four times since then, it's not a program with a rich history.
Riley was able to attain unusual success in Corvallis, averaging nearly eight wins per season since 2003 at a school that had only seven eight-win seasons in 110 years before that. Riley's Beavers won at least nine games four times, including a 10-4 season in 2006. But he followed that up with back-to-back 9-4 seasons, then 8-5, 5-7, and 3-9. OSU rebounded with a 9-4 campaign in 2012, but again went downhill with a 7-6 2013 and 5-7 2014. If history repeats itself Andersen is on track for 3-9 this fall.
Andersen has a good track record. He inherited a very bad Utah State squad in 2009, and while it took a couple of 4-8 seasons to build his foundation, he got over the hump with a 7-6 season in 2011 and broke through with a 11-2 season, a conference championship, and a bowl win a year later. He left for Wisconsin and didn't miss a beat, taking an 8-6 team and going 9-4 and 11-3 with a Big Ten championship game appearance.
When he jumped to Oregon State, Andersen brought in a solid pair of coordinators. Offensive coordinator Dave Baldwin has been around the block, coaching at 12 different schools since 1978. He served as offensive coordinator at Cincinnati in 2001, Baylor in Michigan State from 2003-06, New Mexico from 2007-08, Utah State (win Andersen) from 2009-11, and most recently, Colorado State from 2012-14. He served as CSU's interim head coach in the Las Vegas Bowl last December when Jim McElwain left for Florida.
Andersen's hand-picked defensive coordinator is up-and-coming Kalani Sitake, who has run Utah's defense since 2009. In fact, since 2005, Sitake has continued adding roles to his title, going from linebackers coach from 2005-08 to defensive coordinator and linebackers coach from 2009-11 to associate head coach, defensive coordinator, and linebackers coach from 2012-14.
Let's take a look at Oregon State.
Offense
Projected Starters
Position
Name, Yr.
Ht, Wt
2014 Stats
QB
Seth Collins (Fr.)
6'3″, 186
RB
Storm Woods (Sr.)
6'0″, 203
121 rush for 766 yds (6.3 avg), 5 TD; 26 rec, 179 yds, 1 TD
WR
Hunter Jarmon (So.)
5'11", 198
20 rec for 334 yds (16.7 avg), 1 TD
WR
Victor Bolden (Jr.)
5'9″, 172
72 rec for 798 yds (11.1 avg), 2 TD
WR
Jordan Villamin (So.)
6'4″, 235
35 rec for 578 yds (16.5 avg), 6 TD
TE
Caleb Smith (Sr.)
6'6″, 263
20 rec for 202 yds (10.1 avg), 1 TD
LT
Sean Harlow (Jr.)
6'4″, 298
12 starts (21 career starts)
LG
Isaac Seumalo (RS Jr.)
6'5″, 310
Redshirt (25 career starts)
C
Josh Mitchell (Sr.)
6'3″, 306
12 starts (15 career starts)
RG
Gavin Andrews (Sr.)
6'6″, 343
10 starts (10 career starts)
RT
Dustin Stanton (Jr.)
6'5″, 289
6 starts (6 career starts)
Baldwin has his work cut out for him with an offense that ranked 72nd nationally in total offense. While the Beavers ranked a very respectable 31st in passing offense last season, it was largely due to quarterback Sean Mannion, who was drafted in the third round of the NFL Draft by the St. Louis Rams. The Beavers' running game ranked 110th nationally and second-to-last in the Pac-12, averaging just 118.1 yards per game, and that's where Baldwin will have to apply his expertise. At Michigan State, he turned the Big Ten's worst rushing offense in 2003 into the second-best in 2004. At Utah State, his rushing offense ranked sixth nationally in 2011 and 26th in 2012. In 2013, his Colorado State offense ranked 27th nationally in rushing.
The good news is he has a starting running back returning in senior Storm Woods, who averaged 76.6 yards per game last season with three 100-yard games. As a redshirt freshman in 2012, Woods rushed for 940 yards and 13 touchdowns, so he has as much experience as any back on Michigan's team. However, behind Woods is a bunch of nobodies. Terron Ward the second half of the one-two punch the past two yeas. He was second on the team with 696 rushing yards and lead the team with 10 touchdowns last fall. He also led the team in rushing in 2013, but now he's gone, leaving Woods to carry the load himself.
The biggest loss, however, is quarterback Sean Mannion, who finished his career as Oregon State's and the Pac-12's all-time leading passer with 13,600 yards. By comparison, Michigan's all-time leader, Chad Henne, passed for 9,715 yards in his career. With Mannion gone — as well as Luke Del Rio, who transferred to Florida — Oregon State doesn't have a quarterback on the roster with game experience. That leaves Andersen with a choice of redshirt freshmen Nick Mitchell or Marcus McMaryion or true freshman Seth Collins. The latter is the presumed pick, but it will be worked out in fall camp.
Regardless of who wins the job, he'll at least have experience to throw to. Junior Victor Bolden caught 72 passes for 798 yards and two scores last season, while sophomore Jordan Villamon was second with 35 for 578. He led the team with six touchdowns. And while Bolden stands just 5-foot-9, 172 pounds, Villamon is 6-foot-4 and 235 pounds. That's a nice one-two punch to have back. Fellow sophomore Hunter Jarmon led all receivers with 16.7 yards per catch and also returns as a big-play threat.
The offensive line was a game of duck-duck-goose last fall, but by season's end, a competent five was solidified. And the good news for Andersen is that four of the five return, in addition to Isaac Seumalo, who started 25 games in 2012 and '13 before taking a redshirt last season due to an injury. Combined, the five have 77 career starts and should at the very least be able to improve on last season's poor showing.
Defense
Projected Starters
Position
Name, Yr.
Ht, Wt
2014 Stats
DE
Jaswha James (Sr.)
6'2″, 264
16 tackles, 2 TFL, 1 sack, 1 FR
DT
Jalen Grimble (Sr.)
6'2″, 291
6 tackles, 1 TFL
DT
Lavonte Barnett (Sr.)
6'3″, 262
18 tackles, 5.5 TFL, 4.5 sacks
DE
Luke Hollingsworth (Jr.)
6'3″, 270
11 tackles, 2.5 TFL, 1 sack
LB
Caleb Saulo (Jr.)
6'1″, 232
6 tackles
LB
Rommel Mageo (Jr.)
6'2″, 232
23 tackles, 0.5 TFL, 1 FR
LB
Darrell Songy (RS So.)
6'0″, 223
Redshirted
CB
Larry Scott (Sr.)
5'11", 192
43 tackles, 2 TFL, 11 PBU
CB
Dwayne Williams (RS Fr.)
5'9″, 176
Redshirted
FS
Cyrill Noland-Lewis (Jr.)
6'1″, 206
33 tackles, 2 PBU, 1 FR
SS
Justin Strong (So.)
5'9″, 195
56 tackles, 5 TFL, 1 sack, 3 PBU
While Baldwin at least has some experience to work with on offense, Sitake is essentially playing with a blank slate. Only two starters return from a defense that ranked 74th nationally in total defense, 96th in scoring defense, 51st in rush defense, and 91st in pass defense. Only three Pac-12 teams allowed more points per game than Oregon State did (31.6). Sitake had Utah's defense the second-best in the Pac-12 last fall behind only Stanford.
He'll have a lot of work to do to replace its top six tacklers. The leading returning tackler is strong safety Justin Strong, who started just three games in 2014 and recorded 56 tackles, five for loss. He'll be joined in the back by junior free safety Cyrill Noland-Lewis, who has bounced back and forth from outside linebacker. His 33 tackles last season are the third-most returning. The elder statesman of the secondary is senior cornerback Larry Scott, who brings back a team-high 11 pass breakups in addition to 43 tackles. The other corner spot will likely fall to redshirt freshman Dwayne Williams, a former high school national champion track star from Killeen, Texas.
The linebacking corps returns just 29 total tackles and no starters. Middle linebacker Rommel Mageo was the unit's first reserve last fall and recorded 23 tackles, though he did start seven games in 2013. Junior Caleb Saulo has a lot of special teams experience, but not much game experience, while the other likely starter, Darrell Songy, redshirted last season.
The defensive line returns only senior end Jaswha James, who recorded 16 tackles and just one sack. The other end should be junior Luke Hollingsworth, a junior college transfer who started two games last season. Senior tackle Lavonte Barnett started four games last season and led the team with 4.5 sacks. The other tackle will likely be senior Jalen Grimble, who is recovering from a knee injury suffered against USC last season.
Special Teams
Projected Starters
Position
Name, Yr.
Ht, Wt
2014 Stats
K
Garrett Owens (So.)
5'9″, 181
11-of-13, Long 46
P
Mitch Seeley (So.)
5'10", 183
KR
Chris Brown (Jr.)
5'10", 205
1 ret, 27.0 avg
PR
Rahmel Dockery (Jr.)
5'10", 179
8 ret, 6.1 avg
Kicker Garrett Owens gets the job to himself after sharing it with Trevor Romaine last season. He made 11-of-13 field goals, five of which came in the season opener against Portland State, and four of which came against Washington State. Punter Keith Kostol is gone, leaving only sophomore walk-on Mitch Seeley and Snow College transfer Nick Porebski to battle for the job. Not much is known about either, but Seeley is the one currently on the roster.
In the return game, last season's leading kick returner, Malcolm Marable, is gone, leaving the job to backup running back Chris Brown, who returned one kick last fall. Junior receiver Rahmel Dockery resumes his punt return duties after averaging 6.1 yards per return a year ago.
Outlook
The offense is sure to improve in the running game with experience along the line, the return of Woods, and Baldwin's run-heavy system. But the passing game will take a major step back without Mannion, so it will likely net out pretty evenly. However, it will take mite for Sitake to transform the Beavers defense. In all reality, Sitake should be able to keep the defense at least even with where it was last year. But a schedule that finds Oregon State traveling to Michigan, Arizona, Utah, and Oregon, and hosting Stanford and UCLA, will be near impossible to produce a winning record in 2015.
What it means for Michigan
If Michigan can survive Utah in Week 1, the Wolverines will return home with a great chance to go 2-0 and give the fans hope for an exciting season. Since Michigan plays Utah on Thursday night, they'll get an extra day to prepare for Oregon State, which opens with Weber State on Friday, Sept. 4. The Beavers will give Harbaugh's squad a good test on the ground, as well as an opportunity to put up some points offensively. Michigan should cruise through Harbaugh's home opener.