---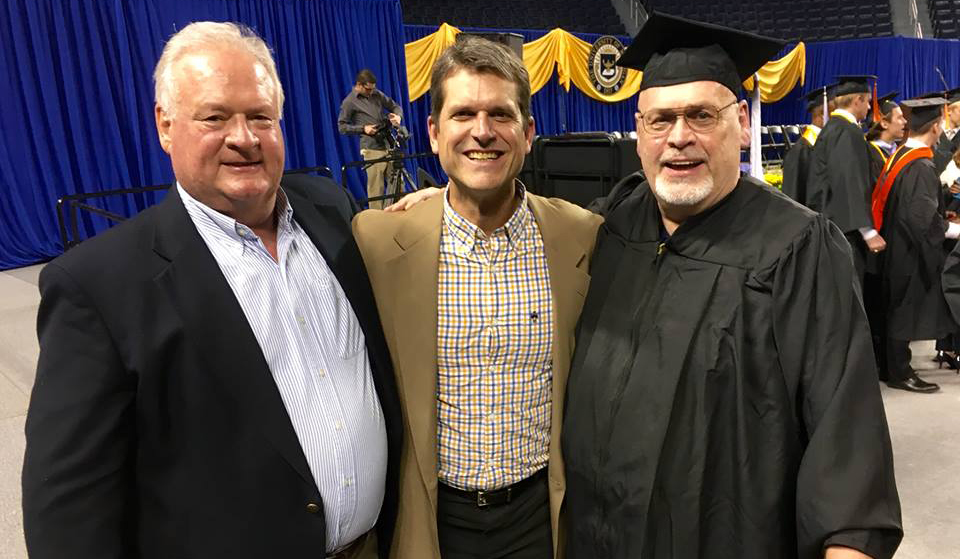 Forty-two years after leaving Michigan for the National Football League, Steve Strinko can finally call himself a Michigan graduate. On April 29, Strinko donned his cap and gown and joined current U of M seniors in receiving a diploma. But he looked a little bit different than the other 110 student-athletes that walked with him.
"I got this wild idea on Wednesday because I don't use a walker that often — only when I'm traveling and might walk a long distance," Strinko said. "I got this idea to paint it maize and blue. Then I found a way to stencil an M on the seat. So as I walked across the stage I was pushing my Michigan walker along."
While the age difference — and the toll it has taken on his body — set him apart, the 1974 Michigan football most valuable player was welcomed with open arms by the current team.
"Jehu Chesson came over and tapped me on the shoulder while all the seniors were getting to their seats and said 'hey man, did you play football?'" Strikno recalled. "I said yeah, and he said we've got a spot over here with the team. So I went over there and sat with him and his roommate (fullback Sione Houma, who recently signed an undrafted free agent contract with the New Orleans Saints). He's Tongan and had a leather skirt underneath his gown, which I thought was hilarious. I said 'you've got to be pretty confident about your sexuality to wear a dress around' and he started laughing and said 'yeah, I'm pretty confident.'"
Strinko relished the comradre he shared with the current players who were joining him in graduation on a weekend in which he also reunited with some of his former teammates.
"I was humbled with the number of people that showed up. Both of my roommates from college were there. Dave Metz was my roommate the first two years and he played guard. Mark Elzinga was a backup quarterback; he was my roommate for my junior and senior year."
After receiving his degree, Strinko, who once watched a Super Bowl in Woody Hayes' living room, was courted by Bear Bryant, and played for Bo Schembechler, was greeted by current Michigan head coach Jim Harbaugh.
"I went up to him and he said 'Strinko, congratulations.' And I said 'better late than never. It only took me 42 years.'"
Strinko recalled his fondness of the Harbaughs, which spans nearly a half century. In 1969, Jim's dad, Jack, tried to recruit Strinko to Bowling Green and was the first college coach to shake his hand and tell him he wanted him to come play for him. Strinko, of course, signed with Schembechler, and Harbaugh told him "you're going to get lost in the shuffle because it's such a huge school, such a big program."
"The funny thing is in 1973, he shows up as an assistant," Strinko said. "I will never forget going up to him and saying 'coach, aren't you afraid you're going to get lost in the shuffle here?'"
As for Jim, Strinko remembers him as being a "12-year old kid bouncing off the walls when I played."
"Jimmy was somewhat of a pest — he and his brother, both. I remember on several occasions when they duck-taped Jimmy to a locker just to curb his enthusiasm," Strikno recalled, laughing. "It was clearly obvious at that age that he was passionate about the game. It was incredible."
And here they are, decades later, at different stages in life, but both having returned to Ann Arbor. While Harbaugh is hard at work trying to bring Michigan back from years of malaise, Strinko can afford to pat himself on the back for overcoming hardship and achieving his degree.
"All my life, with what I had gone through with getting addicted to substances, it was a big deal for me to start at point A and have a point B out there somewhere in the future and actually get to that point. It gave me confidence that there may be some value to this old fart after all."
Taking after Harbaugh's enthusiasm unknown to mankind, Strinko isn't stopping at just a Bachelor's degree. He's currently working on his Master's degree via online courses through Liberty University. He admitted part of the reason for continuing his education was that he took so many classes that he wanted to make absolutely certain that he had enough credits to graduate from Michigan.
Strinko also looks forward to trying to help other former Michigan football players overcome the same types of struggles that tripped him up after his football career. His Foundation for Athletes in Need is in the process of obtaining 501c3 status in Missouri, where he currently lives, and he's also in talks with fellow U-M football alum Jim Betts about pairing with the Michigan Football Alumni Network's Team Big House, which Betts, Jim Brandstatter, and John Wanlger are organizing.
"I know we've got guys out there who are hurting," Strikno said. "I know we've got guys out there addicted to Oxytoxins. I think it would be naive to think that kind of stuff isn't happening on a regular basis, and if it's happening with guys at Michigan that are former football players, then obviously it's happening elsewhere.
"We want to create something at Michigan where we can have an organization that we get together when home games are in town and provide one free ticket to home games for all former players for the rest of their life and we step up to help when they're struggling financially or otherwise."
It has been a long and bumpy road for Strinko, but like the hard-hitting linebacker he once was, he prefers to charge ahead rather than dwell on the past. Now he can do so as a University of Michigan graduate.
____________________________________________________________________________________________________