---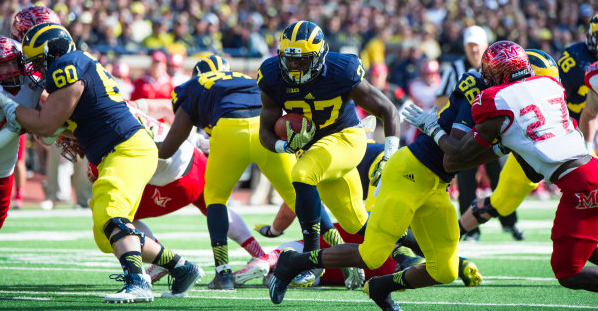 (MGoBlue.com)
Looking to begin a new points-scored streak after the previous one of 30 years came to an end last week, Michigan hosted a Miami (Ohio) team hoping to end a dubious streak of its own: an 18-game losing streak. Like fellow Mid-American Conference foe Akron a year ago, Miami put up a fight, but this time Michigan shrugged it off and turned a close ballgame into a runaway win, 34-10.
Michigan wasted no time putting points on the board this Saturday, taking the opening possession to the Miami 12-yard line and kicking a 29-yard field goal. Jourdan Lewis picked off an Andrew Hendrix pass on 2nd-and-19, and five plays later Devin Gardner connected with Amara Darboh for a 17-yard touchdown pass. Michigan led 10-0 and looked to be well in its way to a blowout like it had in Week 1.
But then everything started to come unraveled. Three consecutive Michigan turnovers let Miami right back in the game. First, Darboh fumbled at the Miami 21-yard line after picking up 22 yards, and although Michigan's defense forced Miami to punt, Gardner gave it right back two plays later with an interception over the head of Jehu Chesson. This time, given great field position at the Michigan 35, Miami took advantage with a 26-yard field goal.
Final Stats
Michigan
Miami (Ohio)
Score
34
10
Record
2-1
0-3
Total Yards
460
198
Net Rushing Yards
276
33
Net Passing Yards
184
165
First Downs
23
8
Turnovers
3
1
Penalties-Yards
3-20
7-40
Punts-Yards
4-172
8-301
Time of Possession
34:05
25:55
Third Down Conversions
6-of-13
2-of-12
Fourth Down Conversions
0-of-0
0-of-1
Sacks By-Yards
1-12
1-7
Field Goals
2-for-2
1-for-1
PATs
4-for-4
1-for-1
Red Zone Scores-Chances
4-of-4
2-of-2

Full Box Score
Miami pooch-kicked the ensuing kickoff and caught Michigan off guard. Wyatt Shallman fumbled the catch and Miami pounded on it at the Michigan 21. Four plays later, Hendrix found running back Dawan Scott for a 3-yard touchdown to tie the game at 10.
Michigan answered with its most important drive of the season to-date, riding Derrick Green down the field. After a 26-yard completion to Darboh and then a seven-yard sack, Gardner handed off to Green four straight plays. Green went for 27, 11, eight, and one, the final getting into the end zone to give Michigan 17-10 lead, which the Wolverines took into the locker room.
Neither team could muster any offense to start the second half as Miami punted away its first three possessions and Michigan its first two. Finally, Michigan broke through with a big-play drive. Gardner found Jake Butt for a 22-yard gain to the Miami 41, then De'Veon Smith rushed for 12. On 1st-and-10 from the Miami 29, Gardner lofted up a pass to a wide open Butt for a touchdown to give Michigan some breathing room.
Hendrix completed a 31-yard pass to David Frazier at the Michigan 28, but the RedHawks were unable to complete the drive. Miami tried to convert a 4th-and-14, but Brennen Beyer pressured Hendrix and forced an incomplete pass.
Michigan turned to Green once again on its next possession to ice the game. Green carried the ball on seven of the drive's nine plays, picking up 50 yards including a 12-yard touchdown run to put Michigan ahead 31-10.
Shane Morris took over on Michigan's final possession, leading Michigan from its own 19 to the Miami 23. On the drive, Morris scrambled for 27 yards and nearly threw a touchdown pass, but Chesson couldn't hang on. Matt Wile kicked a 40-yard field goal to reach the final score of 34-10.
If you didn't watch the game and just looked at the box score, you would assume Michigan won easily. Michigan out-gained Miami 460-198, picked up 23 first downs to Miami's eight, held the RedHawks to just 2-of-12 on third down, and led the possession battle 34:05 to 25:55. But it was three second quarter turnovers that kept Miami in the game and sent boos raining down from the Big House crowd.
Gardner finished the game 13-of-20 for 184 yards, two touchdowns, and an interception, but it was Green who stole the show. The sophomore carried the ball 22 times for 137 yards and a score, averaging 6.2 yards per carry. He showed a much better ability to find the hole than he did a week ago, and on his touchdown run, showed the ability to bounce outside and outrun the defense to the edge. Without Devin Funchess, who missed the game with an ankle injury, Darboh led all receivers with six catches for 88 yards and a touchdown, while Butt caught three passes for 59 yards and a score.
As a team, Michigan rushed for 276 yards, averaging 6.1 yards per carry, and held Miami to just 33 yards rushing on 24 carries. Joe Bolden led the defense with seven tackles, while Beyer recorded Michigan's only sack of the game.
Michigan hosts Utah next Saturday at 3:30 p.m. The Utes are 2-0 and had a bye week this week. Stay tuned for more coverage of Michigan's win over Miami and previews of next week's game.