---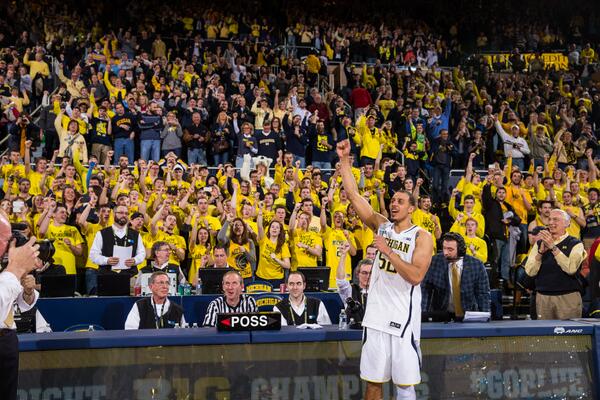 (MGoBlue.com)
Last night was, without a doubt, Jordan Morgan's to savor. The lone senior on one of the youngest, hottest teams in the country, was playing his final game in the Crisler Center wearing 'MICHIGAN' across his chest.
In his five years in Ann Arbor, Morgan has been a part of a lot of successful teams, but he's never been a player that turns many heads on the floor. More people have used words like "leader" or "glue guy" to describe the engineer from Detroit than "star", and many point to his off-the-court accolades before talking about how productive he was on it.
But for one last time, Morgan did his best to make sure that Michigan fans will remember him for what he did while wearing that jersey.
While the Indiana Hoosiers started off hot in the hopes of ruining Morgan's Senior Night and being the only Big Ten team to not fall to Michigan this season, it was number 52 that kept the Maize and Blue in it. Morgan, who has attempted fewer shots per game than the prior season in each of his four years, made Michigan's first three buckets of the game.
Indiana would make their first nine attempts and jump out to 10-point lead at one point in the first half, but Morgan simply would not let his team throw in the towel. Sure, the Wolverines had already secured an outright Big Ten title with a win earlier in the week at Illinois, but this game was more than just a win or loss. It was Morgan's lasting legacy, the final page in his epic novel.
So Michigan fought back, rallying behind their captain to cut the lead to six at the half and then quickly charging out to a lead in the second half with the help of Nik Stauskas and Glenn Robinson III, who combined to score 17 of Michigan's 19 points in the first 5:20 after halftime as the Wolverines jumped ahead 55-50.
After falling behind by 11, Indiana would battle their way back to tie the game with 4:55 to go, but as opposed to last season's finale when Morgan's last-second tip rolled off the rim, fate seemed to be on the side of the home team.
Once the game was knotted up at 75 with 1:25 left following the Hoosiers' 13-2 run, Robinson III caught a Stauskas pass and found himself wide open in the right corner. The sophomore, shooting just a touch better than 27 percent on the year, calmly rose and shot the ball without hesitation. This wasn't the guy John Beilein would have drawn up to take that shot; after all, Robinson had missed nine of his last 11 threes.
But this one swished through to give Michigan a three-point lead they would not relinquish. A little over a minute later and the Wolverines' 84-80 win was final, complete with maize and blue confetti and streamers falling from the heavens.
Morgan, who shed a few tears beforehand as he was honored for his contributions to the Michigan program in his seemingly endless five years, would finish his final game a winner and a star with 15 points on just eight shots, 10 rebounds (five of them offensive), two steals, and a block in 29 minutes.
When the Wolverines cut down the nets after the game to celebrate their first Big Ten outright championship in 28 seasons, Morgan was the first to climb the ladder, take a clip, and save one small physical treasure with which to remember his years in Ann Arbor.
What a program outsider may not have realized in watching last night's game, however, was that Morgan will almost certainly not be the only one gone next year.
Stauskas, the favorite for Big Ten Player of the Year honors, is widely projected to be a first round pick in the NBA Draft later this spring after his breakout season and will likely follow his dreams and make the jump. If that is the case, his last game — 21 points, two rebounds, two assists, and a block — will also be one to cherish despite it seeming so routine at the moment.
Robinson III, who would have been a first-rounder if he had left after last year's run to the National Championship game, is also thought to have one eye on his future in the NBA, and his 20 points, two rebounds, two assists, steal, and clutch three will not soon be forgotten.
After the game, however, there was no mention of those potential early departures, because, of course, there are more games — and very important ones at that — to play.
Morgan, who will play in his fourth NCAA Tournament later this month, knows this better than anyone else.
"We got more ahead of us, more goals to accomplish, and this is just like the beginning," he said after the game. "I love playing with these guys, (they are) some of the best teammates, and it's been an amazing year…so far, so far."
***Nik Stauskas***
21 points (6-of-13 FG, 1-of-4 3PT, 8-of-9 FT), two assists, two rebounds, one block, one turnover in 35 minutes
**Jordan Morgan**
15 points (7-of-8 FG, 1-of-2 FT), 10 rebounds (five offensive), two steals, one block, two turnovers in 29 minutes
*Glenn Robinson III*
20 points (6-of-13 FG, 1-of-3PT, 2-of-2 FT), two rebounds (one offensive), two assists, one steal, one turnover in 37 minutes
Honorable Mention:
Will Sheehey – 17 points (7-of-12 FG, 2-of-5 3PT, 1-of-2 FT), three rebounds (one offensive), two assists, four turnovers in 34 minutes
• With the win, Michigan has beaten every Big Ten team at least one time for the first time since 1992. At 15-3, the Wolverines also finish Big Ten play with their most conference wins since 1992.
• All of the talk before, during, and after the game has focused on the definite departure of Jordan Morgan and the likely departures of Nik Stauskas and Glenn Robinson III, and rightfully so. But there could be even more adversity than that. Mitch McGary, who has not played since December, will certainly have a big decision to make on whether he returns to school or jumps to the NBA after turning it down as a potential lottery pick last year. At 21 years of age, McGary is old for his class and may be seen as having less "potential" by the NBA if he does return to school, but there is also uncertainty on where, or if, he would be selected because of his injury.
Head coach John Beilein has stated multiple times that he will end his career in Ann Arbor, but two of his assistants, Lavall Jordan and Bacari Alexander, are young up-and-comers and will certainly be getting some calls this upcoming offseason from schools looking for new coaches. Jordan has been masterful in developing guards like Darius Morris, Trey Burke, and Nik Stauskas and just missed out on being hired as the head man at Butler, his alma mater, last offseason.
Final Game Stats

#

Name

FG-FGA

3FG-3FGA

FT-FTA

OR

DR

TOT

PF

TP

A

TO

BLK

S

MIN

01
Glenn Robinson III*
6-13
1-3
7-8
1
1
2
0
20
2
1
0
1
37
10
Derrick Walton Jr.*
1-4
0-2
2-2
0
0
0
3
4
4
0
0
1
25
11
Nik Stauskas*
6-13
1-4
8-9
0
2
2
1
21
2
1
1
0
35
52
Jordan Morgan*
7-8
0-0
1-2
5
5
10
3
15
0
2
1
2
29
23
Caris LeVert*
5-11
1-2
2-2
1
3
4
3
13
2
0
0
2
38
02
Spike Albrecht
0-2
0-1
4-4
0
0
0
3
4
3
0
0
0
15
15
Jon Horford
1-2
0-0
2-2
3
3
6
2
4
0
0
0
0
11
21
Zak Irvin
1-3
1-3
0-0
0
0
0
0
3
0
0
1
1
10
Totals
27-56
4-15
26-29
11
14
25
16
84
13
6
3
7
200
Indiana
29-49
7-18
15-17
6
20
26
23
80
17
15
3
3
200

Full Stats