---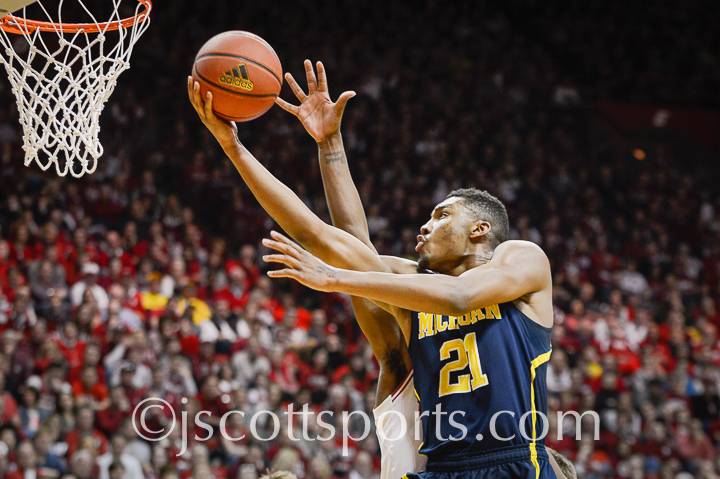 (Jamie Owens, UMHoops)
Still shorthanded, Michigan ventured into Bloomington, where it has won just once since 1995 and twice since 1989, and took Indiana to the wire, ultimately falling three points short, 70-67, despite a career-high 23 from Zak Irvin.
Aubrey Dawkins hit a three-pointer on Michigan's first shot of the game, but Indiana jumped out to a 11-5 lead and then widened it to 20-11 by the under-12 media timeout. But Kameron Chatman made one of two free throws and Mark Donnal scored five straight to keep Michigan in the game. Four free throws by Ricky Doyle and Spike Albrecht pulled Michigan within three, but Indiana responded and took a 36-29 lead into the half.
Doyle opened the second half with a layup, and after a steal, Dawkins made two free throws to get back to a three-point defect. But eight straight Indiana points prompted a Michigan timeout. Irvin made a layup and followed with a three, but Indiana pulled back ahead by 11 with 14 minutes to play.
Once again, Irvin responded with a jumper, and Dawkins Doyle followed with back to back dunks to pull Michigan within striking distance. Indiana answered with a  Troy Williams dunk, but Irvin hit another three. Every time Michigan threatened to tie the game, Indiana had an answer, and every time Indiana threatened to run away with it, Michigan responded with a run of its own.
Three times in the final eight minutes of the game, Indiana widened its lead to nine, but even without its two leaders, Michigan refused to die. A three-point play by Albrecht brought Michigan within three at 65-62 with 1:18 to play. Indiana's Collin Hartman and then Albrecht traded a pair of free throws.
With an eight-second difference between the game clock and shot clock, John Beilein chose to let Indiana play instead of foul, but Yogi Ferrell shredded the Michigan zone with a dish to Williams for a dunk. Irvin answered with a three to pull Michigan within two and the Wolverines sent Hartman to the free throw line. He missed the first but made the second, giving Michigan a chance to force overtime with a three. But Muhammad-Ali Abdur-Rahkman's attempt from the left corner at the buzzer was all iron and Michigan suffered its third straight loss.
Irvin tied a career-high with 23 points on 9-of-16 shooting and 3-of-5 three-point shooting. Doyle scored 15 points on 5-of-5 shooting and made 5-of-6 free throws in addition to pulling in six rebounds. Albrecht was the only other Wolverine in double figures with 12.
As a team, Michigan shot 50 percent from the field and 46.2 percent from downtown. Michigan held Indiana, the Big Ten's best scoring team, 10 points below its average. The Hoosiers shot 49 percent overall and 41.2 percent from three-point range. Indiana out-rebounded Michigan 32-21.
Michigan, now 13-11 overall and 6-6 in the Big Ten, visits Illinois (16-8, 6-5) on Thursday. The Illini have won three straight including a 59-54 victory at Michigan State Saturday.
Final Game Stats

#

Name

FG-FGA

3FG-3FGA

FT-FTA

OR

DR

TOT

PF

TP

A

TO

BLK

S

MIN

32
Ricky Doyle*
5-5
0-0
5-6
3
3
6
4
15
0
1
2
1
27
02
Spike Albrecht*
3-5
1-2
5-5
0
2
2
1
12
7
3
0
1
39
12
M-A. Abdur-Rahkman*
1-7
0-2
0-0
0
2
2
2
2
3
4
0
3
34
21
Zak Irvin*
9-16
3-5
2-5
0
2
2
4
23
2
1
0
3
39
24
Aubrey Dawkins*
2-6
1-3
2-2
1
2
3
0
7
1
2
0
0
34
03
Kameron Chatman
0-1
0-0
1-2
0
0
0
0
1
0
0
0
0
10
04
Andrew Dakich
0-1
0-0
0-0
0
0
0
0
0
0
0
0
0
4
20
Sean Lonergan
0-0
0-0
0-0
0
0
0
0
0
0
0
0
0
1
34
Mark Donnal
3-4
1-1
0-0
1
2
3
3
7
0
0
1
0
10
44
Max Bielfeldt
0-1
0-0
0-0
0
1
1
2
0
0
0
0
0
3
Totals
23-46
6-13
15-20
7
14
21
16
67
13
11
4
7
200
Indiana
24-49
7-17
15-20
13
19
32
17
70
11
14
4
5
200
Full Stats