---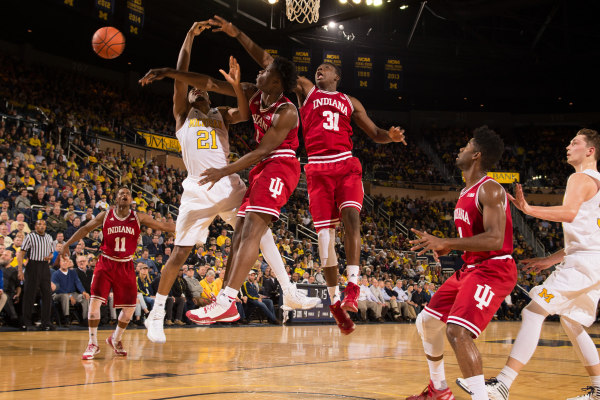 (MGoBlue.com)
Michigan started strong, racing out to a 17-6 lead, but went ice cold over the final nine minutes of the first half. Indiana closed the half on a 25-0 run and added a three to start the second half. Michigan couldn't stop the bleeding. The final score of 80-67 doesn't reflect how wide a margin the game really was.
After cruising through the easy portion of the conference, Michigan clearly missed its star, Caris LeVert, against perhaps the best team in the conference. A celebrity cast in the crowd — on hand for Wednesday's Signing of the Stars — wasn't enough to will Michigan to victory and Max Bielfeldt got revenge over his former team.
Indiana shot 50 percent from the field despite making just 10 of 30 three-point attempts. Michigan had no answer for the Hoosiers' offense as they made 23 of 36 from inside three-point range. Michigan, meanwhile, shot just 28.1 percent in the first half, digging a hole that was too deep to crawl out of.
Michigan looks to bounce back against rival Michigan State on Saturday.
Final Game Stats

#

Name

FG-FGA

3FG-3FGA

FT-FTA

OR

DR

TOT

PF

TP

A

TO

BLK

S

MIN

34
Mark Donnal*
1-1
0-0
0-1
1
2
3
3
2
1
1
1
0
30
10
Derrick Walton*
3-10
1-3
0-0
0
3
3
1
7
3
2
0
2
28
21
Zak Irvin*
6-16
3-6
1-3
1
3
4
1
16
4
3
0
0
37
22
Duncan Robinson*
6-11
1-5
1-1
0
4
4
3
14
0
3
0
0
31
12
Muhammad-Ali Abdur-Rahkman*
3-8
1-3
0-2
0
4
4
1
7
1
0
0
0
34
03
Kameron Chatman
1-2
0-1
0-0
0
1
1
0
2
0
0
0
0
2
05
D.J. Wilson
3-4
0-0
0-0
2
1
3
0
6
0
0
0
0
5
11
Andrew Dakich
0-0
0-0
2-2
0
1
1
1
2
2
1
0
0
4
13
Moritz Wagner
0-0
0-0
0-0
0
0
0
1
0
0
0
0
0
2
24
Aubrey Dawkins
2-7
1-5
0-0
0
3
3
1
5
0
0
0
0
19
32
Ricky Doyle
2-3
0-0
2-2
2
0
2
1
6
0
0
1
0
8
Totals
27-62
7-23
6-11
7
23
30
13
67
11
10
2
2
200
Indiana
33-66
10-30
4-8
14
30
44
17
80
18
12
5
6

200

Full Stats